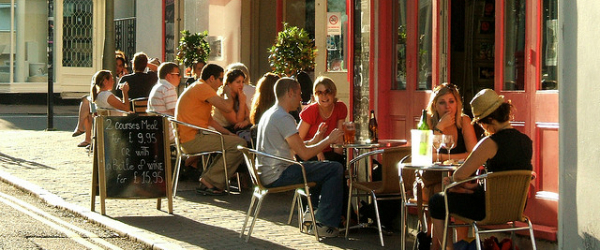 3 Ways Your Brick-and-Mortar Location Can Use Social Media To Drive Business
Whether you're a small business owner, a franchisee, or a manager for a retail chain, social media has the potential to drive the bottom line at your brick-and-mortar location. Today's highly social and mobile customers are already inside your store, sharing photos, asking their social networks for recommendations, and writing reviews about your services.
But you know that already. The question is, how do you connect your customers' online experience to their in-store experience? It's critical that their digital and physical buying journeys converge at one spot: the cash register. And there's no shortage of promising new technologies in the retail space that are trying to do just that, including mobile payments and iBeacons. However, social media remains the easiest and most cost effective way for brick-and-mortar businesses to engage with their digitally empowered customers, both inside and outside the store.
In this blog post, I'll show you 3 efficient ways that you can use social media and Hootsuite to:
Get more customers to walk through your door
Maintain strong relationships to keep them coming back
Drive in-store purchases
Gain insights into the customer experience
Monitor your reputation
Engage with Twitter users on your doorstep
With hundreds of millions of Tweets sent every day, Twitter's constant stream of content has been likened to a firehose; if you attempt to drink it all in, you're going to drown in a torrent of data. To effectively listen to the real-time social network, you need to filter out the information you don't need and find the messages that matter. Twitter offers a number of powerful ways to narrow its search results, but for a brick-and-mortar business, there's no search feature more important than location-based filtering.
By narrowing your search results to only show Tweets from within your city, neighborhood, or even your block, you can spend more time engaging with people who are literally in a position to buy from you. Your business can also engage with local Twitter users without being advertorial, such as by offering them directions to local shops and amenities. In this way, you can use social media to be a good neighbor and earn the local goodwill that is critical to the long-term health of your business.
Although you can use geo-filtering to see every geo-tagged Tweet that is sent within a given radius, it usually works best when you combine it with other listening techniques, such as keyword searches. A good rule of thumb is to make search terms more specific as you widen the geographic radius. For example, an athletic shoe store located in a shopping mall could set up two levels of location-based listening:
A hyper-local search stream that reveals every message sent from within the building, in order to identify shoppers who are looking for deals or buying athletic clothes at neighboring stores. At this range, it's easy to identify sales opportunities without having to filter search results for the store's brand or other specific keywords—Twitter users are in the mall, just steps away from the business.
A city-wide search for brand-, product-, and lifestyle-related keywords. At this range, it's necessary to filter search results for relevance. The shoe store could listen for people in the city who are talking about the brand, discussing exercise routines, and asking for good places to go for a run. They can also listen for specific signals that indicate people are looking to purchase athletic footwear: "new shoes", "old shoes", "running shoes", etc.
To gain a comprehensive view of relevant Twitter activity in your area, you can monitor multiple geo-filtered search streams side-by-side in the Hootsuite dashboard. Here's how:
How to set up geo-filtered Twitter streams in the Hootsuite dashboard
In your dashboard, locate the Search icon (magnifying glass) in the upper right-hand corner.
Enter your search term in the Twitter search field.
Click the crosshairs icon on the right side of the search field to find local search results.
The Twitter search stream will automatically refresh showing local search results within a 25 km radius from your current dashboard location.
To change the radius of your search, open the dropdown menu at the top of your stream and click "Preferences". From there you will be able to manually adjust the radius as well as the GPS coordinates to focus your search.
How to use the Hootlet in Google Maps
The Hootlet, Hootsuite's extension for the Chrome web browser, makes it even easier to find Tweets near a particular location by using Google Maps.
Simply highlight a location in Google Maps and click on the link, "Tweets near here".
This will bring up a stream of Tweets from people nearby. You can adjust the geographic radius of your search, and even respond to Tweets directly from Google Maps through your Hootsuite account.
If you would like to save the stream for easy access in the future, click "Add to Hootsuite".
See every Instagram post that matters
Instagram has emerged in recent years as one of the most actively engaged social networks. People use Instagram to express their identities and share memorable experiences with others, so it's no surprise that it has become a vital space for businesses to interact with their customers. As a highly visual network, Instagram is also an invaluable way to create affinity for your brick-and-mortar location and the people who work there.
Good photography on Instagram can help create a meaningful sense of place and community around your store. Consider the following Instagram post from Starbucks. It perfectly encapsulates the in-store experience that Starbucks wants to create: a "third place between work and home", where customers can engage in lively conversation.
The post is actually a "regram" of a customer's photograph. Starbucks identified the original post, which was geo-tagged at one of their locations, and reached out to ask the customer if they could share it with a wider audience. Starbucks earned 117,000 likes for the regram, all without having to create original content. This episode clearly demonstrates the value of monitoring Instagram more deeply than the comments on your own posts. However, not every user will geo-tag their posts or mention your business's Instagram handle.
To capture every opportunity on Instagram, use the Vidpiq app for Hootsuite. This versatile app allows you to monitor Instagram by location, hashtag or username. Location-based Instagram streams are excellent dashboard companions for your geo-filtered Twitter streams. Together, they allow you to track nearly all of the public photo sharing that's occurring in your area.
Manage all of your online reviews
Even the best social engagement strategy can be undermined by a single weak point in your company's digital presence: negative online reviews. Cone Research found that 4 out of 5 customers have reversed a purchase decision after reading a negative online review. On the flip side, positive reviews are strongly correlated with better sales. For example, research at Harvard Business School found that a one-star increase in Yelp ratings led to a 5% to 9% increase in revenue for restaurants.
Given the significant revenue impact of online reviews, it's vital to monitor how your brick-and-mortar business is perceived online and to take action to improve your ratings wherever possible. A study conducted by Harris Interactive found that when retailers replied to negative reviews on social media and online ratings sites, 34% of customers who received a response deleted their original negative review, and 33% replaced it with a positive review. Even better, nearly a fifth of them went on to become loyal customers and made another purchase with the retailer.
It's important to integrate online reviews into your overall social listening strategy to better understand your customer experience. Monitoring customer testimonials and complaints across all review sites and social networks will allow you to make meaningful improvements to your products and services, rapidly address negative customer feedback, and amplify positive reviews to increase their visibility among potential customers.
To save time and view multiple streams of online reviews from your Hootsuite dashboard, check out the ReviewInc, Reputology, and Review Trackers apps in the Hootsuite App Directory. These powerful apps allow you to centralize management of online reviews from numerous sites, including Google Reviews, Yelp, Facebook Reviews, TripAdvisor, OpenTable, Foursquare, and Yahoo. In addition, all three apps can be used to monitor multiple storefronts from one convenient place.
Put social media to work for your brick and mortar location—drive sales and customer loyalty with Hootsuite!