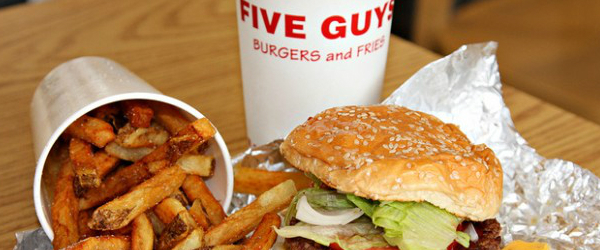 Social Media Marketing, the Five Guys way
In 1986, Five Guys opened its first location in Arlington, Virginia as a family-run restaurant named after, you guessed it, five brothers. Renowned for their fresh, high-quality food, Five Guys expanded quickly and now have more than 1,200 franchises across the US, Canada, England, and Scotland—with plans to move into Europe and the Middle East in the next year.
With over 30,000 employees (of which 250 work for the corporate office), the company wanted to reconcile the potential disconnect between its multinational brand power and the family-owned persona that resonates with its loyal customers.
The Five Guys online strategy, led by Online Marketing Specialist Kenneth Westling, decided to focus primarily on social media for the bulk of their promotional activities, including customer service and public relations, rather than traditional print, radio, and TV advertising. By connecting directly with customers instead of talking at them, the marketing team hoped to keep the unique Five Guys voice as fresh, exciting, and authentic to new audiences as the already-engaged customer base in the US.

We asked Kenneth to share his experiences with creating—and maintaining—a fun and consistent brand voice while expanding on a global scale. He pointed out three components of the Five Guys social media strategy that have directly contributed to the company's marketing success:
Making customer service the primary use for social media, and establishing a customer-centric company in the process
Giving Five Guys' employees the chance to get involved in the company's social media efforts—at home and abroad—by making it fun, local, and sincere
Focusing on engagement metrics and tailoring content based on what works for each social network audience
Customer Service Goes Social
Hootsuite helps Kenneth stay aware of what Five Guys customers are saying on various social networks. The streams layout in the Hootsuite dashboard show social posts related to brand and services keywords, making it easy for the team to flag and share any inbound comments or questions with the right Five Guys corporate team member. Kenneth cites the "who responded to last message" feature on the Hootsuite mobile app (Mobile Assignments) as particularly useful when managing the workload.
"The customers are who we value most; it's absolutely necessary to provide the type of customer service they have come to expect. By monitoring a variety of different hashtags it gives us the opportunity to react quickly to negative experiences, but also the opportunity to reach out to those individuals who are either trying us out for the first time, or simply telling us they enjoy our food. These are things we love to hear, and love having the opportunity to engage with these customers on a more personal level." — Kenneth Westling, Online Marketing Specialist, Five Guys
Kenneth liaises daily with the Five Guys' customer service manager to exchange client feedback and get a sense of the overall feeling towards the brand. This information gives him a deeper understanding of the Five Guys' audience, so he can create content that directly addresses feedback and will nurture customer relationships, boosting sentiment.
Takeaway Tip: 
Social media can give you a wealth of information not available through other traditional communication channels, such as how people feel about your brand, which products are the most popular, and even the geographic and/or demographic distribution of buyers.
How to find out what your customers REALLY think
As the Five Guys franchise has expanded across continents, their menu and services have—at times—evolved to cater to their customers' needs on a local level. Hootsuite's geo-targeting functionality has allowed Five Guys to monitor specific conversation topics as they happen, in specific areas of interest.
By first setting up a good listening strategy, and then breaking it down by location, the Five Guys team has been able to gain deeper understanding into what is working and what's missing the mark across their global markets, as well as sentiment around individual campaigns or initiatives.
Kenneth gave a great example of how he used geo-targeting to listen in on local conversations, connect with prospective customers, and spread positive sentiment across continents. "When we opened the first Five Guys location in the UK, we used Hootsuite to monitor people's discussions about us within a certain mile radius of the city of London," he says, "We were then able to reach out directly to them to let them know that we were coming. We utilized the geo-located search function to target our UK customer base."
Tip:
To learn more about Five Guys and geo-search, check out this blog post.
How to encourage employee participation on social media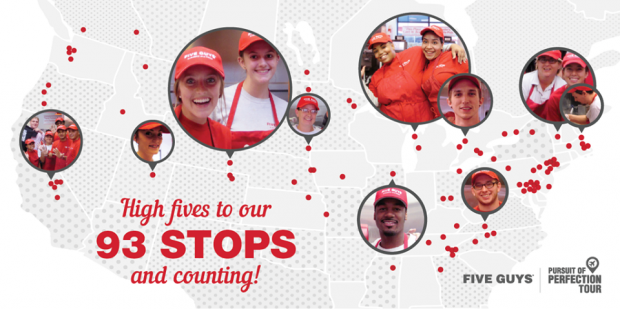 The Five Guys main Twitter account, @Five_Guys, is used for engaging with customers, answering queries, and providing information about the brand and new store openings. Individual franchise locations, however, are also given dedicated accounts to communicate locally on promotions, new flavors or products, and events that resonate with the community. Employee interaction is encouraged and appreciated.
By empowering franchisees to communicate and collaborate on an international scale, individual branches can uncover customer feedback themselves, respond directly, and make changes that improve the customer experience.
And because the Five Guys brand is genuine, personal, interesting (and interested!), Kenneth and his team wanted to celebrate the "crews"—franchise employees—by giving the public a "behind-the scenes" peek into their worlds through photos and videos. The "Pursuit of Perfection Tour" campaign, tracked with the hashtag #HighFive, has proven enormously successful and is now an ongoing social initiative.
Create engaging content authentically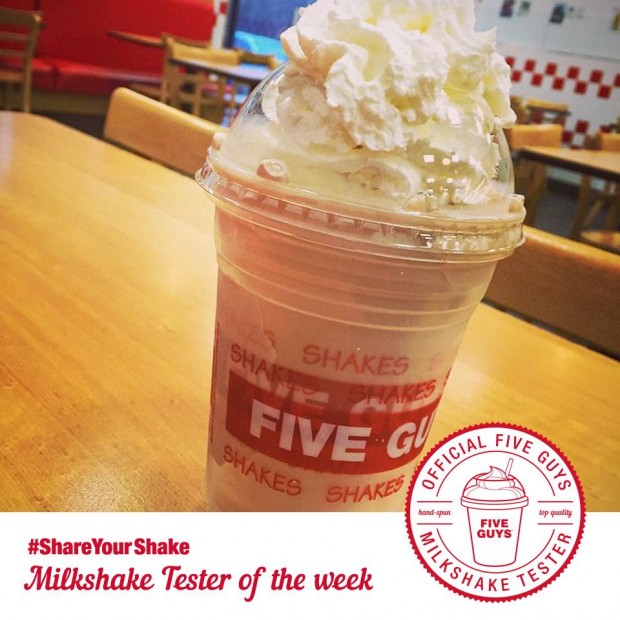 Just a glance at Five Guys' well-established Facebook, Twitter, and Instagram networks shows a company that puts the focus on its customers, sharing photos, quotes, and reviews from their clients. Content is user-generated, whether it comes from social contests or feedback gained through customer service.
Let's take a look at some of Five Guys' social campaigns. #SayCheeseSweeps is one of their recent successes, with more than 1,000 total mentions on Twitter and Instagram. Customers hashtagged photos of themselves with Five Guys Cheeseburgers for a chance to win prizes, and these photos were shared across the Five Guys networks. Audience participation was even greater than expected, so the team recreated the campaign with milkshakes, using the hashtag #ShareYourShake. All promotional posts were scheduled and tracked in the Hootsuite dashboard.
Kenneth tracks campaign engagement numbers using Hootsuite Analytics.
Engagement is the company's driving metric, so Kenneth creates internal reports through Hootsuite Analytics on likes, shares, reach, best engagement times, and days of high engagement. This kind of quantitative data is invaluable for showing the return on investment in social initiatives, and helps inform future campaign planning.
Takeaway Tip: 
Satisfied customers often become brand ambassadors. Social campaigns are a great way to generate buzz and sharable content from an audience that best knows your products and services—your happy customers.
"I love using Hootsuite because it simplifies social media for me. I don't need to sign into all my accounts to see how many new shares or photos or comments we have on multiple social networks."— Kenneth Westling, Online Marketing Specialist, Five Guys
Use social media to connect with your growing audience.