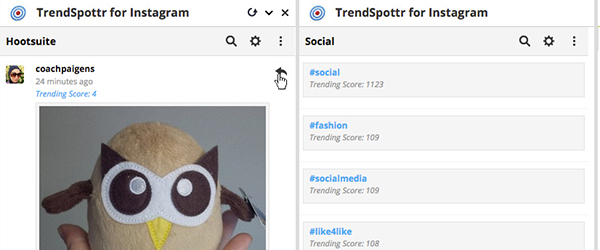 How to Spot Trends On Instagram—Before It's Too Late
With more than 300 million active users, Instagram has become an indispensable network for brands, agencies, and newsrooms. But with more than 70 million photos and videos being shared every day, it's increasingly difficult to pick out the most timely and relevant content.
Instagram's search function is still a work in progress, and its "Explore tab" only surfaces content based on what you've liked in the past. What if you don't know which hashtag or user to search for? And can you tell which content and trends are about to go viral?
Hootsuite has teamed up with TrendSpottr to create a better way to find the people and posts that matter. The TrendSpottr for Instagram app for Hootsuite is a powerful new tool for social media marketers and Instagram power users who want to gain timely insights into emerging Instagram trends and influencers.
Find top trending photos and videos for any tag or keyword
Discover what's trending about your brand, campaign, or any topic of interest
Find related hashtags for emerging trends
Identify and engage with Instagram influencers
Share trending Instagram posts to your social networks in Hootsuite
Rapidly Discover Trending Photos and Videos
Whether you're looking for engaging posts to re-share with your community, or monitoring breaking news and emerging trends, the TrendSpottr for Instagram app allows you to save time and find the hottest content with every search. The app delivers far more useful search results than the standard Instagram search, which simply returns posts with the most recent activity. Instead, Trendspottr for Instagram surfaces the most relevant and trending content that is predicted to have the highest engagement and virality.
The app integration allows you to save time and work more efficiently by monitoring Instagram campaigns from the convenience of your Hootsuite dashboard. You can set up multiple Trendspottr for Instagram search streams in Hootsuite to continuously monitor every hashtag and trend that matters to you, side-by-side with other social networks and apps. And with just a few clicks, you can share trending Instagram content directly to your social networks through the Hootsuite publisher.
Boost Your Reach By Finding Related Trending Hashtags
Hashtags are an essential part of the Instagram experience and a highly effective way to increase the exposure of your content. However, adding a string of popular but irrelevant hashtags to an Instagram post is a desperate spamming tactic that won't even help you reach the right people. To maximize their effectiveness, it's important to pick hashtags that are not only relevant to your brand but currently in use by your intended audience.
For most social media marketers, choosing hashtags on Instagram is a bit of a guessing game, especially when news stories and trends are developing in real time. With the TrendSpottr for Instagram app, you can discover all of the top trending hashtags that are related to any search query. Stay on top of every trend and find the emerging hashtags that can boost your reach with the right audience, right now.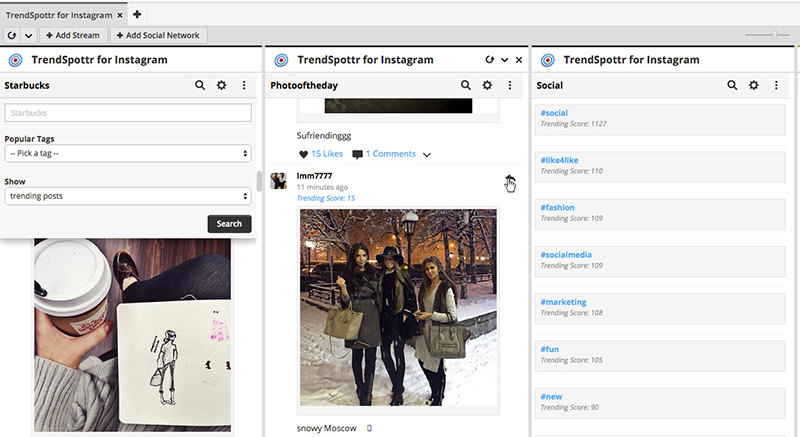 You can also use the app to survey the landscape of trends that are related and relevant to your own hashtag. This is an easy and effective way to better understand the community you're building around a given brand, campaign, or shared interest. Simply type your hashtag into the app's search bar, and then select "Trending Hashtags" from the dropdown in the "Show" menu. You'll then be able to see all of the top trending hashtags that are closely related to your own hashtag, revealing additional ways to reach, monitor, and engage with your community.
Start saving time and use Instagram like a pro. Install TrendSpottr for Instagram in your dashboard today!