Instagram is introducing the ability to add up to 10 photos and videos to a single post, album-style.
Users can swipe through to see each individual piece of content in the post, similar to Snapchat's slideshow storytelling format.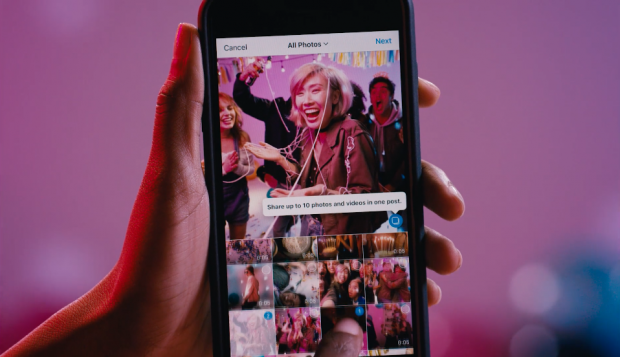 Some publications are already decrying the death of Instagram's culture of careful curation, but this change actually offers a lot of opportunity—especially for businesses.
Listen up: this change means you can essentially create carousel ads—a highly engaging and interactive format that performs 10 times better than regular ads—for free.
Like carousel ads, Instagram's newest feature will allow you to combine photos and video to tell stories and convey information in the best way possible.

5 ways businesses can use Instagram's new album feature
Because albums are an easy way to create an interactive post, they're also a low-barrier way for brands to share rich media and foster more engagement with followers.
1. Showcase products
Whether you choose to show off several different products or highlight features of a single product, the albums format is a great way to tell people about what you offer.
2. Tell a story
If a picture's worth a thousand words, then what are 10 photos and videos worth? So. Much. More.
Albums give brands the opportunity to explore new creative avenues for storytelling, breaking stories down into multiple parts to make them even more engaging for the audience.
3. Explain how to do something
The ability to easily pull together multiple elements into one single posts makes albums the perfect place to share a how-to. Write instructions on individual photos, have someone explain what's happening in a video—the sky's the limit.
4. Break a larger image into multiple parts
Lots of brands have happily embraced the #triplegram—a tactic that involves posting three related images, or one image cropped into three, in succession. With albums, this process is even easier.
Crop a panorama into several pieces to show off details. Then, get creative with other functionality, like zoom, to engage your audience.
5. Share an event without spamming
Have you ever held an event and wanted to share, well, everything? But Instagram etiquette—and the desire not to spam your followers—kept you to an agonizingly chosen one or two images? No more.
Now you can carefully curate the best of the best photos or videos from an event and share them in a grouping that gives them added context—and prevents your audience from hitting the unfollow button.
How to use the album feature on Instagram
One of the best parts of Instagram's newest feature? It's easy to use and anyone can do it.
Tap the + icon at the bottom middle of the screen to upload a photo or video
In the bottom right of your image, you'll see a new stacked rectangles icon which allows you to select multiple photos and video—tap it
Scroll through your camera roll and choose the media you'd like to add to your album—up to 10 photos and videos
You can change how each photo or video is cropped by tapping the screen to adjust how it fits in the frame
Once you've selected your desired media, tap Next to move to the editing screen
Tap, hold, and drag items in the album to change their order
To delete a photo or video from your album, drag it to the trash can icon at the top of the screen
You can apply filters to all of the items in the album, or edit each one separately
Once you're happy with your edits, tap Next to move to the caption screen
Add a caption and location
Tap Tag People, then swipe to find the photo you'd like to tag someone in—you can tag people in each individual photo in your album
Tap Share to post your album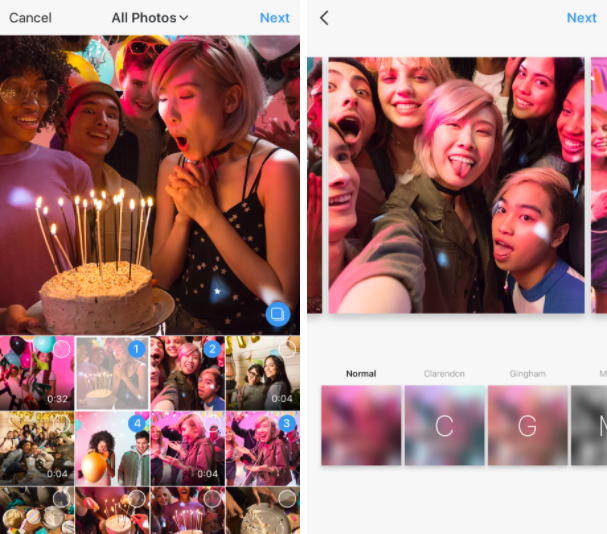 On your profile grid, album posts will be denoted by the same stacked rectangle icon that appears in the publisher. When you see an album post in feed, there'll be blue dots at the bottom to let you know you can swipe to see more.
Of course, you can like and comment on album posts the same way you can with regular Instagram posts. Comments and likes will appear on the entire album, rather than on the individual photos or videos in it.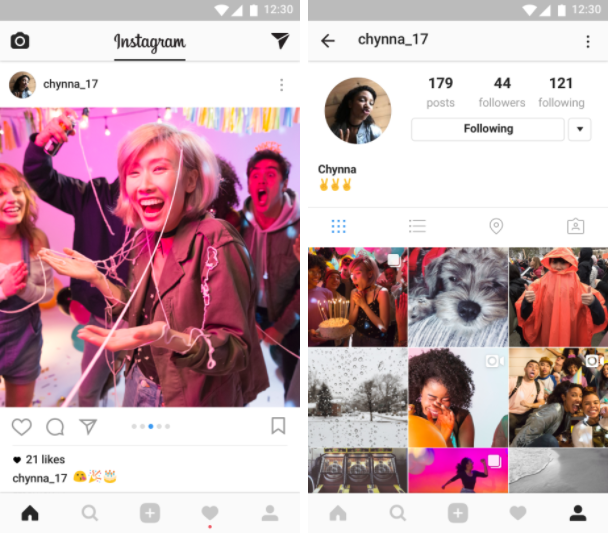 While you have the ability to edit the caption or location of your album, you cannot reorder, edit, or delete parts of your post or change accounts you've tagged. You can, however, delete the entire post.
Albums have a single caption and are square only for now, though Instagram's announcement blog post hints at future updates to this feature.
Instagram albums are available as part of Instagram version 10.9 for iOS and for Android on Google Play.
Save time managing your Instagram presence by using Hootsuite to share Instagram video, schedule posts, and monitor your efforts. Try it free today.