It's easier than ever to start a business on Instagram. But there are so many possible Instagram business ideas it's not always easy to choose the best one for you.
There are lots of reasons why you might want to use Instagram for business. You might want to
Expand an existing business,
Add an extra source of income,
Start a new career.
No matter what your goals are, Instagram is a powerful tool to help you achieve them. Around 60% of Instagram users are in the key 18-to-34 demographic. And unlike some platforms, they're about evenly split between men and women.
This article will show you 26 Instagram business ideas to get your creative juices flowing.
26 Instagram business ideas
Bonus: Download a free checklist that reveals the exact steps a fitness influencer used to grow from 0 to 600,000+ followers on Instagram with no budget and no expensive gear.
What is an Instagram business?
Before looking at specific Instagram business ideas, let's take a general look at how Instagram businesses work.
If you're trying to come up with an Instagram business idea, one of the first questions to ask yourself is "how will I make money from this idea?"
The traditional way is to use Instagram to promote the product or service that you sell. You can always do this by linking to your online storefront in your posts. But Instagram has been making it easier to sell in the app itself. Instagram business ideas of this kind make money by selling to their followers.
Sometimes you use Instagram posts to sell a product. Sometimes your Instagram posts are the product. This second category includes any business that makes money from sponsored content or affiliate links. Instagram business ideas of this kind don't make money directly from their followers. They make money by selling themselves to advertisers who want to reach their followers.
26 Instagram business ideas
Photographer
Instagram has added more and more new features over the years. But at its core, it's still a photo-sharing app. So where better to show off your photography skills?
Remember, you're not just selling your photos. You're also selling the value of buying a print overlooking at a picture on your phone. Don't hesitate to show your work in an attractive context.
Visual artist
Digital photography might be the easiest artistic medium to put up on Instagram. But all kinds of media can benefit from the platform's visual interface.
Painters, sculptors, "other" artists all can use Instagram to sell their work.
Graphic designer
Graphic designers are like other businesses that make visual products. They are well placed to take advantage of Instagram's focus on visuals. They have the added benefit that the brands they're designing for are just as eager for attention as they are.
When you put your designs on Instagram, it's a win-win that promotes you and your client. Just make sure you have permission from the brand to post it.
Makeup artist
Maybe the human body is your canvas. Instagram is a great place to promote your business too. The strong visual component of your work as a makeup artist gives you a natural source of content to build your Instagram presence.
Be sure to get consent from your clients before posting pictures of them on social media. Many will be happy to model your work. But check first. This will help avoid any ethical, not to mention customer-relations, issues down the line.
Or you could simply post designs you've done on your own face.
Tattoo artist
Back in the good old days, if you wanted to get a tattoo, you had to go to a tattoo parlor and look through a physical book to see if the artist was a good fit for your vision.
But platforms like Instagram have disrupted the way people who want tattoos find the artist who can make their idea a reality. Now you can browse a tattoo artist's work from your phone.
Minuit Dix promotes their work with close-up photos. This way they show off their artistry while respecting their clients' privacy.
Web designer
For most people, websites are essentially visual experiences. Use your Instagram presence to share your most elegant designs.
Take advantage of other Instagram features to show your designs' interactivity. A Carousel post lets the user swipe through different parts of a website. You can also use videos to show more animated interactions.
Interior designer
People love pictures of beautifully arranged interiors. This makes Instagram a natural fit for your interior design business.
Whether the look is Scandanavian minimalist or eclectic maximalist, no one can resist a peek into someone else's home.
Event planner
Even businesses that are more about providing a service than producing an easily photographable product can thrive on Instagram. Put pictures of the events you plan on your feed to let people know how fun your events are.
Event promoter
If you're an event promoter, you probably already use social media to promote your clients' events. Why not use Instagram to promote yourself to new clients?
At the time of writing, packing crowds of people into enclosed spaces is still risky in many places. But people are hungrier than ever for social contact. Pictures of events you've promoted where people can have fun without putting public health at risk are a great way to attract positive attention.
Social media marketer
If your business involves providing social media marketing for other brands, what better way to prove your abilities than by marketing yourself on social media?
But you don't have to passively wait for clients to come to you. You can also use Instagram to connect with the brands that you want to work with.
Personal trainer
For a more active source of income, try taking your business as a personal trainer to Instagram.
There are all kinds of content you can create to promote your brand. Exercise demonstrations, motivational content, or diet advice are all possibilities. You can even use Instagram Live to broadcast your workouts in real time.
Baker
We all tried our hand at baking when we were stuck at home in the early days of the pandemic. But now our sourdough starters are all dead, and we're ready to pay someone else to make our bread. That person could be you!
From crusty bread to delicate macaroons, baked goods' visual qualities make them ideal for Instagram content.
Specialty repair services
Maybe you're a cobbler, a watchmaker, a tailor, or in TV/VCR repair. If you make or repair a specialty product, Instagram can connect you to people who need your services.
Instagram helps you build an audience of people who aren't always actively looking for your services. That way you'll already have a relationship with them when the soles of their shoes start to wear thin and they need someone to help them lose their walking blues.
Instagram Live salesperson
Meta introduced Instagram Live to allow users to share live streaming video. They then created Live Shopping. This platform allows users to buy products directly from live broadcasts.
There's almost no limit to the kinds of content you can make with Live Shopping in mind. You could make Home Shopping Network-style product demonstrations or ratchet up your showmanship like the Ronco infomercials of old.
Affiliate link marketer
Affiliate links are traceable links in your Instagram posts that lead to other brands' stores. When someone uses your link to buy something, you get a commission.
To start using affiliate links, you can join networks such as CJ Affiliate, Pepperjam, ShareASale, or Rakuten. Brands such as Glossier, Mejuri, and Rent the Runway run their own affiliate programs. Instagram is even developing their own native affiliate tool.
This is a particularly effective business idea among Fashion Instagrammers, who get a cut of sales made from followers shopping their outfits.
Influencer
The word influencer covers a lot of ground on Instagram. Everyone from X to Y falls into this category. The thing they all share is that they monetize the personal influence they have over their followers by acting as marketers for other brands.
If you want to make influencing your Instagram business, consider what your personal brand will be. The next few ideas will cover some of the main types of influencers.
Lifestyle influencer
Lifestyle influencers build their audience through their general personality. Usually this means creating a personal life for Instagram that connects with their followers. And this connection can be monetized by partnering with brands on Instagram.
Some influencers connect with followers by portraying a curated, aspirational lifestyle. Other influencers base their brand on their rawness, monetizing relatable suffering or realistic situations.
Food influencer
Food influencers build their following around enticing visuals and concise but informative commentary. You'll build trust with your audience as a source for the best places to eat.
The audience you build around your food-based content will be attractive to advertisers looking for consumers with a discerning palette.
Influencer chef
If your strengths are in making food rather than reviewing other peoples' food, there's an Instagram business for you. As an influencer chef, you'll share recipes and cooking demos to attract followers who want to learn how to cook—or who just want to watch someone else cook.
Cooking is visually dynamic. And Instagram's video sharing options let you diversify how you reach your audience. Short videos can go out on Reels or Stories. With Live, you can now use Instagram for longer streaming cooking demos.
You can monetize your influence as an Instagram chef by marketing food-related brands. But you can also use it as a stepping-stone to selling your own cookbook or other products.
Travel influencer
Travel influencers make themselves the source for where to go and what to do. As you gain followers, you'll be able to sell your influence to marketers who sell to a traveling demographic.
You can market your influence to accommodations and attractions that you can visit. But you can also promote brands that make things travelers need like suitcases, backpacks, and comfortable-but-stylish shoes.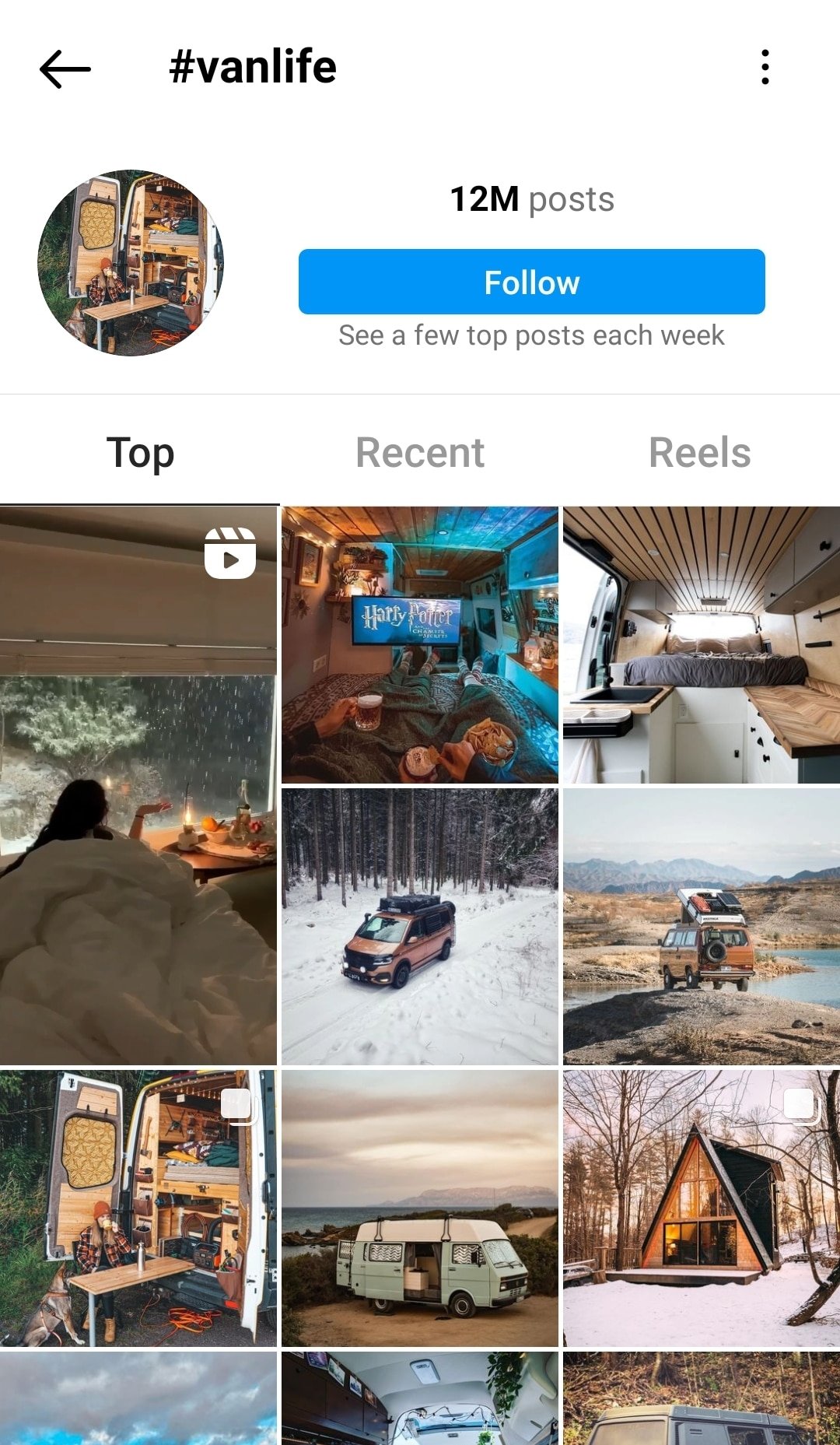 Source: Instagram
You can tap into popular hashtags, like #vanlife, to share your content with people who want to see it.
Expert influencer
Do you have expertise in a specific area and the ability to communicate it to a wide audience? You can use Instagram to post informative content and grow your following.
Maybe you know a lot about architecture. You don't have to post pictures only of houses you designed to build a following. The audience you cultivate with your know-how will have extra value for advertisers in that field.
Animal influencer
Pictures of pets have been on the internet as long as there have been image transfer protocols (the I Can Haz Cheezburder meme will be old enough to get a learner's permit in many places this year). But with the help of Instagram, it has never been easier to monetize your pet's image.
The global pet care market grew by 28% in 2020. Sponsored content or affiliate links for the products your pet uses can be just as lucrative as human products.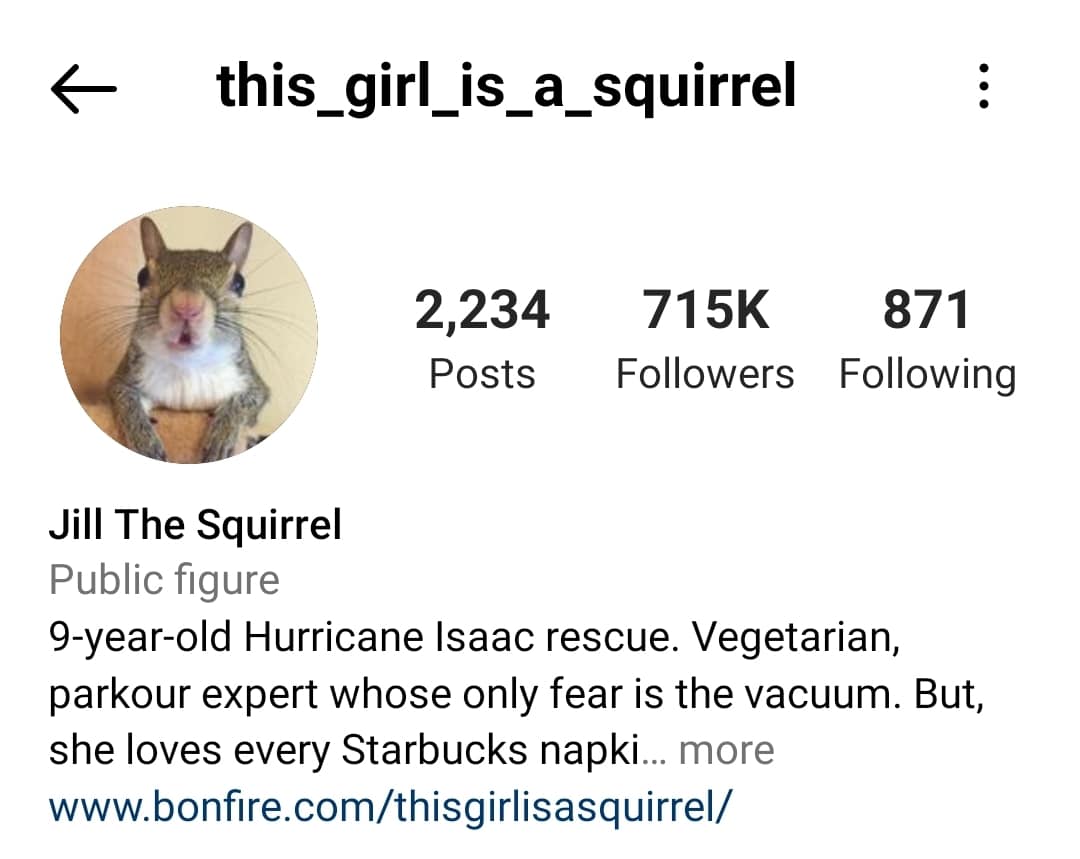 Source: @this_girl_is_a_squirrel
Being an animal influencer isn't just for cats and dogs either. Centering your content on a quirky animal, like a squirrel, can make you the master of a lucrative niche.
Product reviewer
About half of Instagram users use the platform to discover new brands. As a product reviewer, your business earns money by partnering with brands to review their products in order to introduce users to the products they want.
It's best to be up-front about your relationship with the brands you review. Your value as an influencer comes from the trust your audience places in you. It's bad for your bottom line if your audience thinks you're giving good reviews to whoever pays you.
Instagram poet
If you enjoy writing, consider Instagram poetry as a way to earn money from the platform. Poetry might not be the first thing that people think of when they think of Instagram businesses. But thanks to early pioneers, it has become a viable business model.
Being an Instagram poet is a lot like running other kinds of businesses on the platform. Strong personal branding, encouraging audience engagement, and a consistent flow of content are the keys to a following you can monetize.
Reels dancer
Meta launched Instagram Reels in 2020 to combat the rise of TikTok. Only time will tell if Reels will turn out like Stories (Instagram's Snapchat clone that continues to thrive) or like IGTV (the YouTube competitor that has not had as much success).
Because the two platforms are so similar, content that does well on one tends to also do well on the other. Increase your audience, and your value as an influencer, by taking the latest TikTok dance to Reels.
Brand ambassador
The line between influencer and brand ambassador is a fuzzy one. The main difference is that brand ambassadors usually focus on promoting a single brand. Influencers tend to be more diverse in their promotions.
Promote your small business on Instagram and all the other social media networks with Hootsuite. Schedule posts and stories, respond to comments, and measure your success in one easy-to-use dashboard.
Grow on Instagram
Easily create, analyze, and schedule Instagram posts, Stories, and Reels with Hootsuite. Save time and get results.
Free 30-Day Trial