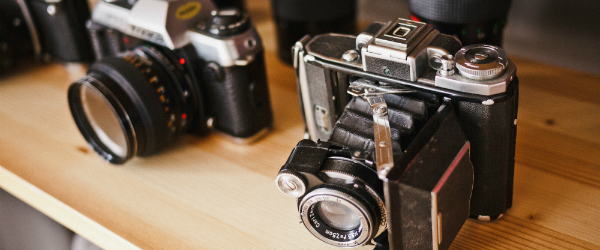 Instagram or Tumblr? A Guide To Choosing The Right Photo Sharing Platform For Your Business
A picture may be worth a thousand words, but those words aren't worth much if no one is listening. This is why it's important to choose the right network dedicated to photo sharing.
Before you begin shopping around for the perfect photo-sharing network for your business, create a mission statement to determine the main goals you want to achieve with the help of this network. Do you need a channel exclusively for photos, or does it dovetail into your content marketing platform? Will it show off photos of your company culture, or show off products for sale? Once you have decided how a photo-sharing network can benefit your business, it's time to choose your platform. To help you make the right choice, we made a chart to showcase four major networks for photo sharing: Instagram, Pinterest, Tumblr, and Flickr.
Choose the perfect photo-sharing network
Legend:
Primary platform: While all four of the major photo sharing networks have their own Android and iOS apps, the capabilities and the audiences of different networks favour different platforms. For example, Instagram has the advantage of having been designed specifically for mobile first, and has the advantage of being one of the top 10 mobile apps for US users.
Think of your mission statement, the main purpose for making your photo network profile: is it to increase mobile engagement? Is it to supplement your content marketing strategy with some multimedia assets? Or maybe your business will primarily use the network for photo storage? These questions should help you figure out what primary platform your business needs for photo sharing.
Cross-network posting: This means the capability of the network to share the item to multiple networks during the uploading process. Instagram makes the cross-network publishing process easy by giving users the option of selecting multiple networks on the Share screen.
The easiest way to share Tumblr photos is by reblogging them to a different Tumblr blog; or, if you want to be clever with your Pinterest account, you can Pin a photo from Tumblr using the "Pin It" browser extension. Flickr, while not allowing you to upload to several networks at once, lets users share on multiple networks from the photo page, by clicking the Share arrow in the bottom right corner of the photo and selecting the desired network.
Tags: Tagging your brand's photo assets helps you sort through your own images faster, as well as help make them easily discoverable for other users. If your goal for photo sharing is to engage your social media audience and join the ongoing conversation, tags are an important aspect of a network to consider. If your business often hosts events, and likes to share photos from the event on social media, consider choosing a network that allows you to tag other users in the photos. If your business places emphasis on being local and engaging users within a certain geographical area, it would help to choose the network with geo-tagging capabilities.
Photo storage: Obviously, as networks that engage primarily using visual media, all of the major networks described in the table above have photo storage capabilities. However, photos are displayed differently on each network: Pinterest lets users organize photos using themed Boards, while Tumblr shows the most recently uploaded or reblogged photo at the top of the page. These differences, although not particularly game-changing at first glance, can have a significant effect on how your audience interacts with your photos.
If you're using a photo-sharing network as a way to show off company culture and give your customers a behind-the-scenes exclusive look, a real-time blog roll format such as the one offered by Tumblr or Instagram would be more suitable for your purposes. If you want your social media audience to be able to browse through photos by category or event, your needs would be served better by a Pinterest Board or a Flickr photo album.
Primary audience: We've gathered the information about each network's primary audience by age and gender based on the most recent studies, such as Pew Research Center's projects, user-generated data research and Internet watchdog surveys. However, it's important to remember that these numbers change constantly, and sometimes drastically, from quarter to quarter.
For example, in Pinterest's early days, it stood out as a network where the majority of users were 35 and older, but recently the age distribution looks like the majority of other networks. This state of flux is important to remember when choosing any social network, whether its primary use is photo sharing or content marketing. Pro tip: if you have a target group in mind, look for the most stable demographic over the last 24 months.
You may have also noticed that some networks break up the early adulthood category into groups of 18-24 and 25-34, while others join the two into one big category. It's not a surprise that the majority of visitors for all networks are younger adults—after all, this is the demographic for whom interactions on social media are a natural part of daily interpersonal interactions. But if you're looking for the next big social network for teenagers, for example, there are many studies dedicated to user growth in that particular demographic—look for terms such as "class of 2015" in your research.
Photo editing capabilities: If your business doesn't have a dedicated design team, it may be prudent to choose a social network with photo editing capabilities. Consistent, high-quality visual media can boost audience engagement, and uphold your brand's standards. Different networks offer a varying degree of complexity in editing: Instagram allows users to apply filters and do basic editing such as cropping, adding highlights or a vignette; while Flickr has its own editing software, Aviary, to help users with more advanced editing.
Primary use: If one of your goals for joining a photo sharing network is to connect with other professionals in your field, it helps to know the most common uses for the network. For example, Flickr is known for its popularity among professional photographers; if your business specializes in photography or always looks for freelance employees, this would be a fitting network to join.
Each network's primary use can also help you shape your mission statement in the first place, and help you refine your social media strategy by using your resources wisely.
Analytics: This section shows engagement metrics for each network, such as likes and comments, as well as examples of tools available for a more sophisticated analysis. To illustrate this on a single network: Instagram users can see who engaged with their photos and their account by looking at the number of likes, comments, and followers gained or lost. This helps your business choose the network based on the degree of sophistication you want for collecting your photo sharing account's data.
Have multiple photo sharing accounts? Manage them in one place with Hootsuite!