#HootSuite Brings The Owl to #SXSW 2011 ~ News Roundup
By Dave Olson • 3 years ago • 8 Comments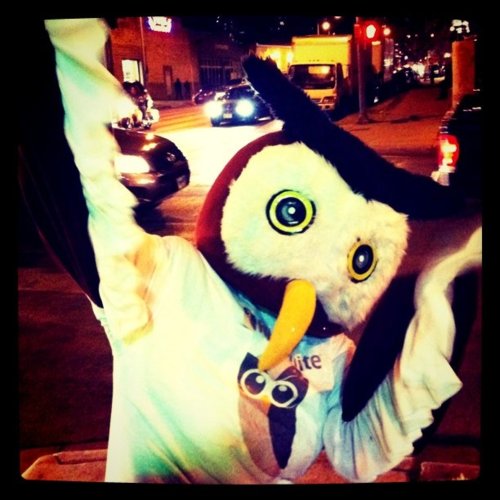 A small handful of the HootSuite team is back from SXSW Interactive Conference and have lots of exciting stuff to share. The 2011 excurision was a big success – from panels to parties, to just strollin' the streets, Owly and the HootSuite crew had an amazing time spreading the HootSuite story.
Thoughts for Japan
Upon arriving in Texas, we heard the terrible news of the earthquake and subsequent tsunami in Japan. These events made it difficult to focus on why we had come to Austin as our thoughts immediately focused on the well-being of our families, friends, and all those affected by this tragedy.
After taking some time to ponder the situation in Japan, conference attendees quickly began finding ways to help.
The SXSW Community quickly came together to raise money to donate to the American Red Cross for relief efforts in Japan as well as numerous other channels.
In addition to encouraging attendees and participants to donate, SXSW created a fundraising project, which to date has raised more than $100,000.
We also raised awareness for raising money for Japan relief efforts during the "Big in Japan" panel, where HootSuite CEO Ryan Holmes spoke alongside some smart, cross-cultural business people including Hiroki Eda, Robert Laing, Fumi Yamazaki, and moderator Steve Mock (audio) followed by a Japan Social Tech HootUp which brought together Nihonophiles together to discuss Japanese tech culture and industry. This proved to be a good time to discuss the situation in Japan and see the role social media played emergency response.
You can get a general sense of these events by searching for #bigJapan on Twitter. We weren't the only Japan-themed panel this year including multi-culturalist Paul Papadimitrou who hosted another panel which sadly we were unable to attend.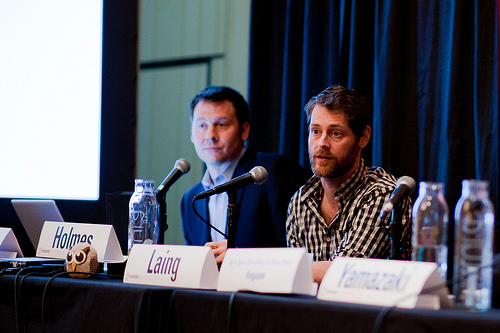 Influential Owls and Friends
Web visionary Tim O'Reilly's Radar publication analyzed SXSW-related data and writer Jodee Rich included HootSuite as the 5th most influential company of SXSW '11. we were pleased to make the list alongside HootSuite users like @mashable and @SXSW plus @Chrisbrogan was named the social king of the fest.  Our dashboard is truly the tool of the influencers.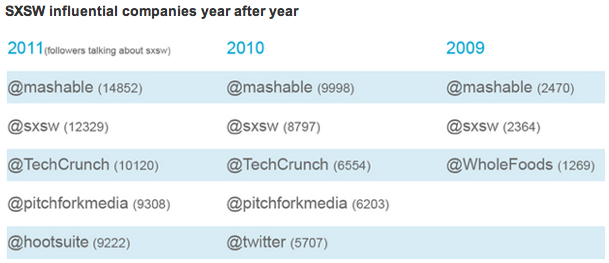 O'Reilly Radar has created SXSW Brand Champion Scorecards for 2011, 2010 and 2009 from global mentions of SXSW and invites you to walk the interest graph to see the connections of additional champions and the communities they influence.
Front Page Hoots
Owly Roaming Wild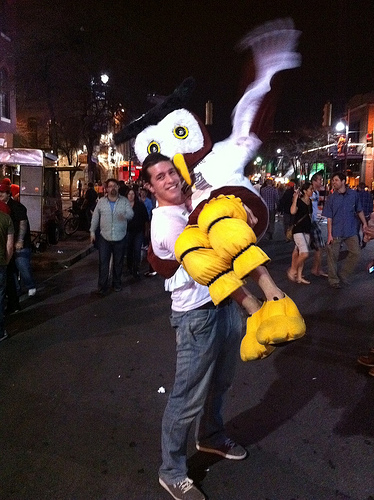 Owly flew in for the festivities and was spotted strolling the streets of Austin, crashing parties, and sharing the #HootLove with anyone and everyone. The photo evidence is abundant and scattered throughout the social web.
Start by checking out the HootSuite Flickr set, Flickr Hoot fans gallery and our Flickr favorites. You also may want to search for "hootsuite" and "sxsw" on Twitter, Flickr or Google. If you posted snapshots, be sure to tag 'em "hootsuite" so we can find 'em.
Need more Owly?
Wherever Owly goes, amazing things happen. To find out where Owly's next appearances will be, check out our Events page and/or see ya next year in Austin. Thanks to Lydia, Pete Word, Edy, Chillbeds and Etymotic for having our wings.