The following post is in French! Written by our French Community Coordinator, Juliette Chaniot, it shows our loyal French speaking owls how to setup and use HootSuite. Enjoy!
Ce n'est plus un mystère, vous êtes tous au courant que les médias sociaux sont devenus incontournables : page Facebook, compte Twitter, profil LinkedIn, Google +, etc. Pour promouvoir un service, il est important de rester actif, mais il est également très facile de passer ses journées à actualiser ses multiples comptes en ligne.
Connaissez-vous HootSuite ?
Avec les tonnes d'informations disponibles sur internet et le nombre incalculable de réseaux sociaux, il est assez facile de s'y perdre: voici un petit recap' de la plateforme HootSuite et de ses fonctionnalités.
HootSuite c'est quoi ?
Un outil de gestion de comptes de médias sociaux. Grâce à HootSuite vous pouvez actualiser, suivre et partager sur vos comptes Facebook, Twitter, LinkedIn, Foursquare, WordPress, Instagram, Youtube (et bien d'autres encore) sur une seule et unique interface.
Pourquoi choisir HootSuite ?
Suivre en quelques clics l'ensemble de vos activités sur les médias sociaux
Contrôler votre présence sur internet
Partager du contenu facilement
Prévoir vos activités
Travailler en équipe sur un même compte
Analyser vos statistiques
Commencer avec HootSuite, c'est simple:
1. Installez HootSuite.
Rendez-vous sur http://hootsuite.com et inscrivez-vous gratuitement!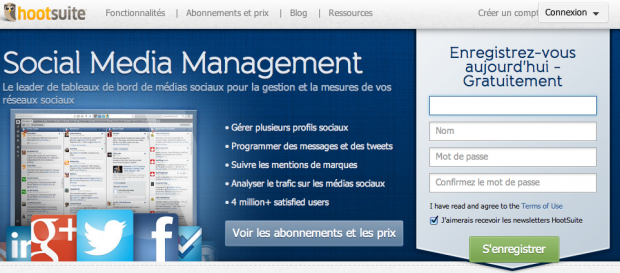 2. Ajoutez vos différents réseaux sociaux.
Sur la barre verticale gauche de votre écran, cliquez sur votre nom.prénom – vous aurez ainsi accès à votre profil et pourrez ajouter vos comptes de réseaux sociaux.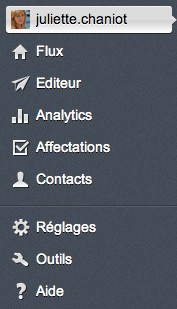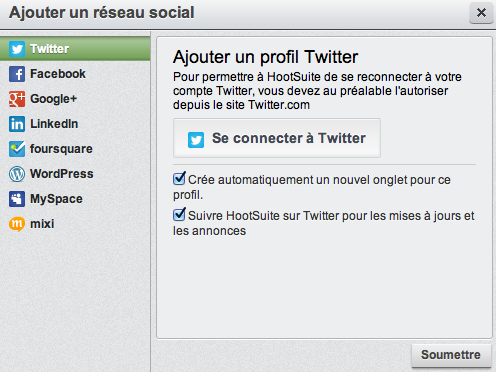 3. Installez vos onglets et gérez vos flux.
Sur votre barre verticale gauche, cliquez sur "Flux" – vous arriverez ensuite sur votre tableau de bord. Cliquez sur la croix comme sur l'image ci-dessous: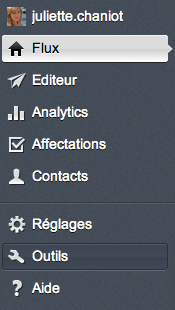 Puis renommez votre onglet – "Twitter Perso" par exemple.


Lorsque votre onglet est créé, il ne vous reste plus qu'à  installer les flux que vous souhaitez voir apparaître – "Flux d'accueil", "Mentions" ou "Messages Directs" par exemple.
A noter: vous pouvez ajouter autant de flux que vous souhaitez, et modifier leurs places dans votre onglet.
Avec le Hootlet vous pouvez partager du contenu ou écrire un message à partir de n'importe quelle page internet. Sur votre barre verticale gauche, cliquez sur "Outils" – vous verrez apparaître l'icône Hootlet que vous pourrez glisser dans votre barre d'onglets.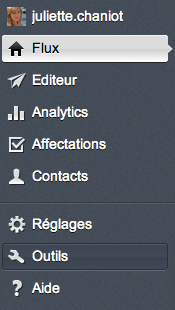 Vous pouvez partager un message, un article, une photo à partir d'un ou plusieurs comptes – régidez votre texte, ajoutez un lien et raccourcissez-le si besoin, puis choisissez vos comptes.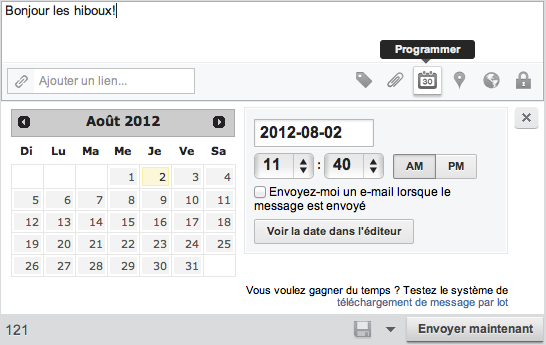 Voila les 6 étapes pour commencer avec HootSuite et les fonctionnalités basiques. Pour toute question ou suggestion, veuillez nous suivre sur @HootSuite_Help, @HootSuiteGlobal ou rendez-vous sur HootSuite University.