#HootSuite Reaches 2 Million Owl Milestone and Releases #Infographic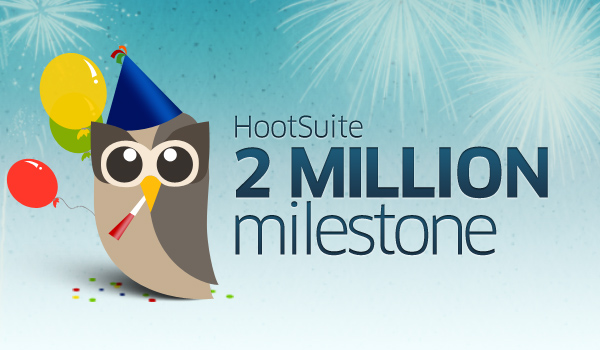 We can't help but feeling like we hit the 1 million milestone just months ago… likely because HootSuite grew to 2 million sign-ups just 7 months after achieving the seven digit threshold in Nov. 2010 ~ whew. We managed to keep up this pace by listening carefully to how the wide range of customers are using HootSuite – whether for business or pleasure – and adding the tools to help you meet your objectives.
Thanks to all of you who shared your thoughts, ideas and opinions and especially to all of you who told your friends and colleagues about your "secret weapon" – you make our jobs remarkable.
Updates
7:40 AM PT – Mashable: HootSuite Hits 2 Million Users [INFOGRAPHIC]
7:50 AM PT – The Next Web: HootSuite hits 2 million users, doubles signups in seven months
Social Trends
To identify trends between types of users, we keep a careful eye on data. So last week, we crunched a massive batch of information to share some compelling trends in a new infographic. This time, we analyzed patterns between Business and Consumer users on Twitter, Facebook Pages, Facebook Profiles, and Linkedin. You'll notice some visible differences in patterns plus, when compared to the 1 million user infographic, more usage on the mobile tools.
Release Round-up
Since reaching 1 million sign-ups, we've kept the throttle pinned with a collection of updates carefully designed to help teams manage social media effectively and efficiently. The reaction from the Owls all over the world make the late nights and stacks of empty pizza boxes entirely worthwhile – when we pause to reflect at least.
Here are a few HootSuite release highlights since Nov. 2010:
Social Analytics – integrated report modules including Google Analytics and Facebook Insights
Publisher – a calendar planner view to help manage complex campaigns
Affiliate Program – helping wise Owls earn money from their evangelism
Translations – more crowd-sourced languages on mobile and web
Keitai – a unique version for the unique Japanese "feature" phones
White Papers – a 5-part series about measuring ROI of social
Japan – celebrating 1 year since release of the localized dashboard
Spanish – fully localized on all platforms for 20+ countries
Mobile-fest – Blackberry & Android added Facebook, Linkedin & Foursquare
URL choices – .Li from Liechtenstein in the the new .Ly from Libya
Security – Secure Profiles, Limited Accounts, HTTPS  to keep profiles safe
HootBar – an acquisition of TwitterBar adds a new tool for Firefox
Facebook Pages – do more in the stream including deleting and commenting
HootTips – a series of handy tips for rocking the dashboard
HootUps – meet other Hootfans in your area from Ecaudor to Australia
App Directory – started with the addition of ning with more to come
Chrome App – utilize the power of Google's browser for native Hooting
Batch Scheduling – up to 50 messages uploaded in one fell swoop
Open ID – a cure for log-in-itis with options for Google, Yahoo and more
Facebook Insights – measure impact and interaction in the biggest network
Playing a Role
Along with the software releases, we found ourselves in the midst of world affairs including civic unrest in Egypt (as well as Syria and Suadi Arabia) and arriving at SXSW just as the earthquake/tsunami/etc. hit Japan. Along with our intrepid panelists from Japan, we raised some money and watched as our tool helped others locate loved ones and find assistance.
Flying On
Amidst all the consolidations, acquisitions and changes in the marketplace, we are proud to keep leading the way with unique features and thoughtful improvements. As the first social media dashboard, HootSuite has helped define new ways of understanding how social media tools and tactics can be applied to small and enterprise business, political campaigns, government management, civic revolutions, emergency response or just connecting with friends about hobbies you enjoy.
With a heaping handful of networks already in the dashboard, look for more connections and tools to come as we are aren't slowing down. What's next? Chime in at the Feature Request Channel to make sure your wishes are on the list.
Again – Thank you for being part of our culture.