#HootSuite's 2 Million Milestone ~ News Roundup
With 2 million sign-ups behind us, we are ready to meet the next million HootSuite users. Of course, we wouldn't have reached this milestone without so many of you caring about what we create each day. It's a thrill for us to see our daily efforts amplified by wise social media practitioners in business, non-profit, government, entertainment spheres… along with those of you who are using social media to connect with people and topics which interest you. You are all included in this infographic and in our future plans.

Special thanks to all the media outlets – from the heavy-hitters to start-up bloggers – for sharing our story of going from zero to seven-digits so quickly. This news round-up acknowledges some which caught our eye. Need even more? Check out our social bookmark stream and leave a comment if we missed your thoughts. Now, onwards to the next milestone!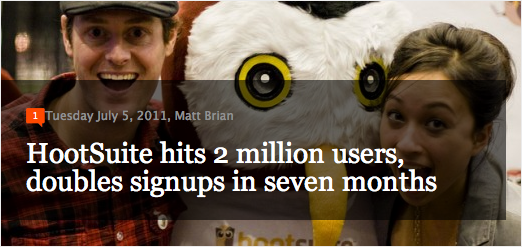 Social sharing tool HootSuite today announced it had hit a new milestone, registering its 2 millionth signup just seven months after it had reached one million users in November 2010. Signups are likely to have been helped by the companies decision to adopt a Freemium model, crafting package tiers to provide an extensive range of tools to both consumers and businesses – keeping it free for 95% of its users. The company also has popular apps available on the iPhone, Android, BlackBerry and iPad which post to a range of social networks.
The Next Web continued their coverage with a comparions of HootSuite alongside other SaaS and Freemium stalwarts start-ups including Evernote, Yammer and Dropbox. We're pleased to see our growth in-line with these successful companies.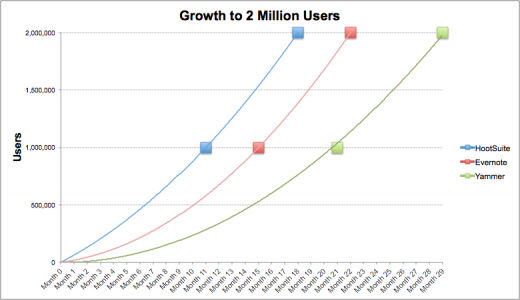 HootSuite has seen growth to date that is on a similar trajectory to the widely popular Evernote, Yammer and Dropbox. The data below outlining Evernote's, Yammer's and HootSuite's rise to 2 million users illustrates that there is significant market success of SaaS tools and Freemium business models.

~

While the data clearly shows that SaaS and Freemium models are fast becoming a widely used solution for many users, it also foreshadows something for HootSuite in particular: it may be the only third-party social media client left standing in the future because of how it has done — and continues to do — business.
Sure, a lot of people recognize that Hootsuite is a leading service to use Twitter and other social media services but it's not like people are falling over themselves to thrust the Vancouver-based company into the spotlight.

Maybe that will change after Hootsuite said earlier this week that it now has two million users, many of them people happy to pay a monthly subscription fee. Even more impressive is the number of Hootsuite users has doubled in the past few months.

Hootsuite's modest profile – and I know some people will push back against this description – may have to do with the fact it hasn't loudly blown its own horn. Instead, the company has steadily continued to move forward by adding new features and, of course, introducing a freemium business model that has been embraced by many users.

Hootsuite also "suffers" from the fact it has a group of low-key investors as opposed to high-profile VCs looking to show how savvy they were in their startup financing activities.

In a way, it is refreshing to see a company enjoying so much success seem to take it all in stride. I'm sure the company could be a lot more aggressive and self-promotional but that doesn't appear to be its style.
Thanks for blowing our horn for us Mark :).
HootSuite, the social media dashboard and analytics tool, has reached a new milestone: 2 million users. Invoke Media released HootSuite in December 2008 and it is widely used by individuals as well as organizations, governments and businesses. SXSW, Zappos and Martha Stewart Living Omnimedia all use HootSuite, according to the company. HootSuite hit the 1 million-user milestone in November 2010. Consumers and businesses have shared some 500 million messages to date.
See also from Mashable: Use HootSuite as a Marketing Tool
Famous for its adorable owls and clean-cut designs, the company adequately celebrated this milestone in two predictable (that's a good thing in this context) ways: an owl with a party hat, balloons, and confetti, and a kick-ass infographic.
Even though Twitter has become a kind of rude and step-motherly toward its third party clients recently, yet some of them are doing excellently well. Well, HootSuite hasn't have to face any harsh blows from Twitter like other popular Twitter clients and here is an excellently wonderful news for the HootSuite users, that it has gained excessively large number of users! Congratulations HootSuite and all its users!!
We're big fans of HootSuite at AllTwitter – Lauren and I both use the software extensively for all things Twitter, both professionally and with our personal accounts – and I'm very pleased to see the company announce a major milestone this morning: HootSuite has now reached two million account sign-ups. More impressively, they're doubled their userbase from one million to two million in just seven months.
More International Attention
Blog Mídias Sociais – Hootsuite tem 2 milhões de usuários (Portuguese)
TechGear – HootSuite: Έφτασε τα 2 εκατομμύρια χρήστες! (Greek)
Genbeta – Cuando una aplicación se convierte en una plataforma (Spanish)
GeeksRoom – Hootsuite llega a los 2 millones de usuarios #Infografía (Spanish)
GB Social Media – Hootsuite está que lo rompe: alcanza 2 millones de usuarios (Spanish)
Netokracija – HootSuite prešao dva milijuna korisnika (Croatian)
Heading for the future
Reaching 2 million is just the beginning with many more milestones ahead. Whether you are using HootSuite for crisis response or just for fun, we have plenty of new tools on the roadmap. But, before we move onwards, we want to acknowledge that we couldn't reach these heights without our communities all around the world. Thank you for your feedback, enthusiasm and contributing to our culture.
We're glad you are on our side while we work on new features and applications. Remember, we enjoy hearing what you'd like next (and yes, we want Google+ too).
For all articles written about HootSuite, check out our bookmarks and @HootWatch.