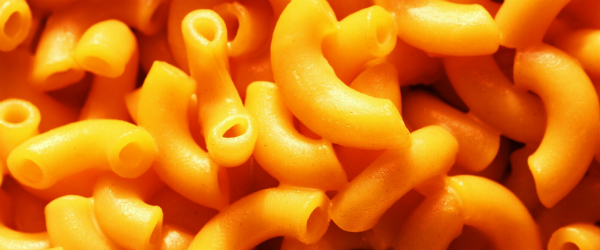 3 Social Media Marketing Lessons We Learned from Kraft Dinner
Kraft Dinner was a staple in my university dorm days. And not just for budgetary reasons-I craved its perplexingly bright color. I found twisted comfort in seeing yellow dyes numbers 5 and 6 in my bowl of pasta. So it was with mixed emotions last week that I learned, as of January 2016, Kraft would be coloring its iconic macaroni and cheese product using paprika, annatto and turmeric—no more chemicals.
Kraft has finally decided to go au naturale. I'd have loved to be a fly on the wall in that boardroom! Do you eschew the familiar and comfortable to suit a changing business, or stick with what works? It's a question many marketers face (including us). With these questions in mind, we thought we would share 3 lessons Kraft dinner has taught us about social media marketing this week.
1. Nothing is permanent, everything is temporary — or as Charlie Chaplin would say, "Nothing is permanent in this wicked world, not even Kraft dinner."
Like the color of Kraft dinner, the landscape of social media is constantly shifting, which means you should always be open to new ways of marketing and packaging your content.
Everything is mobile these days, we believe your noodles should be too. #KDonthego pic.twitter.com/DxQWsKXZJu

— Kraft Dinner (@kraftdinner) April 1, 2015

(We're glad this new way of packaging KD was a joke, though)
As a social media marketer, you have to be constantly updating your knowledge, adapting and tweaking your marketing strategy. There are new apps being launched and old apps pivoting with the change in tide. From Snapchat's Discover to live streaming with Periscope, there are always better ways to elevate your content. Don't just sit back and use the same old tricks.
2. Listen to your customers if you want to survive
According to Triona Schmelter, the vice president of marketing for meals at Kraft, "Consumers have been telling us, and parents in particular, that they want to feel good about the foods that they eat and that they serve their families," Along with consumer feedback as well as petitions asking Kraft to remove dyes from its macaroni and cheese, it was fairly obvious that it was time for some much needed change. Kraft is rebranding to match the demands of the market, because if they don't, their product won't sell.
The same goes with content. Create content that is valuable to your audience. Especially in the current social media environment where, according to a recent Nielsen survey, more than half of all U.S. consumers now turn to social media to air questions and complaints about products and services. Regardless of whether it is feedback concerning your content, service or products, listen to what your customers are saying.
3. Simplicity is the ultimate sophistication
Leonardo da Vinci would have found solace in the consistent shape of Kraft's macaroni noodle. He might have even found solace in the simplicity of what a bowl of Kraft macaroni and cheese contains. And for all intents and purposes, his theory of simplicity rings true for most things.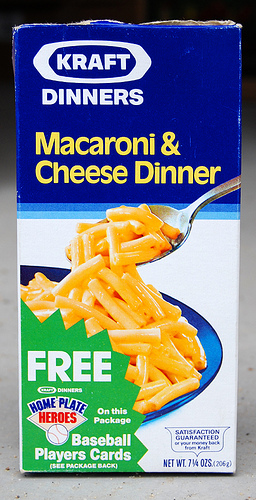 KD is most recognisable for two things. The first one is the neon colours, and the second is their simple and consistent macaroni meal. This can be true for branding and content marketing. Keep your campaigns simple and precise. Keep the language and tone consistent. Don't overcomplicate sentences with marketing jargon. Get to the point. Even here at Hootsuite, our Social team discovered that short Tweets always outperformed longer Tweets. People appreciate brevity.
Every week, we take a newsworthy topic and share relevant content and social media marketing lessons that can be drawn from seemingly unrelated subjects, such as playoff hockey beards and Jay Z's business venture with Arcade Fire. Tune in next week for another surprise post.