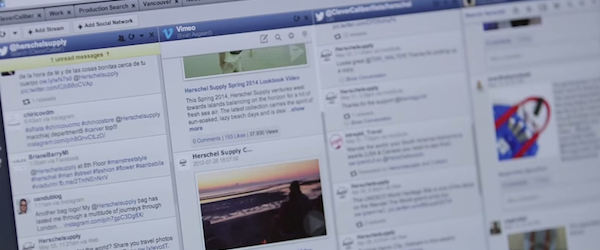 4 Key Parts of Every Social Media Strategy, and How we Can Help
Social media is constantly evolving, which is why we strive to adapt the Hootsuite dashboard to new trends and tactics. This year has seen the introduction of several new features and resources which could help you succeed in your social media efforts, both personal and professional.
Here are four core aspects of every social media strategy, and how Hootsuite can help you excel in each of them.
Content Marketing
Social media, unlike advertising, is a world in which the best content (not the most expensive content) survives. From creating branded hashtags (like Herschel Supply Co) to community management (like Manta), social media strategies involve content creation and content curation. Thankfully, there are a number of tools available to help simplify these processes.
For those among us that don't have time to scour the web on the hunt for great content, the new Suggested Content feature does the hard work for you. This new tool helps Hootsuite Pro users save time on content discovery and social media publishing by analyzing your posting history on Twitter and recommending articles that are relevant and interesting to you, your followers and friends. It then places them into the prime spots within your content calendar for easy editing and publishing. Learn more about Suggested Content here.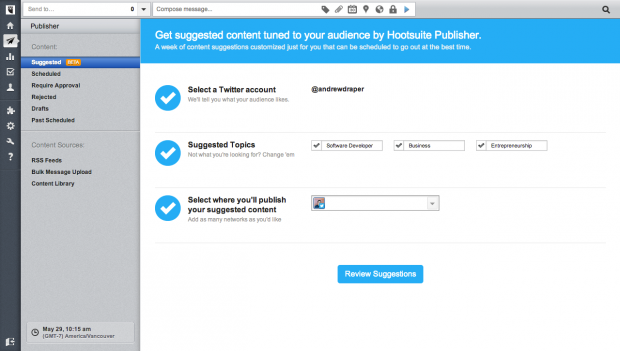 Another time-saving tool to help you market your content is Easy Share. Gone is the need for "share this post" emails to your contact list. Easy Share offers a one-click option to streamline the process of sharing content among peers. Take advantage of your network and get your content shared. Learn more about Easy Share here.
See how Social Media AOK uses their content marketing knowledge to drive business to their agency. Check out this Social Media AOK case study.
Social Customer Service
Social media is a core part of customer service today. Whether you're there or not, followers and clients are talking about you online. So you should be there, listening and responding quickly and effectively.
This includes the negative comments, which can be a challenge. We've created a six-step guide to responding to not-so-nice comments or reviews on social media.
Global Presence
Social media gives even the smallest of businesses the potential to connect with fans, followers and clients across the globe.
If you want to reach the most relevant international Twitter users, Hootsuite users can now direct outgoing tweets to their followers in a specific country. Twitter country targeting is free to all Hootsuite users and is a great way to target your Tweets to a specific audience for the best results.
Analytics and Measurement
Everything you do on social media should be measured. Doing so allows you to understand the impact of social media on your business while learning what works and what doesn't so you can continuously improve and grow.
Taking advantage of social media analytics is about setting goals that align with your business goals and then building measurement into everything you do on social. Hootsuite's analytics modules provide customizable reports to help you measure your social performance. These reports operate on points, so you only buy what you need. They can also be branded to help you earn buy-in from your boss and your clients.
For a breakdown of social media analytics and how Hootsuite can help your measure your success, check out our analytics Social Media Coach guide here.
To access these, and even more great Hootsuite features, sign up for a Hootsuite Pro trial today!