A Peek Inside the Nest: GetConnected TV Visits HootSuite Headquarters
How Does a Small Canadian Startup Become a Social Media Success Story?
GetConnected TV's trip to our office revealed not only an insider's look into what life in the nest is like, but also some insights into how we do business, and where we are headed.
HootSuite VP of Community Dave Olson tours GetConnected host Tristan Jutras through HootSuite HQ, and along the way reveals the secrets of how HootSuite grew to its present size: by caring about all users, and focussing on building a great project.
Check out part 2 ~ Social Tips for Business: GetConnected TV's Interview with HootSuite VP @DaveoHoots
Calling all Owls!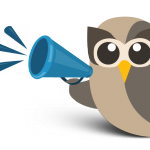 Seeking a career with a fast-growing web application company? Great! HootSuite has space to add a fresh mind to the mix. Click here to visit our careers page, and apply accordingly.
Thanks for your interest in HootSuite!