Communicating from Antarctica: The Scott Expedition
"It will be a story about the outer limits of human capability, innovation and potential." – The Scott Expedition.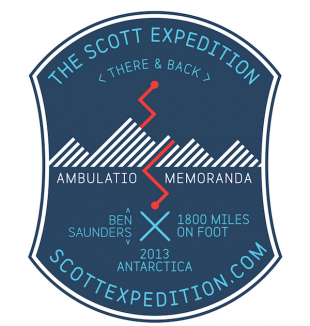 In October 2013, British adventurers Ben Saunders and Tarka L'Herpiniere set out on the Scott Expedition across Antarctica to the South Pole and back – on foot. Retracing Captain Scott's tragic 1912 British Terra Nova Expedition, this journey remained unfinished – until today.
More than just an incredible journey of mental and physical endurance, the Scott Expedition is a message to the world about perseverance. To build awareness and gain support, social media was integral at every stage along the way – from preparation, packing and training to maintaining communication from the harshest place on earth. Once in Antarctica, technology was Ben and Tarka's only lifeline to communicate with their team, families and the rest of the world. HootSuite helped the team amplify the story and build a community around their mission.
Overcoming Communication Challenges in Antarctica
The Scott Expedition is a 1,800-mile (2,900km), four-month return journey on foot from the coast of Antarctica to the South Pole. Ben and Tarka pulled packed sleds weighing up to 200 kilograms each in temperatures as low as -50°C, while facing 71 kilometer-per-hour winds. As the longest, unsupported polar journey on foot in history, the risks were unprecedented.
"Antarctica challenged me and humbled me so deeply that I'm not sure I'll ever be able to put it into words" – Ben Saunders at TED2014, 'The hardest 105 days of my life.'
To overcome communication barriers in Antarctica due to its remote location, Ben and Tarka relied on advanced technology to get wifi in their tent. To achieve this feat, they used an ultrabook with Intel's 4th Generation technology powered by Antarctica's 24-hour daylight. Having wifi in their tent allowed them to be connected through social media and share daily blogs, photographs and videos with the world.
"Considering that Antarctica is one of the coldest, most inhospitable and inaccessible places on earth, having a real time wifi connection is unreal" – Francesca Beeching, Marketing Communications Manager, The Scott Expedition
Social Media's Role in Communicating their Mission
The social media team, namely Ben, Tarka and Francesca, started to build awareness nearly a year in advance. They did this in part by sharing educational videos such as "What to Pack to Survive in Antarctica" and "How to Train for a Polar Expedition." With over 2400 and 2700 YouTube views respectively, their videos provided great insight and helped build a community around the mission.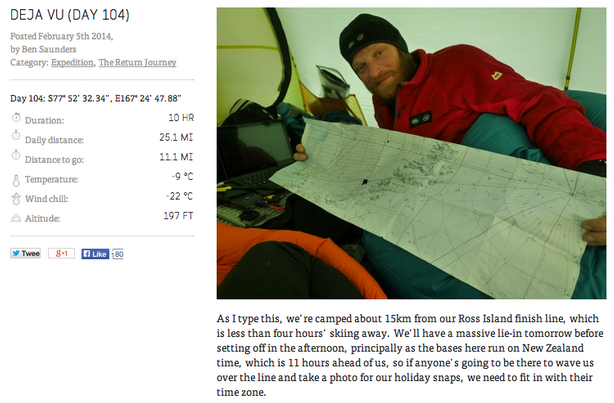 "The blog was a lifeline in a way, the lack of mental stimulus was incredibly difficult. The mental challenge far outweighed the physical" – Ben & Tarka.
Once Ben and Tarka were in Antarctica, social media's role became essential. Beyond the mental stimulus for Ben and Tarka, blogging connected them with the rest of the world and their team back in London. Fans could follow the expedition's progress in real time, watch videos, see photographs and read inspirational words. In the London headquarters, the social media team re-shared the blog posts to over 15,600 fans and followers on Facebook, Twitter, YouTube, Google+ and Instagram, to keep the adventure alive.
The Scott Expedition was initially drawn to HootSuite for its ability to schedule messages. However, after connecting with HootSuite's Social Media Coaches, they learned how to set up streams to monitor multiple channels and keyword searches on Twitter. This enabled them to listen to what their audience talked about and tap into wider discussions on exploration and Antarctica. The Scott Expedition saw a significant increase in follower growth and began building a community by connecting with their audience through relevant content.
"HootSuite helps us oversee our content, channels and communities to make sure we're engaging and spreading awareness" – Francesca Beeching, Marketing Communications Manager, The Scott Expedition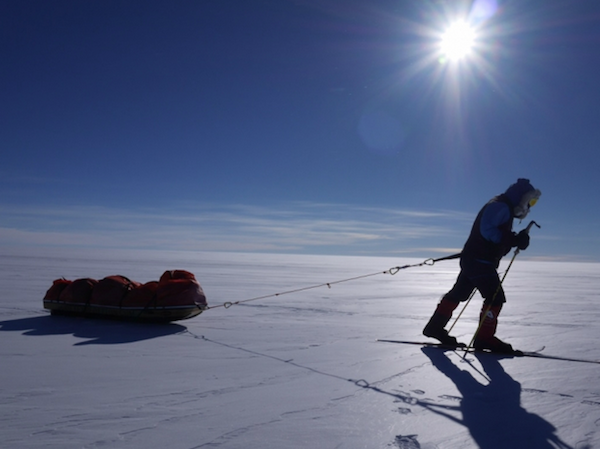 Congratulations Ben and Tarka for your successful return home. Thank you Francesca, the Scott Expedition team and London's Speed Communications for sharing your story!
Build your audience in advance of the big event with HootSuite Pro, free for 30 days.