4 Best Practices for Incorporating Social Engagement into your Webinar Strategy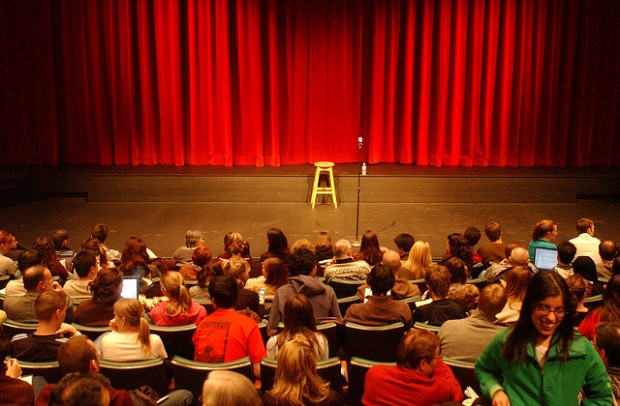 What makes a good host? Think about the last party you attended. Whether it was a high-brow cocktail affair or a low-key gathering, you probably had some standard expectations. We all want the host to tell us a good story or two, but we also expect them to introduce us to some new friends and spark a good conversation. Now, think about the webinars you attend. Chances are, your expectations from the host are the same.
When you host a webinar, remember, it's not all about you. In the era of social media, you're responsible for facilitating connections among your guests and starting a discussion that extends beyond the webinar itself.
Your viewers expect to have an opportunity to respond to your presentation and share their own insights, not only with your brand but with other members of the audience, too. Your webinar console is a good starting point, but most of them will want to talk about your presentation on social media, where their thoughts will be visible for a broader audience.
Here are four best practices for incorporating social engagement into your webinar strategy:
1. Set Benchmarks and Metrics
Although modern customers are naturally inclined to reach out to brands on social media, it pays to formalize a strategy for social engagement before your webinar. Your team should define roles and responsibilities, and set measurable goals for engagement that support your business objectives. After the webinar is complete, you can analyze your performance to refine strategy and process.
"Analytics is a journey, but you need to begin with the end in mind. Set clear goals and expectations for what your webinar will achieve and be prepared to measure, measure, measure. Without a clear understanding of what social engagement metrics you would like to track, who in your organization will use the information, and what business decisions will be made with the analytics, you run the risk of failing to incorporate social analytics into your webinar strategy."
Melanie Aizer, Webinar Programs Manager at HootSuite
HootSuite tracks several indicators to evaluate the performance of our engagement strategy, including:
Volume and frequency of tweets that mention our webinar hashtag (pre-webinar and during)
First-degree reach (the total number of followers who were potentially reached by all mentions of our hashtag)
Number of unique sources using our hashtag
Regional breakdown
Sentiment
Conversation map (which keywords occur most frequently in proximity to our hashtag)
Key influencers
Number of new @HootBusiness followers
2. Use a Hashtag
A hashtag is the natural way to organize the conversation around your webinar. We chose the hashtag #SocialAnalytics for our most recent webinar, and encouraged our audience to use it in all of their tweets. This allowed us to monitor the discussion on Twitter and engage with our viewers by replying, retweeting, and favoriting their tweets. If you want to support a true social conversation, make sure to encourage your viewers to monitor the hashtag, too. The hashtag will allow them to discover and respond to each other's ideas, helping to create a community around your content.
Your hashtag is also vital from an analytics perspective. When someone chooses to use your hashtag in a tweet, they're consciously signalling their engagement with your brand.
Choosing the right hashtag
So how do you choose a good hashtag? Like every other part of your engagement strategy, selecting a hashtag is both an art and a science. Use your intuition, but then measure your engagement results to see which hashtags work and which don't.
For our last webinar, Social Media Intelligence: Turn Insight Into Action, we decided to use a general hashtag, #SocialAnalytics, instead of a branded tag such as #HootBusiness. Using the latter option would have supported our long-term goal of building community around HootSuite Enterprise, but the #SocialAnalytics hashtag is more relevant to the subject of the webinar. It's also a hashtag that's already in use, and is something that people are likely to search for. This makes our content easier to discover.
There's a balance that needs to be struck here. If you choose an extremely popular hashtag for your webinar, it will be difficult to tell how many of your hashtag mentions are actually related to your content. One solution is to use an intelligence tool such as UberVu via HootSuite to build a conversation map of the hashtag. A conversation map will reveal which words and phrases are most commonly used in relation to the hashtag; if your intention is to increase your brand's share of voice in that conversation, then you should measure it.
3. Extend the Conversation
HootSuite is always looking for ways to encourage more social engagement before and after our webinars, not just during the hour-long live broadcasts. Sparking discussion about your topic ahead of time will obviously help to promote the event and boost your registrations, but it will also generate insights for your webinar team and your organization as a whole.
Leading up to the event, you can monitor your hashtag to identify which topics your audience cares about, and then make adjustments to your presentation or prepare for the questions you're likely to receive. During the webinar, one of your viewers may have something meaningful to share that other members of the audience should hear. If you're listening, your presenters can incorporate that idea into the live webinar itself or into follow-up content, like this blog post.
Following the webinar, you should extend the conversation by responding to your mentions. Find the people who took the time to talk about your webinar and ask them what they thought about it. Keep your ideas top-of-mind by asking additional questions, using your hashtag wherever possible.
4. Get Stakeholders Involved
Social engagement should be a shared responsibility. Involve as many stakeholders as you can in your engagement strategy and get them to jump into the conversation using their own social media profiles. A diverse engagement team might include:
Webinar host and guest speakers
Full-time social media practitioners
Your Community team
Subject matter experts from other departments
An executive or other high-profile advocate
Employee brand advocates
The more broadly your organization participates in the conversation around your webinar, the more people will find out about it. At HootSuite, employees are encouraged to amplify company messaging across their own social networks to increase our brand's reach. But it's not just a matter of boosting exposure. Employee participation also improves the quality of our webinar discussions by bringing more points of view and expertise into the mix. As our Webinar Programs Manager, Melanie Aizer says, "it takes a village" to make a webinar a social success.
Involving stakeholders from outside your webinar team is also critical to making your webinar part of a cross-channel campaign. We supported our webinar on Social Media Intelligence with a white paper, a guide, and a follow-up blog post which discussed our poll results. All of this content was supported by social messaging on Facebook, Google+, and multiple branded Twitter accounts.