Europe Wins Ryder Cup: On the Greens and on Social Media (With Infographics)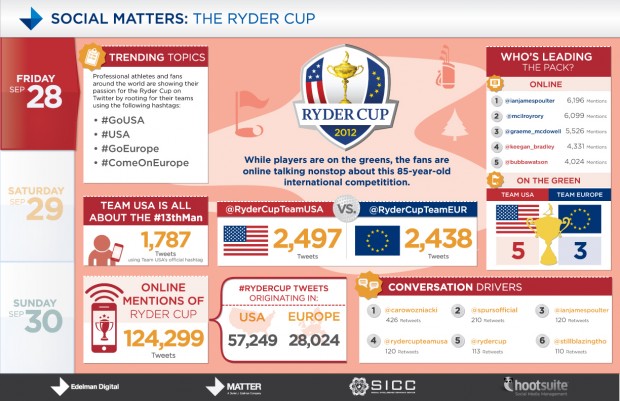 Athletes and pundits often refer to "home field advantage" when talking about the potential outcomes of sporting contests. In an event like the Ryder Cup, which (biennially) pits the best golfers in the US against the finest that Europe has to offer, it is perhaps an even bigger factor than usual. The favorable roar of a crowd has often been cited as an emotional factor in helping the home side find the steam to pull out a victory, and that's true of almost all sports (even golf, where quiet is valued and encouraged).
But what about the crowd you can't hear, the one following along via social media? Could it be that they too can affect the outcome of a sporting event, if that sporting event plays out over several days?
This weekend's Ryder Cup saw an incredible come-from-behind win by Europe. But while they were making up points on Medinah's hallowed greens, they also began dominating the social sphere as well. With help from our friends at Edelman Digital, we've got the numbers and the infographics (one for each day) to tell the tale.
Mark Lamport-Stokes, a writer for Reuters, calls it "one of the greatest comebacks on a golf course." As a contributor to ESPN, Bill Speros says "The American collapse against Europe in the Ryder Cup on Sunday stunned the golf world, and social media was there to deliver the message." Saturday at the Ryder Cup looked a lot like Friday, but there was a little less action that what occurred on Friday: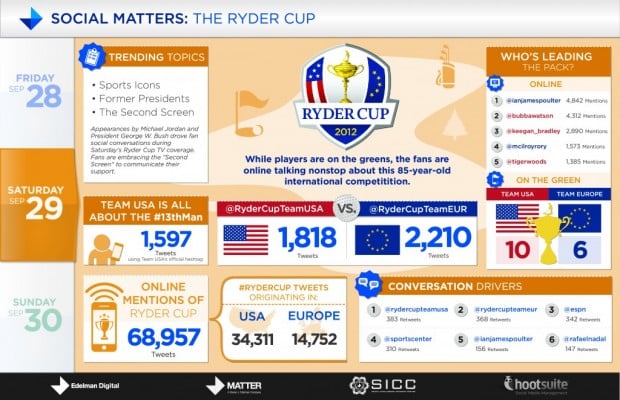 But the real story took place on Sunday. By capturing the eight points they needed to seize the comeback victory, the European team (captained by Jose Maria Olazabal) did what most golf fans thought was impossible, and fans seemed to respond in kind on social media. Pay special attention to the number of mentions of @RyderCupTeamEUR, which were close to a dead heat with the US squad on Friday and Saturday. Sunday's figures tell the story of a crowd that is suddenly spending more time talking about the underdogs, and their faint hopes of winning:
Now that participation and monitoring of social media has become such an important and prevalent part of all events, not just sport, it will be interesting to see whether pundits start to tie positive social media reactions directly to player performance. Without obsessively checking timestamps, which do you think came first? Did the support from online fans bouy the spirits of the Europe squad, or was it just the opposite? We'd love to hear what you think. Leave a comment, or tweet at us using @HootWatch.