Everyone you know is on Facebook. Or Twitter. Or something. Everyone but… gasp—the CEO of the company you work for?
It's true—61 percent of CEOs have no social media presence whatsoever. In a digital business world where customer service is measured by the immediacy of a Twitter response, it's shocking to think that less than half of Fortune 500 CEOs are active on a major social network.
Hootsuite's CEO, Ryan Holmes, has discussed the benefits of having your company's C-suite on social media. It makes sense that as the workplace becomes more reliant on digital technology, the heads of companies would want to be there.
Here are a few real-life examples of executives doing awesome things on social media to further drive the point home.
Lessons you can learn from the best execs on social media
1. Listen to customers
As the head of Tesla Motors, SpaceX, and SolarCity, and co-founder of PayPal—one of Elon Musk's proudest moments happened when he publicly responded to a customer complaint and actually did something about it.
You're right, this is becoming an issue. Supercharger spots are meant for charging, not parking. Will take action.

— Elon Musk (@elonmusk) December 11, 2016
A customer Tweeted directly at Musk's Twitter handle—expressing his concern about already-charged Tesla vehicles taking up space at designated charging stations called Superchargers. Musk followed up first by responding directly on Twitter. Then only six days later, announced a new company policy on Tesla's website that fully-charged cars left at Supercharger stations would incur a $0.40 per minute idle fee.
The lesson here is for executives to show customers how much they're valued. Musk doesn't just take customer feedback and toss it into an insights report—he listens, personally responds, and then makes it happen fast. In any kind of company, this is what we'd call delivering excellent customer service.
2. Be honest and authentic 
Steve Wozniak, co-founder of Apple, is one of many executives who have taken to Reddit to answer questions from the community. He uses his Twitter to provide "proof" that it's indeed him tuning in, as per Reddit guidelines.
Looking forward to @reddit AMA about tech, entertainment, people, life. March 16, 1pm PDT.

— Steve Wozniak (@stevewoz) March 16, 2016
Reddit AMAs, or "ask me anything" sessions, are an awesome opportunity for thought leaders and industry figures to open up their companies and connect with the public.
With his Reddit AMA, Wozniak demonstrated his affability, respect for the past, commitment to the future, and his passion for the tech industry. What jumps out at us, in particular, is when asked about his support for Steve Jobs's successor, Tim Cook, Wozniak responded graciously.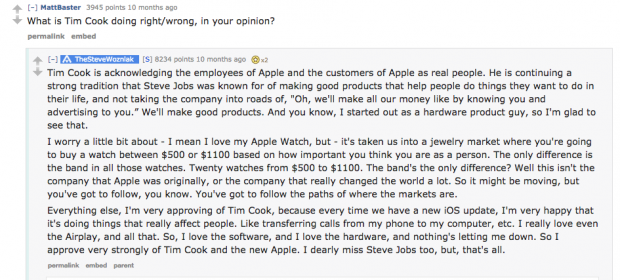 A similar situation occurred in a Reddit AMA for Nick Woodman, the CEO of GoPro. When confronted with a particularly controversial question concerning stocks going to big banks before GoPro's employees, Woodman didn't shy away from answering. He's even been commended for his straightforwardness.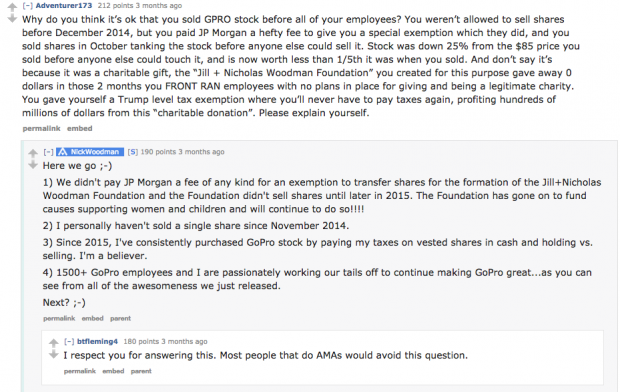 Redditors don't take it kindly when their questions are dodged, or worse, when the discussion is used a PR stunt. You don't want to become an AMA Disaster.
Wozniak is extremely transparent and genuine with his responses. On top of that, both he and Woodman make it a priority to address sticky questions head-on and with integrity.
3. Share content and invite a conversation
Speaking of Reddit, the co-founder of the online community, Alexis Ohanian, has his own social media brand.
On Instagram, Ohanian posts photos from his personal and public life—showcasing his family, work, political views, and more.
Ohanian also Tweets multiple times a day, sharing thought leadership pieces, articles that interest him, and of course, links to Reddit threads.
While Ohanian posts content derived from Reddit, it's framed as a conversation-starter or an invitation for his followers to contribute to the discussion.
"Today is President Obama's last full day in office, what will you remember about him the most?" https://t.co/eYHLtvqJa8 via @reddit pic.twitter.com/AxQPZPelc0

— Alexis Ohanian Sr. (@alexisohanian) January 20, 2017
Executives can use social media to promote themselves and their organizations.
What we love about Ohanian's social media presence is that it promotes his company while engaging readers in a relevant way and telling us a little bit about him as a person. It's a pretty solid trifecta.
4. Focus on the platform that's the best fit for your brand
Cory Nieves—or more famously known as Mr. Cory—founded his own cookie company, Mr. Cory's Cookies, at the ripe old age of nine. He remains the CEO of that company and contributes to Target's Art Class—a kid's clothing line. Unlike most of the CEOs that we've seen, he Instagrams everything.
Nieves focuses on Instagram because that's the best channel for his product and target audience. By not spreading himself too thin, he's able to maintain and grow an impressive following.
5. Show passion for the causes that matter to you 
As a prominent female exec, Sheryl Sandberg, Facebook COO, champions gender equality in the workplace, particularly in the tech industry.
Sandberg discusses how social media is changing the workplace, politics, and the world we live in. She also works hard to help women get into positions of power.
Executives should use social media to showcase their passion for causes and their respective industries.
You might not have the same kind of clout that Sandberg does, but people take notice when you use your platform for good. You can use social to champion causes that you believe in and share your humanity with your followers.
Now that you've got some executive tips on your hands, put your newfound knowledge to use on your social media platforms. Try Hootsuite for free today.