Make Thanksgiving Travel Easier with Hootlet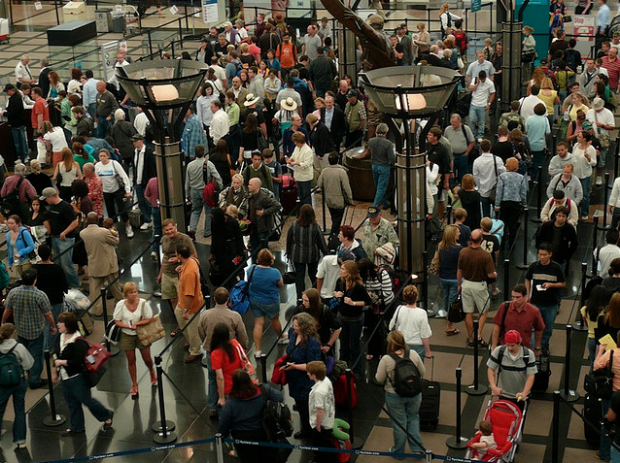 It's about that time again. Roads will be bumper to bumper, flights will be jam-packed and train stations will insanely crowded. Thats right, it's Thanksgiving.
Last year, there were 43.6 million of us that journeyed 50 miles or more from home to spend the Thanksgiving holiday with their friends and family. If the traffic wasn't enough of a hassle, this year travellers will be facing a winter storm that is likely going to make travel difficult and dangerous along the East Coast. Greaaaattttt.
I'll be right there with you, tackling the hordes of people while catching a Red Eye flight from Vancouver to New York.
Amid the chaos and confusion that is holiday travel, I have found something travellers can be thankful for during this Thanksgiving Holiday: the Hootlet Extension for Chrome.
Since I will have the added elements of people and weather to take into account when heading to the airport, and I don't want to get there and find out that my flight has been delayed (or even worse… cancelled), I can check the Hootlet Extension before leaving the house to find out everything I may need to know. After doing a regular search using Google Maps for a certain location, Hootlet will give you the option to see Tweets Near Here.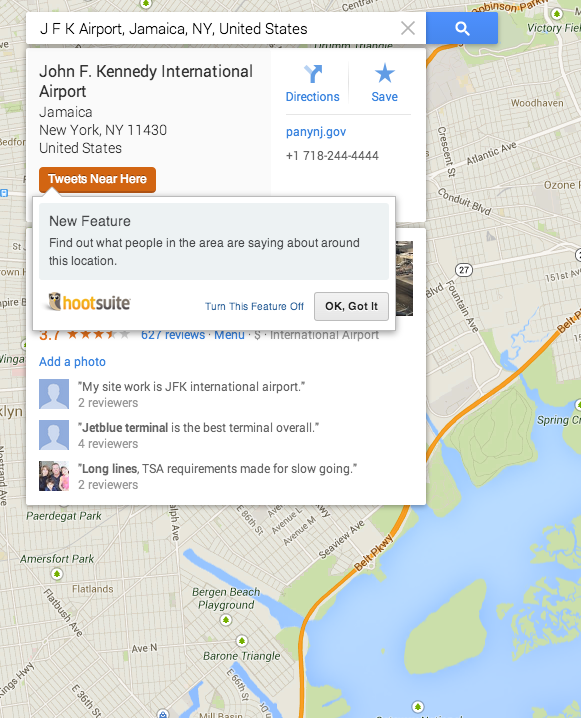 Didja see what I did there? Now I know that the "Jetblue Terminal is the best terminal overall."
If you want to find out what people are Tweeting at a certain location, the Hootlet is perfect! It also gives you the ability to set a radius around you're location. This way, if you're flight gets delayed or you are stuck in infinite traffic, you can check out the Tweets and see what is happening at restaurants and stores in your area.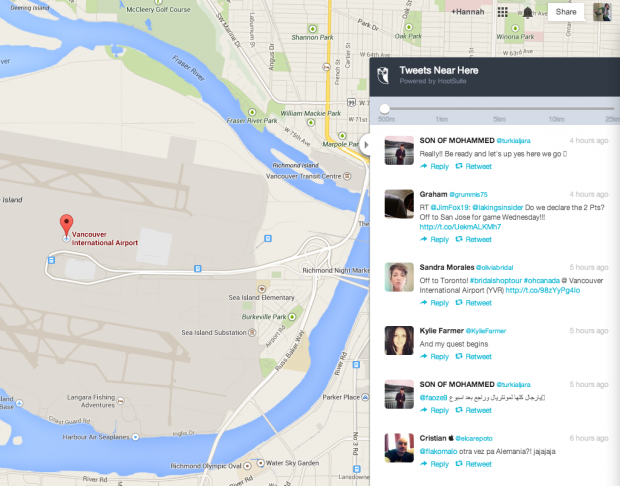 Even though I'm not leaving for another two days, by checking on the Tweets Near Here, I can see that Kylie is beginning her quest and Sandra is off to Toronto. Are you already on the road and see traffic,  or perhaps you're already waiting in lines or are having to battle through bad weather? Share the information with other travellers, and help this whole process become even more smooth.
If you are starting to plan your travel or want to see what is happening in your area, the Hootlet can help. Bring social media with you while you wait in those long travel lines and take advantage of the information and sharing opportunities it provides. Download Hootlet for Chrome today.
More on the Hootlet:
You can also explore all you can do with the Hootlet in HootSuite University's tactical, walkthrough video and start implementing your learnings today.