Hoot-i-versary! #HootSuite Celebrates our First Three Years

Happy birthday HootSuite! We're celebrating our 3rd anniversary and we'd like to take the time to highlight a few milestones as well as give thanks to the unbelievable support from our beloved users — all 2.7 million of you and counting!
This post will take a look back at the many ways we've grown — from dashboard design to international expansion — and share some of our important achievements along the way. Whether you're Basic, Pro or Enterprise, we're always glad to be a part of your social media success, and look forward to all of the amazing new milestones on the roadmap ahead.
The Dashboard Formerly Known As BrightKit
HootSuite has come a long way since our inception in the winter of 2008, when Vancouver based Invoke Media created the dashboard to help solve the conundrum of multiple clients, team members and social profiles, but had no streamlined way to manage. Thus, HootSuite (originally called BrightKit) was born!
The name isn't the only thing we've changed. Here are some shots of our early dashboard: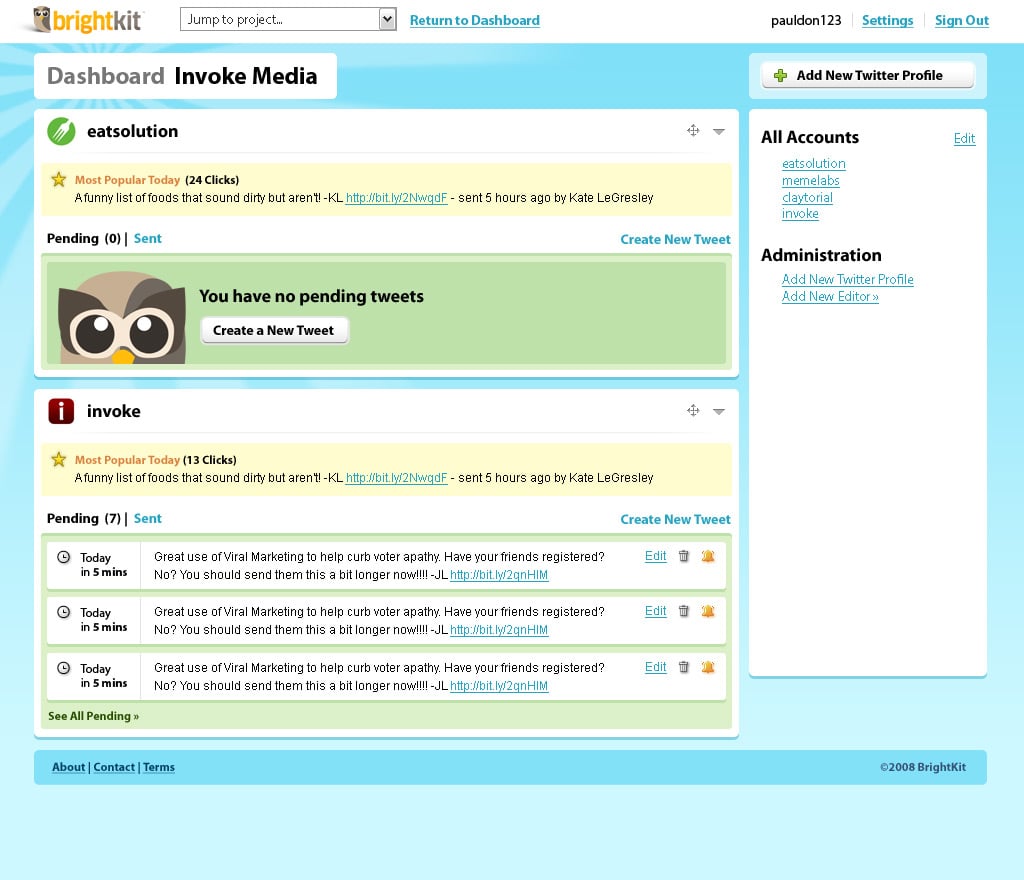 And where we are today:
Starting with only a handful of owls, we have now expanded to a team of more then 80 and are continuing to grow.
Growth Spurts
The growth and uses for the dashboard have far exceeded anything that was originally imagined. We've seen it used as a tool to elect governments and to mobilize political change, like in Egypt. And we've seen HootSuite as a critical tool in times of crisis, most significantly in Japan.
There's much to celebrate. Reaching 1 million, and then 2 million and now over 2.7 million users in less than a year. We're excited about important network integrations and partnerships (Google+ Pages, LinkedIn Company Pages, Facebook, etc.), acquisitions (Geotoko, What the Trend and more) and the release of our app directory.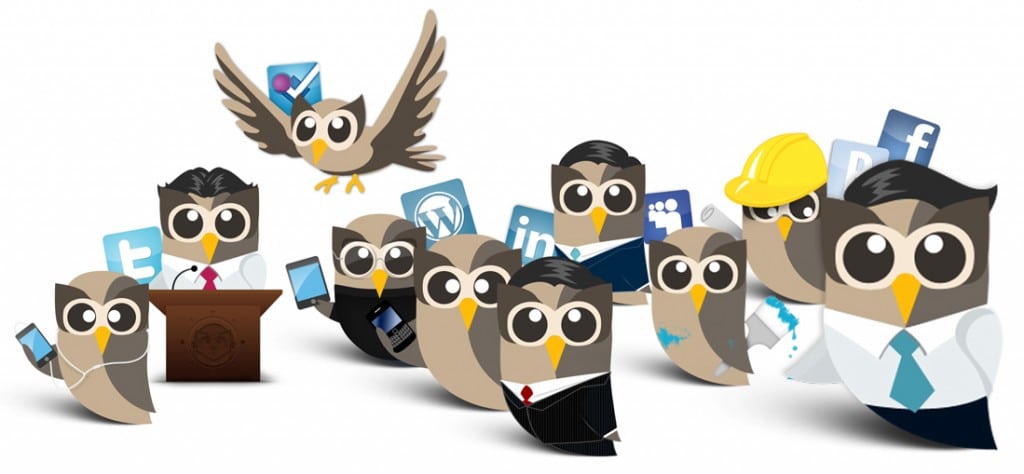 We also learned a lot. We saw our first ever extended down time from the Amazon outage, but were pleased to be one of the first back up and running. We were nimble in responding to industry concerns following high profile mistweets, creating security tools to give brands control. And all the while we've been keeping in close contact with our users through feedback channels, developing new functionality and adding innovative features to the HootSuite Dashboard.
Hoo's Hooting With Us Now
The crowdsourced HootSuite Translation Project has seen much success since its launch in the summer of 2010. Because of the hard work and dedication from volunteers around the world, HootSuite is available to social media enthusiasts worldwide in multiple languages. Here are the international HootCommunities you can follow along with on Twitter:
@HootSuite_Japan @HootWatch_Japan @HootSuite_ES @HootSuite_RU @HootSuite_PT @HootSuite_NL @HootSuite_UK @HootSuite_DE @HootSuite_ID
Our growth and success has been made possible by not only our international community, but our in-house community as well. Each member of our HootSuite team enriches not only HootSuite as a company but also the culture and lives of the people they surround.
Many thanks to everyone for being a part of this adventure and we look forward to bringing even more people into the community for the next year.