#HootTrak Long Haul ~ Grits, Burritos & Conductors on #Amtrak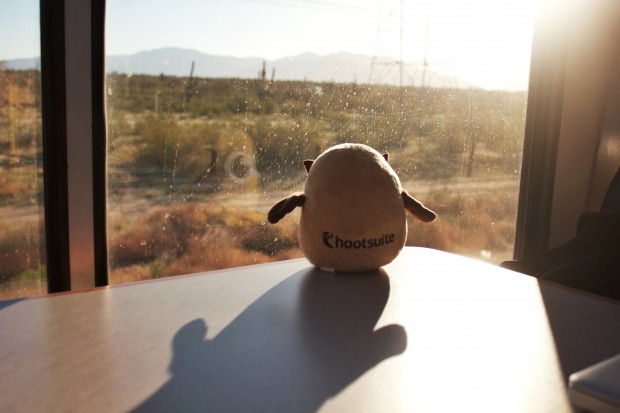 A long but productive day around Los Angeles ended with my arrival at historic Union Station. You may have seen it in movies like The Dark Knight Rises, Pearl Harbor, Speed or the wonderful film, Raise Your Voice. I arrived at the station at 9:30pm – plenty of time to spare for the 10pm departure. Boarding, I was greeted by the sweet, heavenly voice of Aleesha Fisher Istanbul who directed me on board. More on her and the rest of the shenanigans later.
In case you're confused, this is part two of #HootTrak – a collaboration between HootSuite and Amtrak documenting one Owl's train adventure from Vancouver to Austin for SXSW. Get caught up with: The preview blog and part one of my journey across North America in the back of an Amtrak train.
Wait… I get my own room?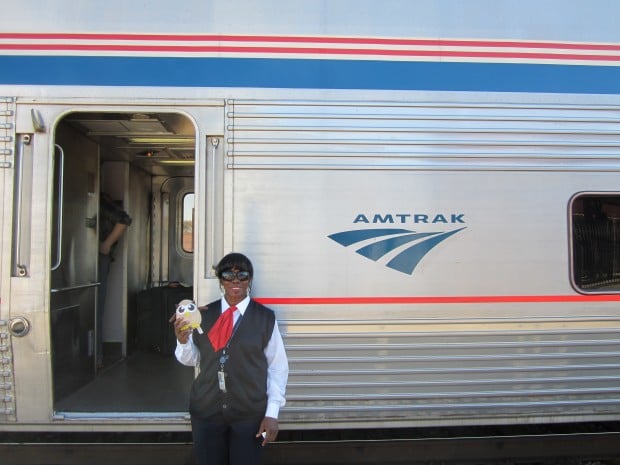 I was directed to my room in the sleeper car section located at the back of the train. Very cozy. In fact, it reminded me of sailing with my family every summer along the coast of BC. We'd cruise and anchor overnight in ports and bays, and I vividly remember the relaxing feeling of the gentle rock of the boat as we slept. Best sleeps I've ever had.
Conversely, sleeping on the train? Not the same. I struggled to sleep because I was completely wired. But why?
Meet Eric
I connected with Eric right after departure. He's a west coast transplant from small town Pennsylvania who shares amazing visual adventure stories on 'Glass Duffle',  his travel blog. Eric reached out before the trip after reading an earlier post. As the train gently rattled into the night, we met in the lounge car and chatted about SXSW, football and life stories.
He quit his job in search of something new, and now travels the country (mostly by train) sharing stories along the way. After seeing what he put together after his mission from Denver to LA on the California Zephyr, we decided that video would be the perfect medium to tell the unique story of this train trip. Now we're collaborating to film and produce an epic video to wrap up operation #HootTrak.
The wake up: There's a 5:30am now?
Why are we up so early you may ask? As per recommendations from our sunrise apps, 5:30 would allow us enough time to set up three (count it) GoPros. The sunrise did not stand a chance.
Our mission? Turn the Amtrak lounge car into (aliteration aside) a lean, mean, media-making machine. Our task? Capture all the beauty of a Dateland, Arizona sunrise.
So, equipped with three cameras, we sat contently, drinking freshly brewed Amtrak coffee (very good by the way), eagerly awaiting the sunrise.
Grits for breakfast? That's bananas!
While I waited for a seat in the fabulous dining car, I met Brenda from New Orleans. We got to chatting and joined Stella and Ray, at a booth for breakie. The menu was nicely stocked, but being the fearless thrillseeker that I am, (and with the help of Brenda's subtle recommendation) I tried grits for the very first time.
You read correctly, the west coast Canadian kid chose grits over sausage and hash browns. But rest assured, she relayed how they do grits proper in New Orleans with an egg yolk and tons of hot sauce mixed in. "Hey, I love hot sauce" I said, as I proceeded to drench my grits in Tobasco. Not bad.
Now Brenda personifies New Orleans, or what I think of New Orleans. Sweet and friendly with that southern swagger. She was visiting her kids in Santa Barbara, and can't get enough of the train.

Train detention?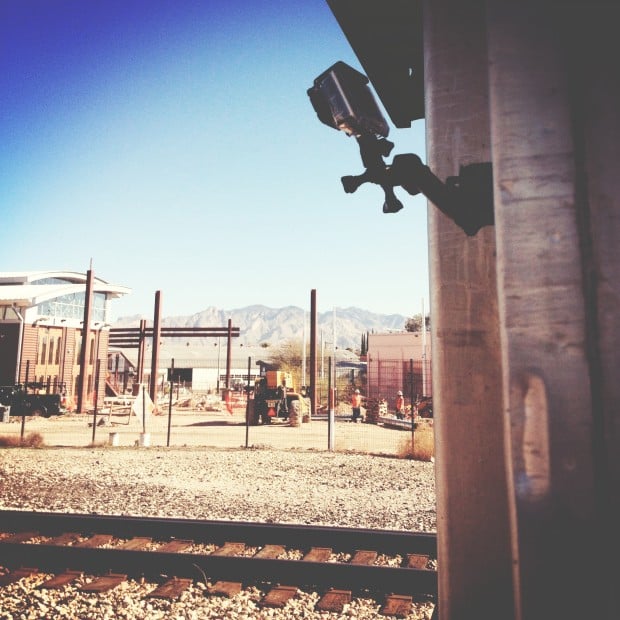 So apparently mounting GoPros on the back of the train is frowned upon. Here's what happened: My new train buddy Eric and I hopped out during a stop in Tucson to mount a GoPro on the back of the train. How epic would the footage be of the horizon in the distance from the back of the train? We discussed it, then made our decision. This could potentially capture some really cool and unique footage.
Long story short, I ended up in a meeting with the conductor where I explained the collaboration with Amtrak and shared my story and vision for the journey. After a quick call to Amtrak, things were smooth as butter, as they say. Also, in case you're worried, we indeed captured the footage and didn't lose the GoPro either!
El Paso: The home of the burrito lady
The train stopped briefly in El Paso, and my fellow train goers all ran outside to buy famous burritos from a local entrepreneur. The women keeps 50 or so burritos stacked in a portable cooler. Chilis, potato and ground beef was a winning combo for $2 a piece. After about 10 minutes, she had sold each and every one. Not a bad business model.
Well, it's the end of another awesome day on the train, and on to Austin tomorrow. You can expect a wrap-up blog post extravaganza with a special video included of the journey.
-Owl out