Japan-Fest at #HootSuite ~ Celebrating 1 Year in Japan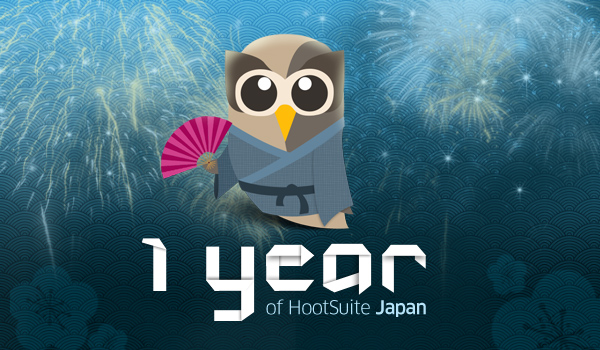 Konnichiwa from HootSuite,
Here at HootSuite we're celebrating the 1 year anniversary of HootSuite Japan. On behalf of the whole team, we thank the Japanese HootFans for continuing feedback and support. For those of you outside of Japan, we want to share a bit of our story and let you know how we're celebrating with the Nihonjin Owls.
Visting: HootSuite CEO Ryan Holmes first visited Japan in the spring of 2010 drawing much excitement from the legions of Japanese HootSuite users as he visited companies, events, and media. A year later, Japan is HootSuite's second largest market and our relationship with Japan continues to grow stronger.

Fully Localized: HootSuite web and all the free mobile apps — iPhone, iPad, Android Blackberry — are available in Japanese thanks to our fans who contributed to the HootSuite translation project. We also paid close attention to the requests of our Japanese users and added mixi — the popular Japanese social network — to the the web and keitai versions of the dashboard.
Building Community: We've built a solid Japanese team both here at HootSuite HQ and locally in Japan who support our Japanese users and host HootUps to meet and learn from HootSuite fans at home and abroad – and we've formed a partnership with Digital Garage to help reach the Japanese business market. At SXSW, we also ran a panel called Big in Japan which also became a fundraiser for relief efforts.
Celebrating
We planned all sorts of treats starting for the Japan-fest (read the whole rundown in Japanese) including:

Keitai Beta: The new version of HootSuite for Keitai (beta) features an installer from Japanese mobile provider Softbank plus Twitter and mixi support – Visit the HootSuite for Keitai Beta Test page to learn more about how you can take part if you have a handset.

Owly Design Contest: We're also holding a Japanese Owly design contest – It's simple to enter, just follow these few steps to submit your creative Japanese Owly designs:
1) Upload your Japanese-inspired designs to your Twitter profiles using ow.ly photo sharing
2) Tweet us your message using the contest hashtag #HootJapan
3) Be sure to add @HootWatch_Japan so we won't miss it!
The winning Japanese Owly design will be made into a sticker to be sent out in HootKits around the world, plus it will be used as the @HootSuite_Japan Twitter account avatar on July 18, and the winner will receive a special HootSuite prize pack.
We'll also be handing out two other Japanese Owly design awards: the "People's Choice" winner for the most highly voted design (vote directly on the ow.ly pic); and the most "Japanese" owl design (using origami, sumi-e, etc.). Read complete rules (in Japanese) & see examples.
Survey: We're always listening to the market and asking users what they like and what they seek, we've done the same with a Japanese survey. If you are HootSuite user in Japan, see @HootSuite_Japan for the link.
Wallpapers: And for even more Owly fun and inspiration, download the cute Japanese-style wallpaper for your computers and mobile devices.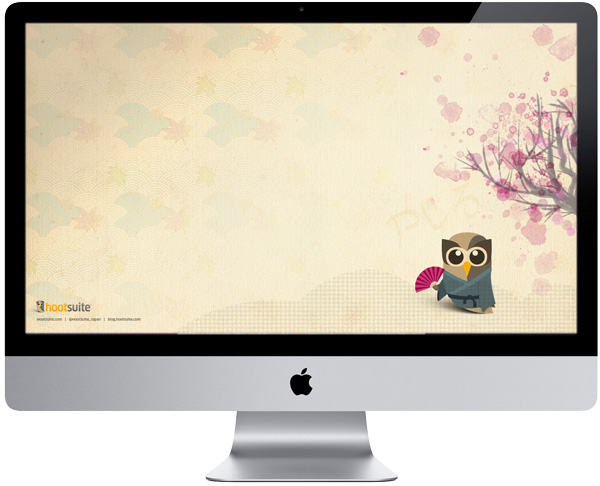 Onward
This year outreaching to Japan has been important in HootSuite's short history – and with the recent natural disasters, Japan is on everyone's mind. Again, we would like to thank everyone who supports and helps us grow and move forward and look forward to the road-map ahead.
Stay tuned to all the Japanese milestones by following @HootSuite_Japan and @HootWatch_Japan for updates and use #HootJapan to spread the news.