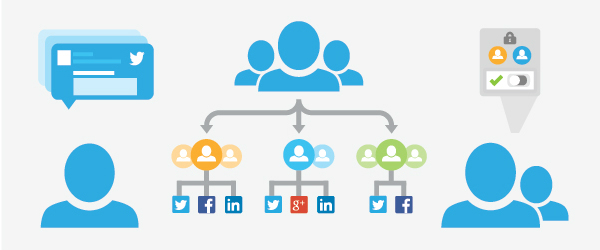 The 3 Paths Mid-Sized Law Firms Can Follow to Success on Social Media
Retweets from journalists. Spikes in website traffic. And a steady flow of new business leads and interested emails. Those are the benefits that first attracted your law firm to social media, right?
The other day, I had an interesting talk with Larry Port, the founder and CEO of the popular legal billing software company, Rocket Matter. He shared a few helpful social media tactics for law firms looking to advance their results to the next level.
By now, your firm has likely done all the basic work such as getting your attorneys active on LinkedIn, connecting with a few journalists on Twitter, and distributing content on SlideShare.
So how can your law firm progress to the next level of results?
As Larry pointed out, a lot of law firms underestimate the investment that social media can take to achieve significant results.
In this article, I'm going to show you the 3 paths to success on social media. You can then decide which one is right for your firm.
I'll also share some really helpful tactics that any law firm can use to achieve better results . . . without much extra time or investment.
[Additional resource: Hootsuite is used by 29 of the top 50 AmLaw firms for their social media management. Click here to request a demo and a legal expert at Hootsuite will personally show you how our solution makes it easy for your practice groups, sectors, and different teams to securely use social media channels.]
3 paths with different results
I know that your firm has limited time to spend on social media. So, I've created some charts that will help you decide the level of investment you want to make in social media.
Use these charts to judge where you stand now—and whether your firm has the interest or resources to push your results to the next level.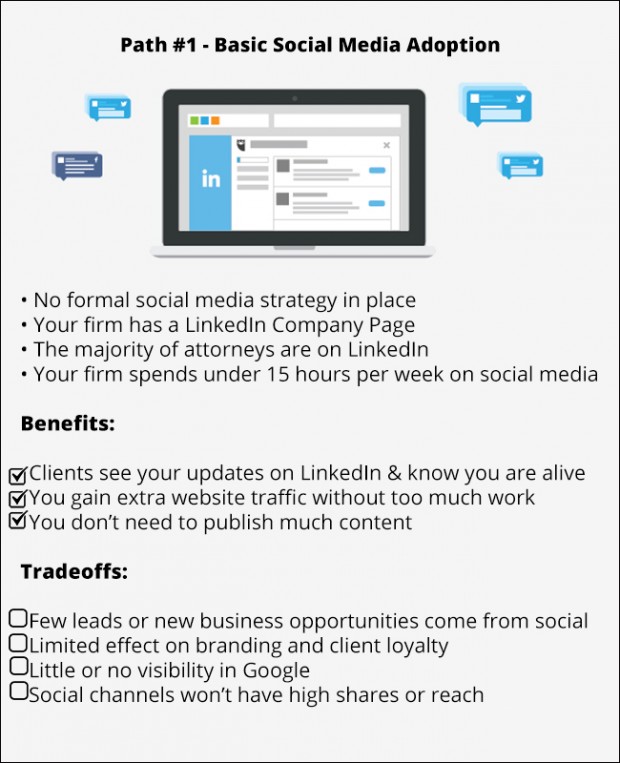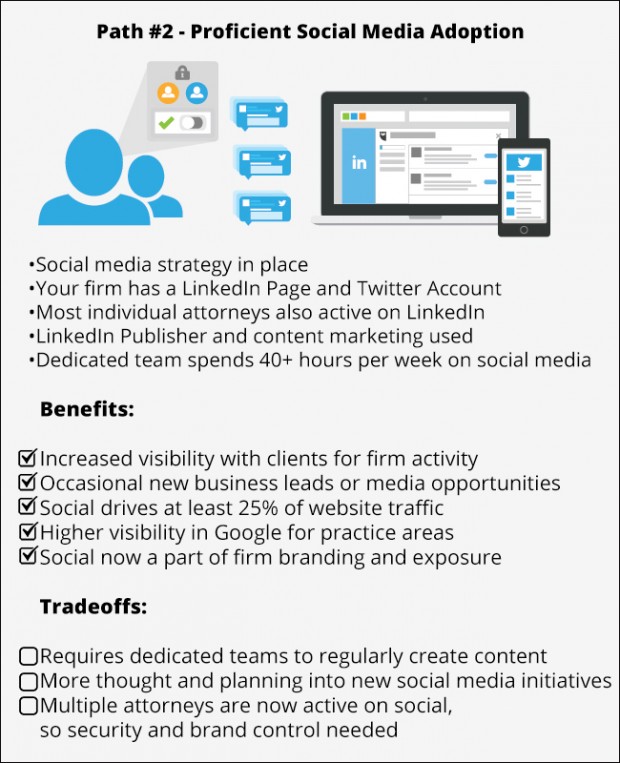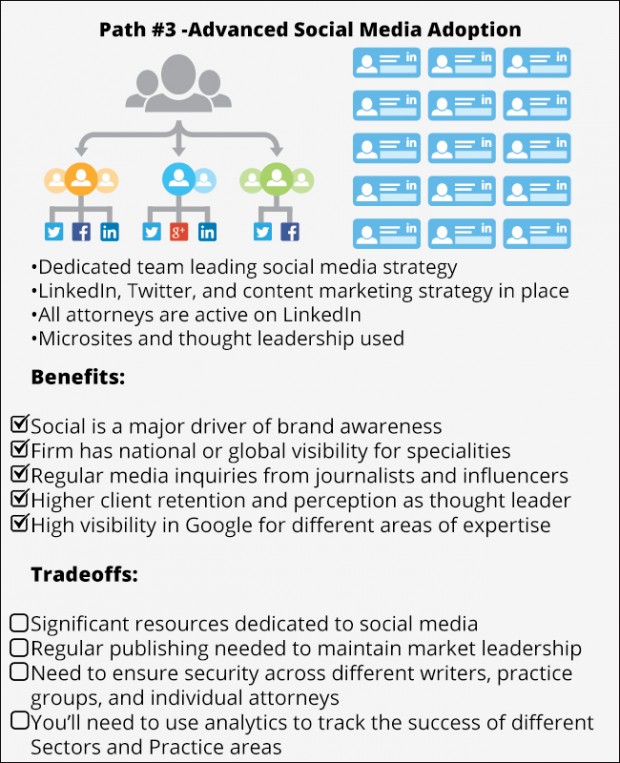 Do more of these tactics for better results
So which path is right for your law firm?
Some firms might be happy with the results from Path #1; other firms might want to take their social media to the next level.
The good news is that there are some simple tactics your law firm can implement immediately to get more from your existing social media activities. I'll show you these in a minute.
But there are two basic principles for law firms wanting to achieve significant success on social media:
If you want significant impact from social media, you'll typically need to invest a lot of time into publishing with the goal of becoming a well-known expert and authority.
As a purely new business driver for law firms, social media is challenging if you only invest minimally. But it does have value beyond marketing (for example, PR relationship building, talent recruitment, and even using social listening for legal research).
So what's the next step?
The following tactics will help any firm get high rewards without a lot of extra effort.
#1 Amplify beyond your law firm's LinkedIn page
One tactic we've seen work really well for our law firm clients is to amplify thought leadership content across individual attorney networks.
This, of course, works best in large law firms. In other words, your corporate communications team can approve content in their Social Relationship Platform.
When individual lawyers login to the law firm's social media dashboard, they can easily share that content to their professional networks on LinkedIn.
With your corporate office and individual attorneys working together, your law firm will extend the impact of your thought leadership. This helps official firm content reach a wider audience of prospects, journalists, and industry peers.
By joining conversations on Twitter and commenting on relevant news articles, lawyers can also showcase their expertise on particular areas of practice.
Over time, this will increase the visibility of your firm's expertise on both social channels as well as Google searches, as social content is often indexed by Google.
#2 This is the biggest opportunity for revenue growth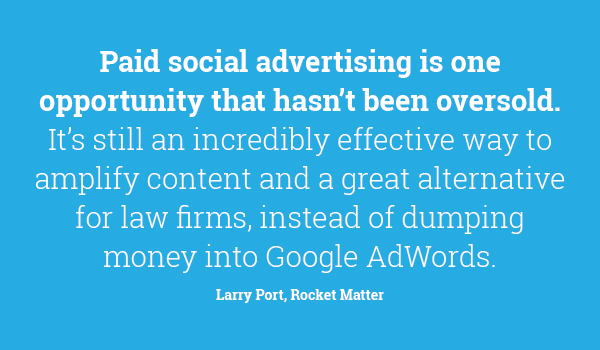 "Paid social advertising is one opportunity that hasn't been oversold," says Larry from Rocket Matter. "It is still an incredibly effective way to amplify content and a great alternative for law firms, instead of dumping money into Google AdWords."
Larry sees paid social media ads as the next big trend for law firms and expects more firms to realize the benefits in the next year. Adding paid social media to any social media strategy is an effective way to grow social media results with little effort.
Click here for a comprehensive guide to all the major paid social advertising channels, though I recommend that your firm begin with social ads for LinkedIn and Twitter.
#3 Use social media at conferences and live events
For firms with a basic social media strategy, a lot of extra value can be gained by using your firm's social media channels at industry events and conferences.
"Social media has real value for live events situations," says Larry from Rocket Matter. "The people who are on Twitter at those conferences, they are the connectors. If you don't want to invest in full-blown engagement on a daily basis, live events are where the work spent setting up your law firm's social channels really pays off."
His advice is to initiate relationships with journalists and connectors via social media first and then follow up in person. You can meet new people and build these relationships up slowly.
He also suggested, without me asking leading questions or anything, using Hootsuite's Search Streams for live events, which made me happy.
"Hootsuite's Search Streams are very valuable for following the live feeds at events. You see the takeaways from other people…a lot of times I don't need to take notes. The saved tweets in Hootsuite become the notes I distribute to my team."
Is your firm speaking at or hosting a live event? Use HootFeed to create a live stream of Twitter activity that can be displayed around your event.
The stream is customizable, scales to the right size for large displays, and includes a profanity filter.
#4 Use this 3-pronged PR approach
As you know, Twitter is a valuable tool for connecting with journalists and influencers. It also levels the playing field for smaller firms. Any attorney has a fair chance of getting in front of important journalists and industry heavyweights.
Use social media listening to find the journalists or influencers you need to reach. Then amplify your law firm's announcements and press releases with this 3-pronged approach (used by Rocket Matter to make sure their press releases gain traction):
After finding the journalist you want to pick up your story, mention them on Twitter. People actually don't get many @replies and they will likely see the tweet.
One @mention won't be enough for them to remember your firm. So, Rocket Matter says to also send them a LinkedIn message. This should be on the same day.
The next day, send them a personal email follow-up. By then, they will remember you. It might seem like a lot of volume but a few social messages and email isn't intrusive for an influencer. They are busy and may have intended to respond back earlier.  They will likely appreciate the reminder.
Click here to see how you can use Hootsuite to find journalists and influencers right from your dashboard.
#5 Gain client insight with little work
Many firms use Google Alerts to monitor cases or stay informed about key issues facing their client's businesses. But search engines only scan the surface of the web, ignoring vast amounts of valuable information.
Broad social media listening gives you access to 100+ million sources—a much comprehensive scan of relevant information than can be contained in the first few pages of Google.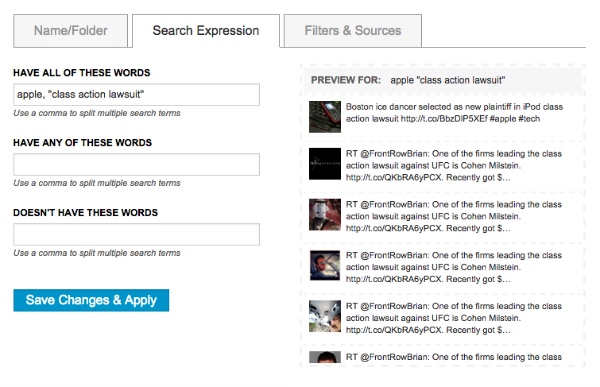 At Hootsuite, we've seen large law firms use broad social media listening to stay informed about news and public opinion impacting their client's businesses.
One tactic is to build a dashboard for each client or industry topic you need to monitor. That way, you can simply login and view the most relevant discussions and emerging trends for about 15 minutes per day.
This allows you to be proactive about unexpected trends or new case developments.
The dashboards below took us about five minutes to configure and require no technical skills. They pull global data from 100+ million sources, 25+ platforms, and 55+ languages.
In the dashboard below, we are monitoring the share of voice for five major law firms: Latham & Watkins, DLA Piper, Kirkland & Ellis, White & Case, Baker & McKenzie.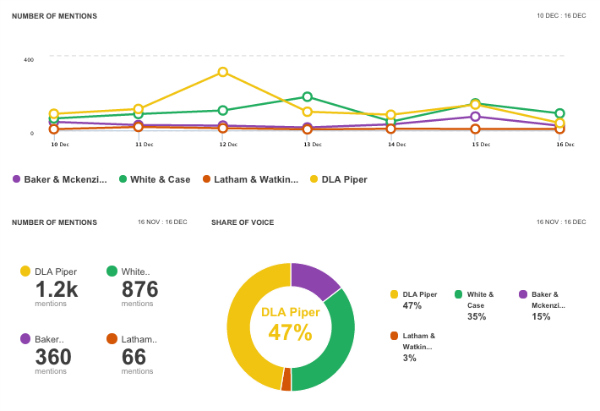 Broad social media listening can also help you stay informed about your client's industry. For example, in the dashboard below we are monitoring global conversations around the new Apple Class Action Lawsuit.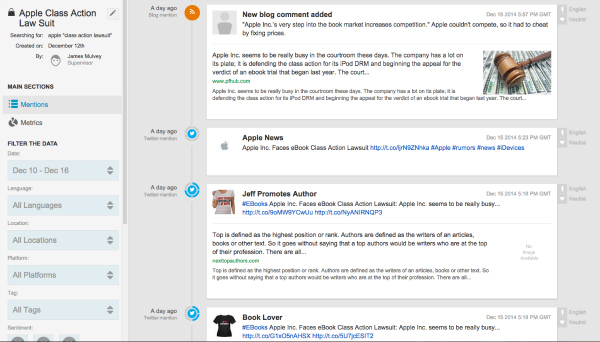 These searches often reveal important insights that you won't find at the top of Google. You can set-up automatic alerts for new trends, unusual activity on a keyword, and respond faster to stories that might impact your clients and cases.
Need some guidance with all this?
At Hootsuite, we work with over 10 million customers and 744 of the Fortune 1000. In the legal services sector, we are trusted by 29 of the top 50 AmLaw firms for their social media initiatives. In other words, we've likely seen and helped a firm like yours figure out their social media challenge.
If you'd like to hear more about the solutions and strategies we've recommended for some of the largest law firms in the world, you can request a special demo here.