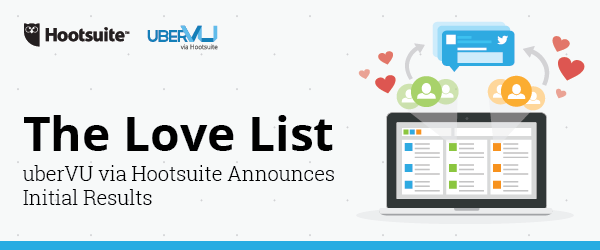 Is Your Brand Seeing "Love" On Social?
Do you know if your brand is loved on social? True brand health is based on more than success in one social metric or sheer popularity—there is a big difference between Like and love. To find which brands are loved on social, we went beyond fans and followers to focus on several different social metrics that would showcase the reaction to brands across the social web. Using uberVU, Hootsuite's listening and analytics tool, we've created The Love List, a collection of social data that ranks over 450 of the world's biggest, most valuable brands.
Which brand takes top honors in the October Love List? Dove. With campaigns like Real Beauty and #beautyIS, Dove optimizes its female-empowerment messaging for social sharing. Encouraging women to rethink and embrace their bodies is clearly resonating on social, which is no surprise as women are the more active gender on most platforms. By tapping into what drives and encourages women, Dove has found success with social's female audience—in fact, 78% of the conversations about Dove in October were by generated by women. Fitting into the overall theme of The Love List, Dove is also an accessible brand with a large proportion of its social conversations revolving around coupons and partnerships with stores like Walgreens and Dollar General. By actively using social to cultivate a passionate fan base and forming the right partnerships to reach them, Dove earns the number one spot on the first edition of The Love List.
"By focusing on the social data that shows how people are discussing and reacting to brands rather than just tallying followers or Likes, The Love List captures a very real picture of social's perception of brands," says Mark Pascarella, General Manager of uberVU via Hootsuite.
Find out which other brands cracked the Top 10 in October 2014—and why—in our Love List infographic.

The Love List will index over 450 of the world's biggest brands every month to identify which brand is on top, which ones have fallen, and which are rising fast. Brands across several industries can sign up to receive monthly alerts when new data is released, register to attend Hootsuite-hosted webinars and follow the The Love List to benchmark their success against top competitors.