MobileFest, Business Blogging and International Accolades ~ News Roundup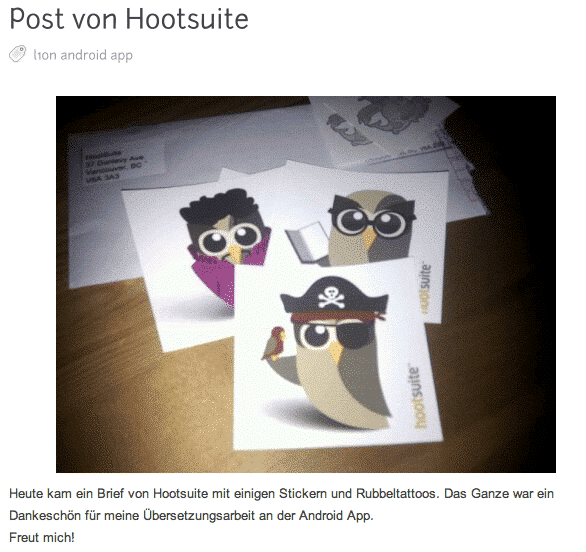 The MobileFest juggernaut has generated responses and reactions from across the web and around the world.
In the wake of the series of free new mobile releases — Blackberry, iPhone, Android and the iPad reveal — we've got all sorts of articles to share, from a HootSuite BlackBerry review all the way from Thailand (in Thai!) to thoughts on the first look at our iPad app. Plus we've included more HootSuite tips, some accolades ('cause we like to share the hoot-love) and a Q&A with CEO Ryan Holmes.
We're always keen to keep you in the loop, so tune into @hootwatch and be sure tap into our Delicious feed for even more.
And we want you to keep in touch with us as well, so send us a postcard. We're still running our HootSuite postcard promotion, and we want to hear, in your words, "How HootSuite Helps Me." Some lucky senders will get a HootKit full of limited edition mobile-owl fun. We've just received our first postcard from Japan, and we're eagerly awaiting yours too…
Could tools like this make an iPad become a "second screen" (or third) that you can have open to see news and information?  I know a lot of people do this already for clock and weather apps, but I think keeping HootSuite for iPad open all the time, could become a pretty compelling use case.
TechVibes – Vancouver's Hootsuite celebrates free apps with its own Mobile Fest this week
Sparked by Hootsuite making all of its mobile apps free, it's stirring up celebration by adding potent mobile capabilities for Blackberrys, Android-platform phones, iPhonea, iPada, and even the Japanese Keitais.

Hootsuite is also running a contest. It's an "interactive promotion" inviting HootSuite fans to send postcards explaining how they use HootSuite, and receive "Hootkits," which are mobile-themed owl stickers to winning entrants.
ZDNet – 100 Brains: HootSuite's Ryan Holmes and his solution for addressing social media ROI by Jennifer Leggio
How is HootSuite addressing social media other than providing apps? Founder Ryan Holmes talks about the company's growth and solution for socmed ROI.

Q. HootSuite now has different versions of its products — consumer, enterprise, mobile. Which one is being adopted the most quickly and what are some of the drivers for that adoption?

A. We have had great adoption on mobile with iPhone, Android, and soon, BlackBerry. That being said, the web client is 1.5 years old and is our most popular product. We have over 800K users and 1.7 million social networks under management.

Q. Do you believe that there is a need for tools somewhere between consumer and enterprise so that small businesses can also scale, but keep these social tools within their budgets?

A. Absolutely, this is a large focus of our paid offering which…at $5.99 per month and includes rich analytics, three team members and unlimited social networks.
Mashable – 5 Superior Social Media Management Tools [Mashable Awards]
HootSuite is best for actively-managed accounts because its design focuses on streams, which are housed in customizable tabs. You have the flexibility to organize tabs by account, network or content, making it easier to monitor a specific type of feed more closely.

One of the greatest benefits of social media is finding out more about your audience. HootSuite takes this to the next level by providing a follower's bio and Klout score along with links to his or her social media profiles. You can also create lists of followers you want to keep a closer eye on and increase engagement with.

The folks at Mashable also shared our mobile announcements at: Hootsuite's Mobile Apps Are Now Free along with a disclaimer saying: "Mashable editors use Hootsuite for the social-media aspects of our jobs." That's the best part for us!
Arena Movile – HootSuite llega a BlackBerry como beta pública gratuita (HootSuite comes to BlackBerry as a free public beta)
(auto-translated) And many were waiting anxiously and today is the day when users finally BlackBerry may prove the expected version of HootSuite for RIM terminals.

HootSuite application for BlackBerry was released with improved support for social networks (Facebook and Twitter), for those interested in using it get the best of it, even if it is available only in beta at this time.
App Review Thailand – Hootsuite สำหรับ Blackberry อีกหนึ่ง Twitter Client น่าใช้
Note: The auto-translation was a bit too odd so instead, here's an image of article writer @charathbank showing streams on the BlackBerry all the way over in Thailand.
The Globe and Mail – Blogging for Business: 5 Steps to Success
Once you've chosen a platform and you've committed to writing, focus on how to share your posts in as many places as possible. If you're on Twitter and Facebook, make sure you regularly promote your blog posts. Use a social media dashboard, such as Hootsuite (which is free), to send out your links to multiple online destinations at once and to track your traffic. Take a look at your link stats on a regular basis to find out what type of content your community likes, and tailor your articles based on these results.
The Vancouver Sun – Top 10 Movers and Shakers with cutting-edge innovations

It is perhaps fortunate for Twitter users around the world that Ryan Holmes got an Apple II computer for winning a programming contest in elementary school.

It was that prize that marked the beginnings of a tech career that would eventually see Holmes launch the Vancouver digital agency Invoke Media and its later spinoff HootSuite.
As always, you can keep up to date on everything we've got in the works by following us @hootwatch and by tapping into our Delicious social bookmarks stream. And don't forget to send us your postcards! There's only 4 more days to be eligible for our mobile-owl sticker promotion, but don't let that stop you… we'd be thrilled to hear from you any time.