#MyDash with Contiki ~ Managing your Brand's Apps with HootSuite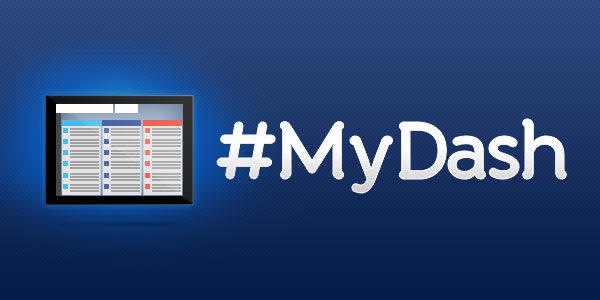 Welcome to our #MyDash blog series. Here, we highlight a HootSuite user, and get a glimpse at the way they've set up their dashboards to suit their unique social media needs. Follow the hashtag #MyDash and @HootWatch in Twitter to follow all the buzz or suggest someone for the next feature. Stay tuned as we begin to roll-out more unique ways to arrange your dash.
As we reach adolescence, many of us catch the "travel bug." And as we travel, so does our long trail of social content. YouTube and Vine videos record trip highlights, Instagram captures photographic moments, while Facebook, Twitter and Google+ connects friends and followers abroad, both old and new. Nothing slips through the cracks with this generation of mobile travelers. And the only way for travel companies to keep up with the thousands of socially savvy travelers and brand ambassadors is to do the same.
Monitoring a YouTube Contest with HootSuite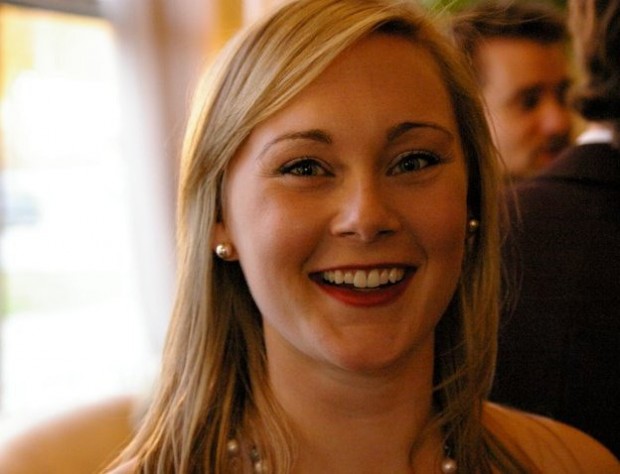 Contiki Canada recently launched #NOREGRETS Adventure Challenge, a social media campaign revolving around YouTube travel video challenges geared toward their young demographic. We spoke with Contiki Canada's National Marketing Manager, Lauren Howard, to see how her team is monitoring their YouTube campaign, connecting with their young demographic on Instagram and keeping tabs on ambassadors traveling around the world – all within the HootSuite dashboard.
Sam Milbrath, HootSuite: How is Contiki Canada using HootSuite to manage social media initiatives? 
Lauren Howard, Contiki: As the primary voice of our company's Canadian Twitter account, @ContikiCAN and my own, @ContikiLo, I use HootSuite as an organizational tool to ensure I am on top of all Twitter activity as it pertains to Contiki Canada. HootSuite allows me to sustain both accounts simultaneously and ensure nothing slips through the cracks.
As a company focused on the youth demographic, we realize our consumers are living, working, interacting and researching online. We recognize the value of not only being in the digital space, but of ensuring immediate, constant communications – it is fundamental to our business. I've setup my HootSuite as an easy way to glance at what is being said about Contiki Canada and also what is being said by Contiki employees.
HootSuite is also a helpful tool for scheduling communications throughout the week. While I do monitor it constantly to jump into ongoing conversations, there are often many items I can pre-program at the beginning of a week to alleviate some of the day to day. As social media is only one element of my job, I appreciate these tools to help with time management!
SM: What are you monitoring in your social media streams?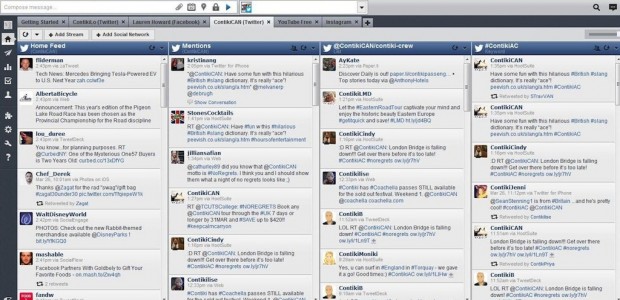 LH: Since all Contiki employees are active on Twitter, I have set up the 'ContikiCrew' stream to follow all the employees from our office and around the world. Whenever we have a campaign running, or an event that promotes a specific hashtag, I will set up a search stream to follow this specific activity. At the moment, we are running an 8-week online campaign called The #NOREGRETS Adventure Challenge, so I have a stream monitoring our #ContikiAC hashtag.
SM: Tell me more about this social media campaign.
LH: We are halfway through our #NOREGRETS Adventure Challenge and our results so far have shown that 18-35's are fully engaging with the online campaign through YouTube, Facebook and Twitter. With a few weeks still left to go, we have received thousands of entries into the contest, in part thanks to over 11,000 click throughs from our Facebook and Twitter pages.
The concept of the campaign is this: An online campaign hosted by MuchMusic alum and popular YouTube star, Tim Deegan, Contiki's #NoRegrets Adventure Challenge takes young Canadians on a journey around the world with weekly video challenges. Each week features a video from a different destination, with chances to win prizes and discounts for trips to each week's location.
This innovative campaign marks the first time that a company in the travel space has reached out to YouTubers to tell the story of a brand. Rather than hire a group of young spokespeople, Contiki provided notable Canadian YouTubers like Nadine Sykora, Corey Vidal, Time Deegan and the SundayFundayz crew with the means to travel. The content, however, was left entirely up to them, with their unscripted videos posted in their YouTube channels for loyal followers to see. By featuring Nadine's travel videos within the weekly challenges for the #NoRegrets Adventure Challenge, we have executed a successful campaign based around online content creation.
SM: Why is it important to tell your brand story across different social networks like Instagram, YouTube, Twitter, Facebook etc.?
LH: It was really important for us to host this campaign entirely online – it's the medium that our demographic is most comfortable with, engaging through Contiki.com, YouTube, Instagram, Facebook and Twitter. Our decision to partner with Canadian YouTubers grew from the realization that young travellers aren't interested in hearing from known travel industry experts, but from the storytellers themselves. Youth can relate to these young content creators and get a feel for what Contiki is really all about, because their experiences are authentic and reactions genuine.
SM: Why is it important to connect with this young demographic on Instagram?
LH: Instagram seems to be the new Facebook, stripped-down and image-driven, our demographic is strongly embracing it.  We interact with them in this space through posting aspirational travel photos, highlighting all of the experiences and adventures people can encounter while on a Contiki.
SM: I see that you're using the HootSuite Instagram app to monitor, share and connect with your followers on Instagram, tell me about that.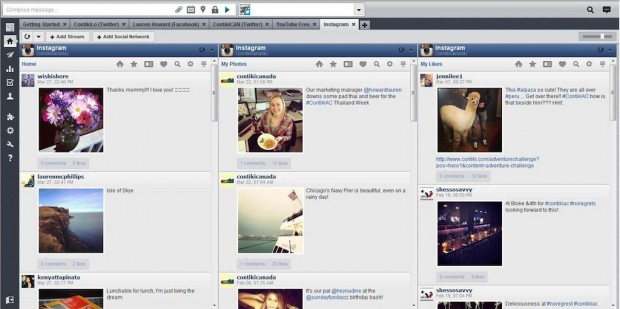 LH: We maintain and monitor our Instagram conversations through HootSuite by organizing our dashboard to view our feed of photos, our users feed, popular photos and our 'likes'. We also regularly do keyword searches and clickable hashtags to view related photos, as it applies to campaigns or events we are involved in.
SM: How are you using HootSuite to monitor Contiki's YouTube channel and videos?
LH: Through HootSuite we are able to upload videos to our YouTube account; add titles, descriptions, tags, categories and set privacy levels. We also use our dashboard to monitor engagement – number of views, comments, likes, dislikes and favorites. It is a useful tool for getting a high-level overview of interaction and engagement, without having to conduct in-depth analysis. We are also monitoring who is watching our channel and their details – number of channel views, subscribers and total upload views.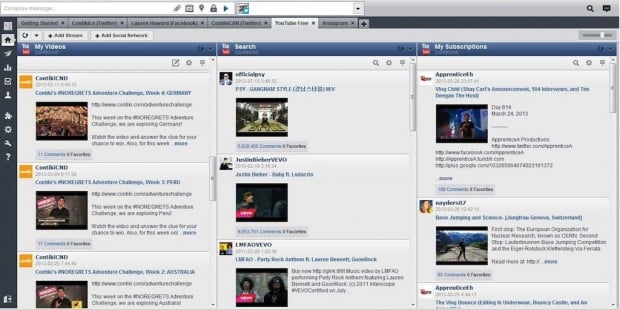 SM: How are you monitoring what your YouTube ambassador's are sharing in their channels?
LH: I have a stream in my dashboard that strictly looks at channels we're subscribed to. I check in here regularly to see what our ambassadors are posting. I also video search in HootSuite; by keyword, user, location and category to see who is saying what about Contiki in YouTube.
SM: Do you have any tips for other brands – especially travel – looking to tell their brand story with YouTube?
LH: YouTube is a great opportunity to promote user-generated content that speaks, in a real way, to travel and the experiences available while travelling, without the 'hard sell' that can often come from high production videos created by brands. Our demographic – young travellers – aren't interested in hearing from known travel industry experts anymore, but from the storytellers and shared experiences themselves. How better to connect with fellow travellers than with inspiring videos made by youth?
Thank you Lauren Howard and Contiki Canada for participating in #MyDash!
To participate in #MyDash, just snap a screenshot of your dashboard, tag it "#MyDash," and send a reply to @HootWatch. Be careful not to include any private info, such as Direct Messages. We will periodically select HootSuite users to be featured here on the HootSource Blog.