New Updates to ow.ly: Share, Vote, ReTweet!
Since we launched the ow.ly URL shortener, we've had over 250,000 ow.ly links created, which have generated over 1.7 million clicks. Yow!
Starting today, we're launching some new features that should make ow.ly even more useful. It's now a link-sharing utility belt. Check it out:

When you post an ow.ly link through HootSuite, anyone who clicks that link will see a header that includes:
The Twitter avatar and name of the person who originally posted the link (with a link to their Twitter page.)
The text of the original tweet with that ow.ly link, with a convenient "RT" button for re-tweeting.
A Rating feature that lets you vote the page up or down.
A "Share" button that lets you share the ow.ly link via social networking sites or via email: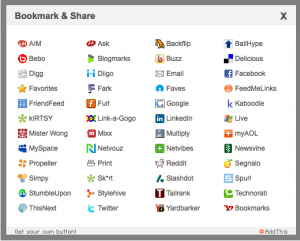 Your ow.ly links are now more shareable, more re-tweet-able, and they'll give you more visibility.
You'll still be able to track clickthroughs on ow.ly links you post via HootSuite, and you can still add your AdSense code to HootSuite to make a little money on the side.
Happy tweeting. Enjoy the new features.