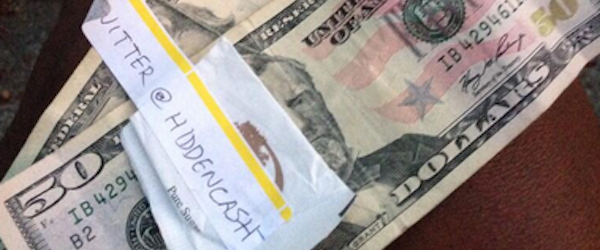 @HiddenCash Teaches Us that Paying it Forward is a Great Social Media Strategy
How great is the feeling of doing something nice for someone else? Whether it is by holding a door, buying a coffee for the person behind you, or even just a simple passing smile, being nice feels good. This is as true on social media as it is anywhere else.
Some of the most popular social media users are those who make a conscious effort to help others in one way or another. We all know the saying, "what goes around comes around." And these people are not only helping others, but are reaping the benefits of doing so.
So, what actually is paying it forward? It's a concept that revolves around the idea that rather than paying someone back who has done you a favor, you pay that favor forward to someone else. Say a friend buys you a coffee. Instead of returning the gesture next time, maybe you buy a coffee for the person in line behind you and brighten their day just a little bit.
Offering to help others without expecting anything in return doesn't just work in coffee shops; it can be an important part of your social media strategy.
5 ways to pay it forward on social media
Retweet/share awesome content because its awesome content.
Post helpful, time saving ideas because you want to help your followers out.
Answer questions to share your knowledge and expertise.
Get involved in contests because you genuinely want to be part of a community.
Hold your own contests that inspire others to participate and share.
Not only do acts like these generally make the world a better place, but you'll see a positive outcome on both your personal and brand accounts. We have learned in the past that social media can inspire people to help others, but lately there have been a whole new type of paying it forward on social media.
@HiddenCash inspires more good deeds
This Twitter account was started back in May by San Francisco real estate investor Jason Buzi, and has since spread across North America and even select cities in Europe. @HiddenCash explains that they are "an anonymous social experience for good" and they sure are bringing a ton of good. The account Tweets clues, leading followers on a scavenger hunt to find envelopes (or jars) of cash. Inside the envelope, there is a note asking to Tweet a photo out. Also included on the note is a line about asking those finding the hidden envelopes to continue paying it forward themselves.
UK: There are 3 woods in the area. Last clue was to only one. Near each other. Good luck! Don't fall down the hole. pic.twitter.com/RPGIpk4Pxx

— Hidden Cash (@HiddenCash) July 15, 2014
When Buzi originally started the account, he had hoped that it would go on to inspire others to do the same. It seems like his plan may have worked; since then it has spread to cities like New York, Las Vegas, Houston, Chicago, Mexico City, Vancouver, Toronto and London. Since May, @HiddenCash has also acquired more than 700,000 followers.
UK update: All three jars have now been found!!! And all of our winners are sharing and paying it forward! Delighted. pic.twitter.com/uupEwXnIMp

— Hidden Cash (@HiddenCash) July 19, 2014
Say you're a small ice cream shop who is trying to bring awareness to your brand and bring in more customers (and revenue). You could do the bare minimum on social media. But say you take a page out of the @HiddenCash playbook: try a random act of kindness and encourage your community to pay it forward. The positivity you have in your online presence will catch the attention of potential followers and customers. They will want to become more engaged with who you are as a brand, and will be more likely to participate in events you hold in the future. People naturally gravitate towards others that bring positivity and kindness to both their online and offline lives.
Paying it forward seems to be a key component of this "social experience for good" and has been motivating others to do the same. Not only are people getting out and learning about the cities they are living in, but they are also (hopefully) doing good deeds on their own. Whether it's $20, or $200 @HiddenCash is paying it forward, creating a lot of fantastic karma, and making people's days a bit brighter with each and every envelope.
Stay up to date on all kinds of social media trends, tips and tricks by subscribing to the Hootsuite Blog.