HootSuite at #SMW12 ~ Events & #HootUps Galore!
Next week marks another installment of the ever-popular annually-held Social Media Week. As industry pundits flock to host cities, one can't help but wonder where is HootSuite in all this madness?
Rest assured – HootSuite Owls land in several exotic locales for speaking gigs, appearances and of course a smorgasbord of #HootUps in Torino, Berlin and beyond!
Keep checking the blog for Owl sightings all over the globe, including our #HootUp plans for the United Kingdom.
Eurotrip ~ Keynotes & #HootUps
#SMWBHootSuite ~ Spilling the beans in Berlin 
Catch HootSuite in Berlin as Europe Community Manager, Sharif Khalladi brings some Dutch flavor to Germany. He's sharing HootSuite's secrets to building sustainable communities around a brand and insight on growing from 0 to 4.5m+ users.
Also, Sharif has a special surprise announcement! The event is September 25 at 6pm – more details and registration info can be found at Social Media Week Berlin.
#SMWHootUpTO ~ Triple Crown in Torino
We kick things off on September 24, with members of the HootSuite Italian Team participating in Geek Drink. The topic is Digital Startups: New jobs, Prosumers and Engagement strategies. They'll also share #Hootkits, fun and loads of Hootlove.
Then on September 26, catch HootSuite Italian Ambassador, Gabriele Carboni presenting on how social media marketing can help brands expand internationally. Details and event info can be found in the Torino Schedule.
Finally, HootSuite's Italian Owls Enrico Giubertoni, Saverio Bruno and Giusy Congedo link up again to deliver a workshop on HootSuite's social listening tools and tactics for small and medium businesses and startups.. This event begins September 27 at 1pm! Head on over to Social Media Week Torino for details.
#HootUpBarcelona ~ Barcelona
Spanish Owl on-the-ground David M Calduch is summoning HootSuite Certified professionals to Café Estiu for a #HootUp. They'll swap stories and share owl culture throughout the evening of September 28 starting at 8PM.
Across the Pond ~ North & South America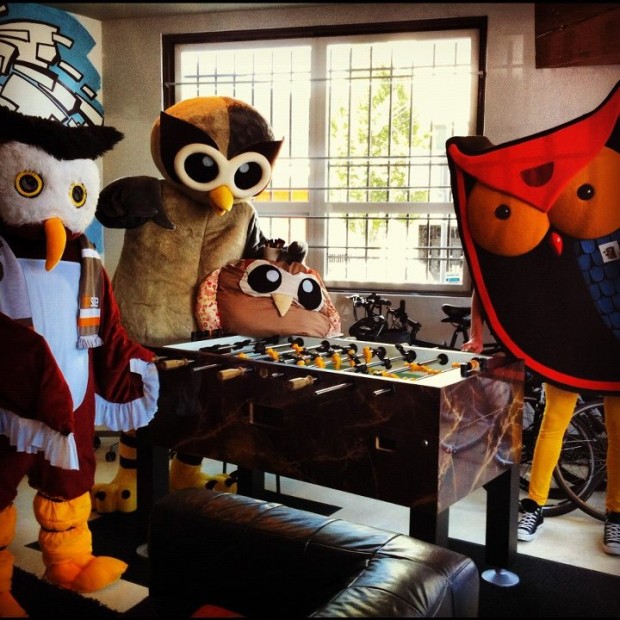 #HootUpChicago ~ Flying in the Windy City
Join our lovely Community Manager Laura Horak for an evening with our friends from Social Media Club Chicago. Expect intel and insights from a room full of social media pros. Mark it on the calendar for September 27 circa 5:30pm. If you see Laura, deliver your best owl pun and she'll reward you with our famous #HootSwag. Don't forget to RSVP before hand!
#GenSocVan ~ Exclusive Video Screening + Panel
HootSuite and the Social + Interactive Media Centre at Emily Carr present a special screening of "Generation Social." The screening is followed by a panel discussion with director Andrew Lavigne, HootSuite's Dave Olson and Alexandra Samuel of Emily Carr. Mark September 27 on your calendar – more details here.
#HootUpSãoPaulo ~ Bom Dia Brasil!
Unwind after the daily Social Media Week festivities on September 26 with yet another #HootUp! Starbucks is the venue, our Brasilian Ambassador, Israel is your humble host, all the details can be found here. (in Portuguese)
Keep an Eye out for the Owl
HootSuite's internationally bred Owls have their talons full with speaking gigs and HootUps throughout Social Media Week.
Get info and updates hot off the press for all these events and more @HootUp and @HootClub.