HootSuite to Launch Social Media Command Center; Master Control for Social Business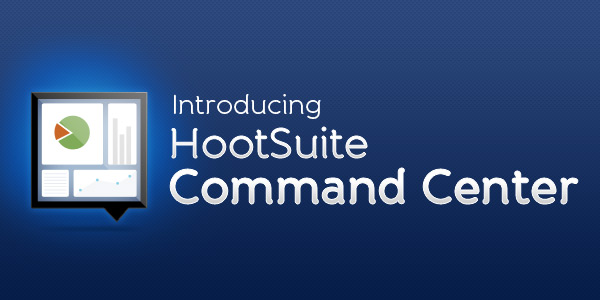 Imagine the New York Stock Exchange without its big screen TVs, terminals and smartphones. Information is power, and when that information is right at your fingertips, it empowers individuals and organizations to make the right decisions and act on them.
To help organizations get the most value from their social media management, we are introducing HootSuite Command Center, an offering that will let companies, especially large enterprises, command and control all of their social activity. Command Center allows social media teams the ability to monitor, measure and react to all online activity in real-time.  Think of it as the "Situation Room" of your company, or if you prefer, as the command bridge of your company's USS Enterprise.
HootSuite Social Media Command Center will be available to HootSuite Enterprise clients. If you want to be one of the first to hear about the launch, register below:

Command. Control. Connect.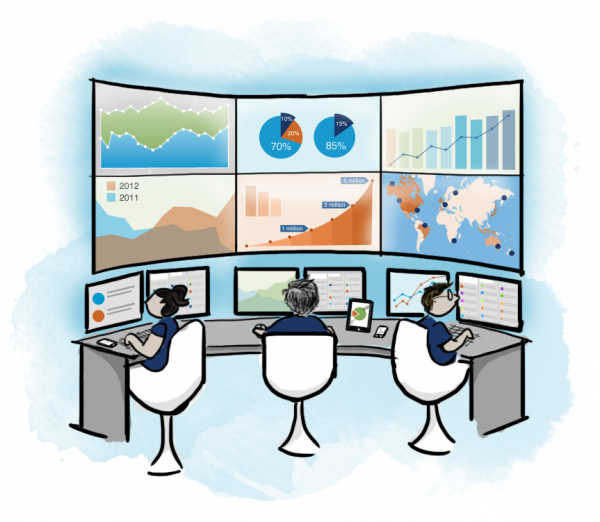 What can having a command center in your company do for you?
Drive internal and external visibility for your company's social initiatives. Command Center lets you and your management see KPIs in real time, enabling quicker responses to enhance and protect your brand.
Activate and coordinate company-wide social resources and activities. Command Center can be used to unite social media, digital marketing, CRM, sales and support, to benefit their specific audiences and monitor their most important metrics as they happen.
Provide real-time, actionable data for informed decision-making, to optimize performance. Companies are leaving room for their competitors to win if they are NOT engaging clients, in real-time, across departments.
Mobilize team members through a suite of apps for iOS, Android and BlackBerry devices. Whether at a coffee shop, airport or in between meetings, stay looped in on all of your company metrics in real-time. Using HootSuite's mobile tools, manage communities or crises, train or execute campaigns, and even conduct market research 24 hours a day, 7 days a week, from anywhere on the planet.
Working closely with some of the world's largest brands, HootSuite understands the changing social media needs of our large enterprise clients. HootSuite's solution brings the leading social engagement platform together with real-time large-screen analytics dashboards, and a full suite of mobile devices.
The main component of the Command Center offering is the multi-platform KPI visualization for social analytics.  This extends the HootSuite dashboard by providing optimized, live data feeds and visualization that can be configured for large screens (TVs), PCs and mobile devices. Customers will be able to add data feeds from other providers as well, such as web analytics or CRM. This new offering works in concert with HootSuite's existing enterprise engagement solution and mobile apps as a comprehensive solution to satisfy the growing demand for Command Centers and centrally managed and operated social media management.
Many companies and events, like the Super Bowl and Gatorade (who have their own Mission Control Center), are already using in-house command centers. It's a unique physical hub for business leaders who will be able to command, control and connect to the people who matter most to your organization. No one understands that better than our own chief executive.
"All the features that make the HootSuite dashboard an invaluable tool for businesses will now be given a throne in the hearts of these same companies; a hub where every social interaction can be seen, studied and spread," say Ryan Holmes, CEO of HootSuite. "HootSuite continues to develop and acquire tools to support the growing needs of today's social businesses who take advantage of the opportunities  for return of investment through proper engagement with social."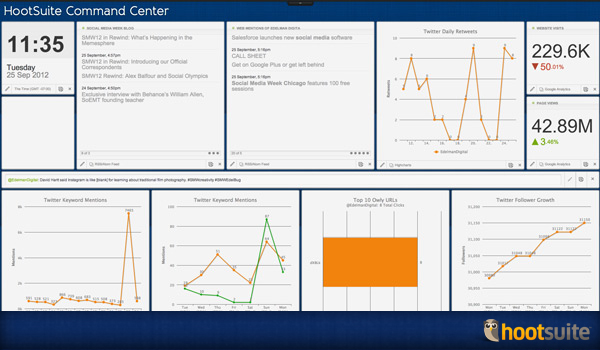 Command Center activities include:

Crisis Management
Campaign and Event Execution
Executive Reporting
Training
Community Engagement
Market Research
HootSuite Social Media Command Center will be available to HootSuite Enterprise clients. If you want to be one of the first to get access, register below: