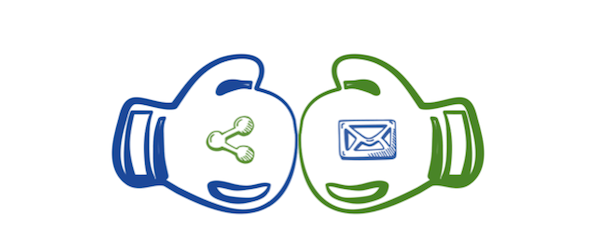 Social Media for Email, Email for Social Media
Social media and email marketing: Which is better?
That's not just the wrong question, it's the wrong kind of question.
What do you like more, your house or your car?
What's better for you, food or drink?
As questions, they just don't make sense. Both options are necessary (so they aren't options, really). Both are complementary. The smart question is how to combine the two to get the results you want. It's the same with email and social media.
To be fair to the current crop of controversy-grabbers, this one has been doing the rounds for a while now. Social media's advocates point to its capacity to generate inbound leads, while email fans slap down the 4,000 percent ROI email can offer, saying "Top that!" The social guys retort with "Great, you've got a response rate of 0.12 percent and you're pleased with it?" and so on, and so forth.
Here we go round the mulberry bush…
The Two Musketeers
First, let's take a look at what email and social bring to the table by themselves.
Email:
Social Media:
One for the Other
It doesn't take much to realize that we're not in the business of email marketing or social media marketing; we're in the business of marketing. Rather than trying to figure out which medium should deserve our primary attention or which technique is "the one" to use, we should seek to develop a strategy that includes multiple channels and utilizes their unique strengths.
Social media for email:
Social media makes great sense for email. Ask anyone who's tried to work with a bad email list: You'll do anything to avoid working a list filled with dead emails, unqualified leads, duplicates and other metrics that send your open rates tanking through the floor, your CEO's blood pressure to the stratosphere and your legal department running to their CAN-SPAM and privacy books. Great emails work from a great list and social is how you get one.
Social media allows you to make tenuous but continuous contact with your customers and followers. Ideally, there's a content funnel that begins with a tweet or Facebook post. Then, your audience might stay and interact on social media, or they might follow the link and come to your blog. Again, they might visit your blog several times without signing up to your newsletter or giving you their email address in return for collateral content. Or they might sign up right away. But make sure you ask them:
The best practice is to make signing up both easy – think lots of opportunities – and desirable, which is where "content as collateral" comes in. Just like a regular sales funnel, people can move around inside a "content carousel" – unlike a traditional sales funnel, the content carousel is a sort of conveyor belt where potential customers are useful to you as sharers and advocates even if they take a long time to convert.
People who are interested enough to follow your brand's content from Facebook to your blog and then sign up to your newsletter are extensively pre-qualified, meaning that your emails are more likely to be opened, more likely to be clicked and more likely to generate sales and revenue.
Email for social media:
Just as you can use social media to radically improve your email list, leading to better open, click-through and conversion rates, so you can use email to support the vital metrics on social media: likes (and equivalents: +1s count too), shares (and equivalent: retweets, repins, whatever it's called on that channel) and the number of click-throughs from social content to your website or blog.
People follow you on social media for the same reason they befriend you in real life – they like the things you (or your brand) say and want to hear more, and they trust you. That's not so different from the reasons people sign up to your blog or newsletter. If you're regularly emailing your subscribers great content that they love, what will they do with it? They'll do what you do with great content: curate it. They'll take it onto social media and show it to their friends. Every time that happens, your email list just gave you a social media win.
Tying them together:
Using email to support social media and social media to support email is still only half the battle. What we really want to see is a setup where both are fully integrated into an overall strategy. So what would that look like?
Start by bringing your social followers together with your email subscribers. Think of them as two adjacent towns; ideally you want them to become one big city where everyone subscribes to your emails and follows you on social media, giving you the benefits of both approaches. But start with where they're at and encourage your email list to be more social, and your social followers to get themselves onto your email list!
Emails can be shared. Explicitly encourage social followers to share your emails. Build social buttons into your emails so they're easy to share. In this article on SocialFresh, Dan Virgillito shows how email marketing tools such as GetResponse with ready-to-use templates will give you the option to automatically insert social sharing buttons in your emails. This way, you're advertising your brand, your offerings and your email subscription all at once, in the most effective way possible.
Further, put email signup buttons right in your social media pages. Facebook will let you do this in a number of different ways.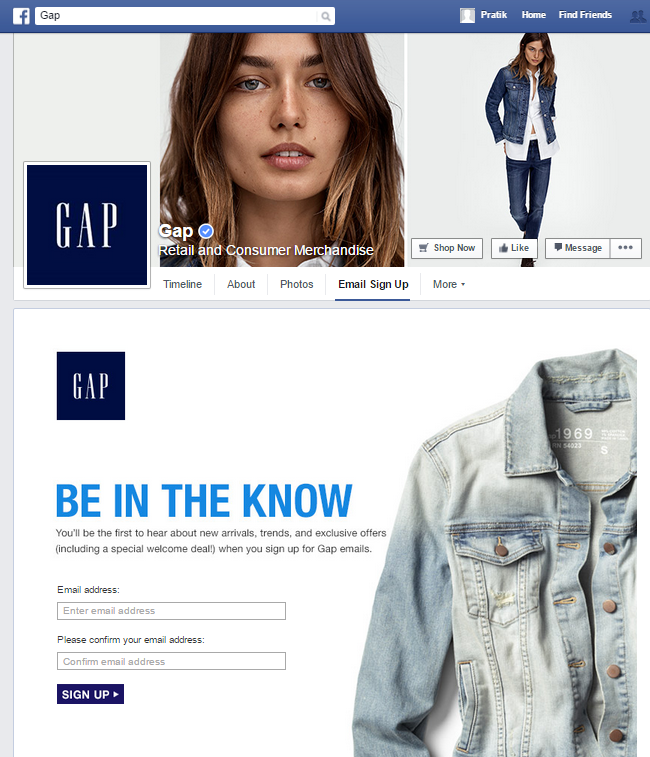 You can connect your current email service provider to one of your Facebook tab apps and voila, now your newsletter is being promoted on your Facebook page! You could also offer an incentive right there on your Facebook page just as you might on your website. You can even do this in your cover photo: add clickable buttons that deliver links to email signup pages. It's also possible to use the Short Description to encourage a visit to your squeeze page to swap email for collateral.
Meanwhile, Twitter will let you use its Lead Generation Card feature to create a button that will get signups from Twitter. Here's an example from New Relic, an application analytics service and one of the early adopters of this feature: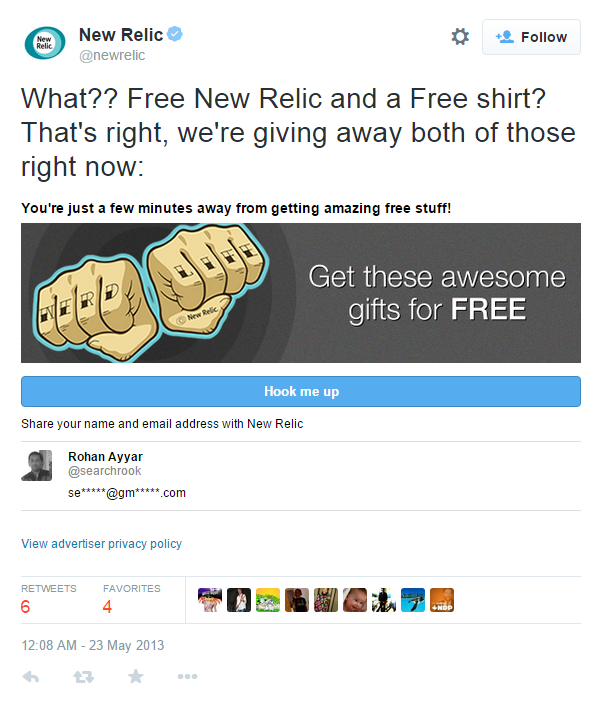 Here are a couple of more quick wins to assimilate your content, social media engagement and email subscriber lists, and building an integrated, multichannel community in the process:
Upload your subscriber lists to Facebook, Twitter, LinkedIn and Google+. On Twitter and Facebook, you can create custom audiences and remarket / send targeted ads or offers to them based on their preferences. On LinkedIn, you can add your subscribers as connections and tag them as such, enabling you to send targeted messages to them in future. Ditto with Google+ circles.

Your social networks can send emails for you. When you join a LinkedIn group or a Google+ community, unless you unsubscribe outright, you'll get email notifications of all the activity in the group. So what's stopping you from creating a great social community of your own and staying on top of your members' inboxes?
And All for One
Use your blog
One of the most obvious ways to bring the two towns together is to use your blog: share your blogposts on social media (and don't be afraid to reshare a few days later for more exposure) and have an email signup prominently displayed next to the post on your blog. Social buttons belong on your blog too, especially the "Tweet this" button next to good snippets or pithy phrases.
As a side note, it's worth integrating Google Analytics right there on your blog so you can track the outcomes of outbound clicks, downloads, internal linking, social referrals, and more. Yoast offers a simple Google Analytics for WordPress plugin that will do the trick.
Create VIP areas
Another idea is to create an exclusive, invite-only group for your email subscribers on social channels, a particularly effective tactic on Facebook. Here you can offer access to the group, with its conversations between more committed followers, an air of exclusivity and more frequent and valuable content, in return for email signups – and then direct social marketing straight at those same people, bringing your "towns" even closer. Pick up their feedback about your emails as well as your product and feed that data back into your email campaign planning. You also get ideas for overall content marketing directly from your customers.
Segment to integrate
Once your social media followers and your email list are one town, fed by incomers from both channels, you can begin using truly integrated marketing to approach them. That can mean using both targeted Facebook ads and sales emails to drive conversions in ecommerce. A 2014 study jointly conducted by Facebook and Salesforce saw jumps in click rate (up 8 percent), purchases (up 22 percent) and reach (up 77 percent) using this tactic, targeting customers who opened emails with Facebook ads.
You can also upload email lists directly from your CRM to your Facebook and Twitter ad platforms and try to match users to email addresses, then target those users on social channels. Most email marketing tools (such as GetResponse mentioned earlier) as well as CRM apps (such as Zoho) will allow you to integrate your CRM data with social targeting, resulting in measurably more effective sales efforts. CRMs are usually email-dependent while social is frequently anonymous. So your social data can be hard to segment unless your CRM data is already thoroughly targeted or you can put your social login data to good use.
Goodbye, Funnel. Hello, Conveyor!
Or it can mean building a "content conveyor belt." Rather than using large increments that only travel in one direction (down the funnel), so that customers have to jump from social to email, and then to purchase, a content conveyor means making each increment miniscule, almost unnoticeable, and reversible.
A customer would follow you on social media, then read some of your blog posts. They might join a Facebook group to get more access, perhaps longer, more in-depth blog posts, as well as offers and some collateral content. They subscribe to your mailing list, then they unsubscribe, or change their email. They aren't "exiting" your sales funnel; they're simply moving around your conveyor belt. Keep giving them the social content they like and offering them new opportunities in return for their new email address.
It's the same post purchase: the "sales funnel" will widen after the transaction and your relationship with your best, most profitable customers will last for several more purchases. So don't treat them like they're out the end of the funnel; just treat them like they're on the conveyor belt. A more nuanced consideration of the customer lifecycle fits in perfectly with an integrated approach to content, social and email marketing and an exploratory, customer-directed conception of your relationship with your customers.