Social Media For Tourism: Vancouver Is Awesome's Take on Instagram
With tourism emerging to be the most popular industry on Instagram, the image-sharing network has become a crucial channel for marketers in the travel business. Social media in the tourism industry, especially Instagram, has played a big part in growing travel brands' and bloggers' following. For Vancouver Is Awesome's founder, Bob Kronbauer, it has become a great tool for showcasing all the great things about Vancouver and British Columbia, Canada, while also sharing his own travel stories with his community.
For many, managing both a personal account and a brand account can be difficult. To learn from one of the best at balancing both their professional and personal brand on Instagram, we spoke with Bob Kronbauer to share his insights.
Kristina Cisnero, Hootsuite: How do you manage the Vancouver Is Awesome Instagram account and your personal Bob Kronbauer account?
Bob Kronbauer, VIA: Managing both is something I don't do on my own. Having a social media team is key to success on social media, which is why I have another person managing the @viawesome account. This allows us to collaborate on ideas, as well as make sure that the voice on the @viawesome account and the @bobkronbauer accounts are distinct and are in line with each other's voices.
KC: How do you get all those cool photos on the Vancouver Is Awesome Instagram account?
BK: Easy! You get other people to take photos for you. How we do it is by encouraging people to take cool photos around Vancouver and BC, and tag their photos with #vancouverisawesome. We then choose a photo of the day and regram the best photo of that day. We currently have over 20,000 photos using that hashtag. The photo that gets regrammed also gets posted on our website, our Facebook page, and Twitter account. The best photo of the day will also be featured in the Vancouver Is Awesome magazine.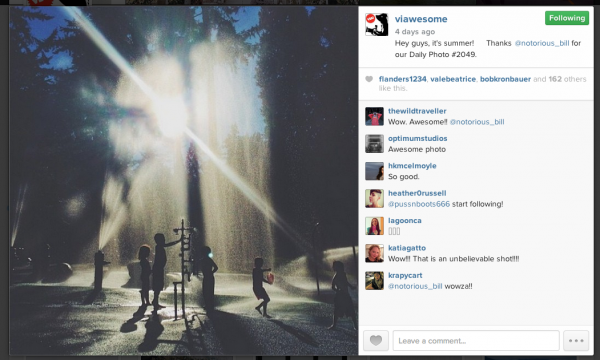 KC: Tell us a bit more about the Bob Kronbauer Instagram account, how is it different from the Vancouver Is Awesome Instagram account?
BK: The Vancouver Is Awesome account is really all about bringing together the people of Vancouver to share their take on why Vancouver is awesome. As for the Bob Kronbauer account, which is my personal account, it's more the behind the scenes stuff. This account mainly focuses on the places I go and the people I meet along the way. It also showcases my personal stuff, like my wife and son. However, I do draw the line when it comes to how much I share. I try to stick to outdoor travel photos as well as sharing more about B.C. And when the picture I post on my personal account aligns with the VIA brand, I'll also choose the Tweet option because it's connected to the @viawesome Twitter handle.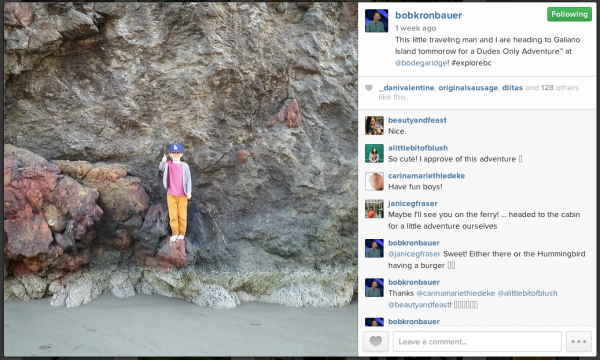 KC: Lastly, how did you start getting people to use the #vancouverisawesome hashtag?
BK: It was as simple as choosing a hashtag that resonates with our audience: in other words, a hashtag that just makes sense. However, we did start with a contest and then it grew into Instagram giveaways. The contest was great way to grow the community and creating brand advocates. Now, we have a strong following of dedicated residents who just naturally think that Vancouver is awesome!
Start managing your tourism brand's Instagram on Hootsuite Pro today!
Want to learn more about "Social Media For Tourism"? Tune in to our Live Online Panel: HERE!