Social Media Power Play: An Interview with the LA Kings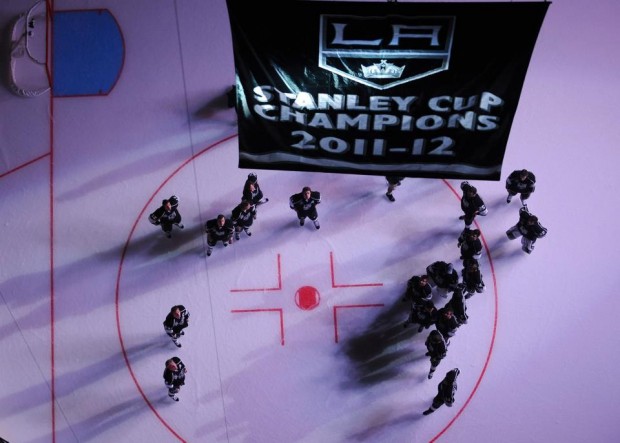 Meet Dewayne Hankins, Director of Digital Media for the LA Kings. Armed with HootSuite Enterprise, Hankins and his team have built an army of 190,000 Twitter followers for the 2012 Stanley Cup champs – revolutionizing the way NHL teams approach social media.
"Social media is about adding a more informal, human element," says Hankins.  It's about personality. In a sport known for its bland, anemic interviews, the LA Kings' Twitter handle shines with insight, controversy and confidence – elements often absent from other NHL Twitter feeds.
Clever, witty and at times downright agitating, Hankins (along with LA Kings Digital Media Coordinator, Pat Donahue) knows how to build a loyal audience. Case in point: The Kings gained 87,358 new followers (a 224% increase) in two short months during the Kings' 2012 playoff run.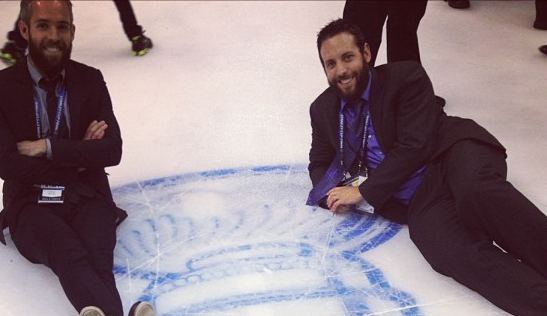 So what's the key to his success?
Read on for Hankins' take on social media, the NHL and finding a voice and audience on a crowded platform.
Andy Au, HootSuite: How did you find the voice for your social accounts? Was it a conscious decision or did it happen organically?
Dewayne Hankins, LA Kings: It was definitely a conscious decision on our part. I've always felt that fans would engage with a more authentic personality that didn't sound like a corporate entity. And in the world of sports, where you can take a more light-hearted approach, we saw the chance to do what other teams weren't doing — which was take a slanted approach to YOUR team and have a little fun at the expense of your opponents.
We had a bit of a perfect storm getting the notoriety we did because of last year's playoff run as an underdog seed that went 16-4 in the playoffs, but that doesn't mean you can't still have fun if your team doesn't make the playoffs. For a great example of this, check out the Columbus Blue Jackets Twitter, they do great work.
AA: Do you provide social media training to your players or public facing staff?
DH: Our Communications group definitely talks to the players about the "Dos and Don'ts" of social media, but beyond that we don't have any strict guidelines. If a player shows an interest in creating a public profile in social media, we certainly give them all the tools to succeed, whether that's getting them verified or walking them through best practices, but we've never encouraged a player who wasn't interested in being out there to create an account.
One thing we strive for in our social media team and what we tell our players and public staff is to be completely and totally authentic.
AA: The acceptance of social media can differ from one company to another. Did you find a big culture change moving from the Minnesota Wild to the LA Kings?
DH: I think both the Wild and Kings put a very high value on social media, so I've been very lucky in that respect, but the company culture of the Kings, which is to be bold, try things and make headlines was ultimately a great strategy for us to grab hold of when it came to our social media. Twitter, especially, thrives on that type of personality and we knew that with the support of those above us we had a security net when it came to toeing that line and crafting our social personality.
AA: Was there a tipping point when your social strategy gained momentum?
DH: The moment where people noticed was obviously the "You're Welcome" tweet [Donahue's taunt to the Canucks after the Kings eliminated them in 2012], but we had been striking a different tone with our account since the beginning of the 2010-11 season. You could say that tweet came at the perfect time with us just upsetting the Canucks in Game One of our playoff series against them and it played on the right mix of emotions for their fans and sort of spread virally. By the next morning, it was headline news in Canada, which was surprising considering it was just a tweet, but the rest is certainly history.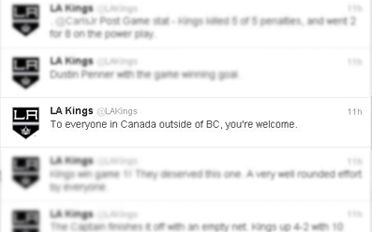 AA: Are there any social media plans for 2013 that you're excited for?
DH: Social media is a consistently shifting market and that's actually a lot of fun for us since we love to try new things and use this space as a place to experiment with our fans. We don't always hit home runs, but we learn more from our mistakes anyway. We keep an eye out on what social media our fans are using and look for the best way to engage with them in the space.
It's definitely not a place where one size fits all. And you constantly have to re-invent yourself, because these sites are always re-inventing themselves, be it their news feed algorithms or introducing new products.
Many thanks and stick-taps to Dewayne and the LA Kings organization for the interview.
Learn more about the social media management system used by the LA Kings by visiting: enterprise.hootsuite.com.