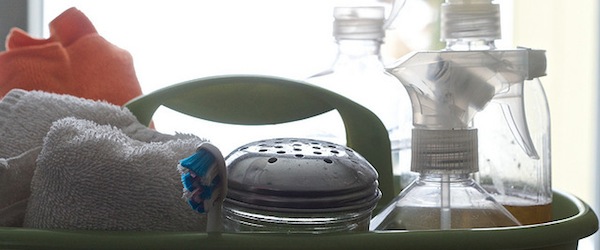 Social Media Spring Cleaning: 13 Essential Chores to Stop Putting Off
Image by Susy Morris 
It's finally happening: the ice is thawing, flowers are blooming, and birds are chirping. Spring is time for a fresh start. You're getting motivated to de-clutter your garage or basement around this time of year, so why not give your online life its own spring cleaning?
Throughout the year, many of us are just trying to keep pace with the steady flow of posts, Tweets, photos, and videos. However, too often we forgo some necessary, if sometimes tedious, chores—the social media equivalent of cleaning behind the couch.
Give your social profiles a deep clean and start the new season with an unblemished and orderly social presence and strategy. These chores shouldn't take much longer than ten-or-so minutes, so there's no time like the present. Here are 13 social media spring cleaning tips:
1. Which apps have permission to access your accounts?
Do you know who has access to your page? After a year of giving permission to third-party apps, tools, and sites, there could be a lot more than you would think. Start with Twitter: Go into your settings and find the tab for Apps. Now clean that out! A good rule of thumb? If you haven't used an app in 6 months, get rid of it.
2. Review employee permissions
As employees leave companies, change roles, and begin new jobs, access to your social media accounts may be held by people that shouldn't have it. The last thing you want is for an ex-employee to have access to your main Facebook Page. Get rid of these permissions now before we have to say "I told you so."
3. Change your passwords. Do it.
Believe me, I know… so many logins, such little time. It can be easy to let password changes fall off your plate once you have so many to keep track of. Yes, password changes can be a total pain, but as the fearsome Heartbleed bug recently taught us, you need to do it regularly. To streamline the process in the future, try a password manager. We use LastPass.
4. Update your brand assets
Have you made any changes to your brand assets this year? Maybe you made a little tweak to your logo, or your brand font has been switched. Either way, it's important that any of these changes be made across all social platforms. You want to stay consistent, right?
5. Refresh your photos
Has it been a while since you last changed your profile images or backgrounds? If so, it's time for a refresh. You can't do a social media audit without taking a look at your profile photo! When you're looking at your profile picture, cover photo, and background images, don't just use your current logo. Think about an eye catching image that can fit the right dimensions.
6. Edit your profile descriptions
Your social media profiles are like an extension of a company's brand. Use the "About Me" section of a profile to update it with the most recent company info. Each platform is different, so make sure you can adapt your message to fit a platform as needed. Don't forget to include links, locations, contact info, and a list of your other social profiles.
7. Un-follow
Organizations can see a ton of newly made social connections throughout the year, but it's important to clean out the clutter and remove any inactive profiles or spam accounts.
8. Tune up your social buttons
Do you have buttons to your social media accounts on your website or blog? I hope so, because this is a great way to generate even more followers. If you don't yet have them, adding Facebook, Twitter, LinkedIn, Google+ and Pinterest buttons will tell your audience which social accounts you are on, and prompts them to follow you. Now's a good time to make sure they're working properly and that you're collecting all the analytics data you need.
9. Get a verified Twitter account
How great would your Twitter profile look if you had that blue badge? Verifying your account means that Twitter has authenticated you, allowing Twitterers around the globe know that you are for real. If you have questions about verifying your account, check out the Twitter FAQ.
10. Update your contact info
This should be a given, but the fact that it is so simple makes it easy to slip your mind. Email addresses change, and as we all know email still matters. Check your contact info and make sure it's up to date.
11. Check your progress
We all know that we need to be on our game when it comes to analytics, but not everyone is good at staying on top of the numbers. Q2 is a really good time to check out your metrics and measure your progress to make sure you're on track to meet your goals.
12. Check camera roll images
It's a great idea to look into what photos you've taken over the past year and de-clutter. If you have promoted a certain campaign or ad, and possibly uploaded it to your social accounts more than once (it happens), you might want to get rid of those duplicates. Also, make sure the photos that others are tagging of you are appropriate and speak to your brand. If not, it's as easy as hitting the "Untag" button.
13. Update milestones
There must have been something big happen to your business or organization in the past year. If you have hit any major goals or celebrated major milestones, you can add them into your social profiles. Facebook's milestones (look under the About Me section) can let your audience see just how much your brand has grown over the years.
Feeling pretty good about yourself? Good, you should. You just cleaned out a full year of clutter in minutes. Next year's spring cleaning could be even more simple by using HootSuite to help manage your accounts. See how you can get HootSuite Pro for free for 30 days.