Social Media and Storytelling Part 1: Why Storytelling?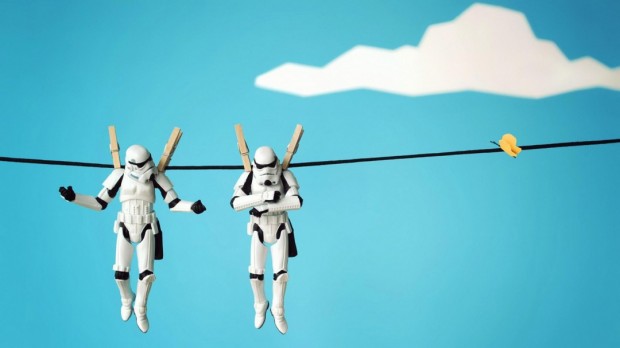 The following is the first of six blog posts adapted from a speech by Cameron Uganec, Hootsuite's Director of Marketing, given at the Marketo's 2013 Summit Conference in San Francisco. The session, entitled "Social Media + Storytelling = Awesomesauce," included Michael Brito of Edelman Digital and can be watched in full here.
Why Storytelling? Major Shifts = Opportunity
The game has changed. We no longer live in a broadcast era where marketers can simply buy people's attention with a TV campaign. There are different rules now and we need to earn the attention of our audience.
We have a connected consumer revolution. The consumer is now in control of what they view, what they share, and how they view (on what screen). So there has been a major shift in terms of the relationship between consumers and marketers.
And there are bigger things at work as well. We saw it with the Arab Spring, and the critical role social media had in the way information was shared. We saw it with the Occupy Movement as well. Social media can have an impact on traditional power structures.
From a marketer's perspective, that means that we're moving towards pull versus push approach, sometimes referred to as inbound marketing. We can no longer push our messages across, we need to pull customers in with engaging, useful content.
All of these trends are turning the traditional media model on its head, and brands are evolving into media properties. One of the best examples of this is Red Bull. Red Bull is putting out such compelling content that traditional media properties like NBC are buying the rights to this content. They've completely flipped the model around as a brand, where the broadcasters are after them for their content. They're a great example of a brand doing it well in social.
Red Bull's video summary of Felix Baumgartner's freefall from 128k feet
So as marketers how do we take advantage of these trends? One of the best ways we can do that is by combining the power of storytelling with social media. Stories are the way that humans make sense of the world.
When your colleagues ask you about a conference you attended or about how you spent your weekend, you don't start with facts and figures… the number of people you met, the number of beers you drank or the amount of time you slept.  You tell them stories.
When you talk about your children, it's the same thing. You don't say they're four feet tall and 45 pounds; you tell stories about your kids. This should make us question why as marketers we often focus on describing the features of our products with data, facts and figures. This logic-based approach is counter to our human nature.
After all, we are not "businesses" connecting with 'consumers"; we are people connecting with other people. At Hootsuite, we try to keep this in mind in all of our communications, whether it's a holiday message (and a video describing our product) or a Game of Thrones inspired infographic illustrating our role in the social media landscape.
Hootsuite's "Social Media Saves the Holidays," a video in which storytelling takes center stage
The best marketers and communicators have always used storytelling to connect and inspire an audience to act. They have used traditional storytelling structures to share their messages; there's a beginning, there's a middle and there's an end. As storytellers we need to answer these questions. Who is the hero? What is the plot? What is the setting? And, a scary thing for some marketers, what's the conflict? If you're telling a story, there's always a conflict. It's not always unicorns and rainbows and the hyperbole that lazy marketers often resort to.
Apple's "1984" ad, a famous example of video storytelling, was not void of conflict
With the growth of social media, a storytelling approach to building a brand is critical. We know that stories are inherently social and social media is about making connections. The alternative title to this post could be "Social Media and Storytelling: Duh!". In this ongoing series we will explore the intersection of Social Media and Storytelling and how marketers can use them to drive results.
Just getting started with social media? Download our "8 Tips for Social Business" white paper.

Part 2, "Back to the Future", can be found here.
Part 3, "Creating Content That Gets Shared," can be found here.