Social That Adds Up: Performance and Measurement Webinar with Google & HootSuite Enterprise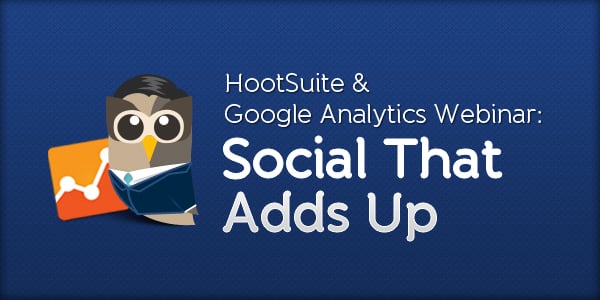 HootSuite Enterprise is pleased to host Adam Singer,  from Google Analytics, in this webinar Social That Adds Up: Performance and Measurement. Learn how to map data from your social media efforts using Google Analytics Social Reports to measure performance against your organization's bottom line, thereby proving the effectiveness of your efforts.
In this webinar, Adam will take viewers through:
The true impact of social media on your brand's bottom line.
How you can make better marketing decisions using Google Analytics social reports.
How social media can actually influence all of your other marketing.
Plus – get a peek into how social marketing on Google+ can improve search click-thru rates. (This is valuable info that most marketers don't know yet!)

The ROI of Social
Brands are increasingly social in their engagement, throughout the organization, different departments hold the keys to outbound communication to drive departmental and organizational goals. The consistent challenge — and often barrier — to social media adoption is social measurement. Although it's difficult, it's becoming more and more important to prove ROI. There is a big challenge for marketers because they often just measure what's easy, such as the KPIs of clicks, likes, etc, but those don't necessarily correlate with sales or ROI. Which brings up the question of measurement vs. performance. We can measure social media with the existing metrics, but how well do these truly measure performance?
Find out in this exclusive HootSuite Enterprise webinar with Google on September 18 at 11:00 AM PDT.
Learn how to can make better decisions based on social media stats drawn from Google Analytics social reports, and find out how social marketing can then take the driver's seat on other marketing efforts, with proven success.
Watch this webinar and start measuring the value you're creating through your social media campaigns!