#SXSW 2012 Panel Picker ~ Revolutions and Crowd Sourcing with #HootSuite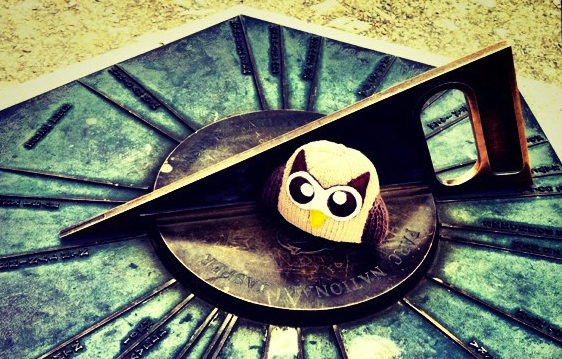 SXSW, the massive interactive media – plus film and music – conference held in Austin, Texas is a pivotal time of the year for tech start-ups, and HootSuite is no exception. For 2012, the HootSuite team plans on maintaing the level of awesome we brought to SXSW Interactive Conference 2011 with a successful panel, several HootUps, lectures, presentations, demos, Owl walking, and chance encounters with beloved users. Now, we ask you to head over to the Panel Picker to cast a vote for our panel pitches to start our quest for 2012.
To see the highlights, check out the SXSW 2011 News Roundup. This year, both HootSuite CEO, Ryan Holmes and Director of Marketing, Dave Olson, have proposals in the mix: Ryan's pitch (along with Azita Ardakani of lovesocial.org) is: Disasters & Revolutions from the Social Trenches; and Dave's idea is: Crowd Sourcing Community Projects like Tom Sawyer. See the summaries below and, if you like what we are bringing, click the "Vote for My Idea" badge and register your vote.
From rallying citizens in Egypt and advocating for civil rights in Saudi Arabia and Libya, to natural disaster management in Japan and the USA, social media tools and tactics are used for critical endeavors beyond business marketing and personal expression. However, tools like Twitter and Facebook are often brushed off as non-essential or entertaining playthings by media and society despite the proven ability to spread critical messages rapidly.

By exploring examples gathered from the vantage point of a social media start-up (HootSuite), this conversation will compare the adoption and utility of social media alongside email and mass media for these unique purposes. We'll discuss how these tools provide democratization of communication and how civic/cultural changes are sparked and amplified despite attempts to thwart dissent.

Plus, share practical situations where the tools were used spontaneously by citizens in disaster zones, as well as in emergency management and relief agencies in crisis mitigation strategies. Finally, by delving into historical examples, we'll seek social media's true fore-bearers for democratized, civic messaging.

Ryan is: @invoker & Azita is: @azita & @lovesocial
Customers are part of your culture. By inviting them to participate in your campaigns and community, you can speed progress, gain candid market insight, and have some fun. This conversation will share tips about wrangling your passionate users to help with specific tasks for mutual benefit.

The tips and tactics will include: understanding motivations, providing rewards, setting boundaries, understanding types of volunteers, organizing disappearing task forces, avoiding "cat herding," and thwarting confusion and conflicts.

Practical examples will include: crowd-sourcing a multi-language software translation project; organizing citizen reporting at an Olympic Games; creating participatory contests to produce content and assets; identifying perpetrators and looters in a riot; raising relief money under difficult circumstances; and, rapidly helping victims in disaster zones.

From the examples, we'll discuss methods for channeling the passion of audiences into tangible results in much the same manner as Tom Sawyer recruited his fishing pals to help whitewash his fence.

Dave is: @daveohoots
We've Got Pals
Some of our industry friends are also submitting proposals for SXSW. Consider taking a look and giving a vote for their panel pitches:
For anyone else promoting a panel at SXSW, feel free to post your link in the comments below to spread the votes.
Get out the Vote
We're counting on your votes to push HootSuite's panel entries to the top, the votes are counted alongside the SXSW advisory board's recommendations so click on the "Vote for My Idea" Badge and send it around to your friends.
We hope to see you there and remember to keep an eye out for Owly. That fun-loving Owl will be your ticket to take home some brand new HootSuite swag.
Get in the loop early by following #SXSW or SXSW on Twitter to stay current with all their updates sent by their favorite social media tool, HootSuite.
For your viewing pleasure, we've queued up a video made by proposed co-panelist Azita Ardakani of lovesocial.org about the biggest influencer on the globe, you.
Now that you're pumped on the social power on the tip of your fingers, you may be thinking, "I'm feeling inspired, but SXSW is so far away…" Well, it's actually just around the corner. There's only (about) 199 days, 4,752 hours, 285,560 minutes, 17,107,600 seconds, but who's really counting.