HootSuite at SXSW: Owly's In Austin!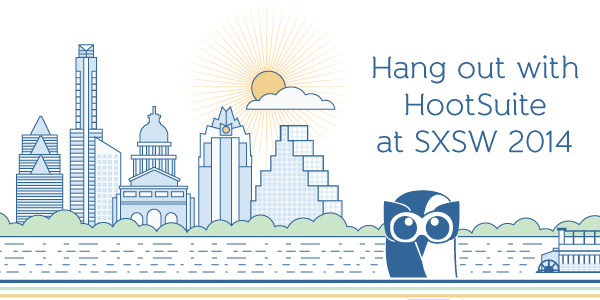 It's large, feathered and handles like a dream. That's right, the HootBus returns to Austin this March. If you're heading to SXSW 2014 we want to meet you! Below are all of the events the HootSuite team is taking part in, be sure to stop by. If you're participating from afar by social, then share your stories using hashtag #HootSX, we hope to hear from you.
2014 SXSW Events Schedule
March 4, 2014
March 6, 2014
March 7, 2014
March 8, 2014
March 9, 2014
March 10, 2014
March 11, 2014
Is Being Tech Savvy the New MBA?
With the tough economy and staggering higher education costs, more and more college students are opting out of postgraduate degrees and plunging headfirst into the job market. But are they really prepared for what's out there? In today's hyper-digital economy, there is a growing gap between what businesses need and what skills new job seekers can offer them. Copious amounts of eagerness and teacher referrals are great assets for candidates to have, but are no longer enough to guarantee them the job. Graduates who want to have a real edge in launching their dream careers need to make sure they're equipping themselves with real-world experience and knowledge, including digital skills and being tech savvy. Here are some of the ways that academia, higher ed institutions and members of the business world are tackling this issue and some of the innovative solutions that are emerging.
Panelists: Kirsten Bailey, Director, HootSuite University, Dr William Ward, Syracuse University – Professor, Practice of Social Media, Megan Cole-Karagory , Mozilla Foundation – Mktg Strategy Lead, Yair Riemer , Career Arc Group – VP, Global Mktg
Date: Tuesday, March 4th, 2014
Time: 10:30am-11:30am
Venue: Hilton Austin Downtown – 500 East 4th Street, Salon D
Tweet & Protect: Humanizing Authority with Social
For decades, the fear of Big Brother has made citizens wary of the ways authorities use technology, skeptical of prying eyes and the invasion of our privacy. Ironically, the proliferation of social media is turning that notion on its head. Now, we voluntarily expose ourselves online, using our smartphones to record and share every moment across social networks, and use these same channels to watch and 'monitor' others. There's a little bit of Big Brother, it turns out, in all of us. Social media and real-time sharing culture is also changing the way citizens interact with authorities. Law enforcement officers are becoming increasingly aware of the power of online media, and actively using these channels to soften their image, give transparency to their actions, and enlist the help of citizens. From skateboarding mounties in Canada to reporters live-tweeting their own arrests, technology is changing the relationship we have with police in remarkable new ways.
Name: Ashley Brookes, Senior Brand & Content Manager
Date: Monday, March 10th, 2014
Time: 3:45pm
Venue: Austin Convention Center, Ballroom E
Entrepreneurship vs Intrapreneurship
Startups are great, right? Passionate people, working around the clock to launch ideas they know can change the world. Some get lucky and take off, going from tiny startup to mid-sized company in the blink of an eye. But all too often, what we end up seeing at this point is growth that tapers off quickly and amazing momentum lost. Greg Gunn, VP of Alliance and Business Development at HootSuite, knows this pattern well, having worked with a range of startups over the past decade. Greg was one of HootSuite's first 20 employees (now at 400+) and he's helped steer the company through its explosive growth over the past three years. Now it's his job to ensure that HootSuite—now with 7 million users around the globe—continues to strike a healthy balance between risk-taking and sustainable business growth.  So how will HootSuite stave off stagnance and continue to stay ahead of the curve in this stage of growth? Deep dive into his best practices and theories on intrapreneurship.
Name:  Greg Gunn, VP Business Development
Date: Tuesday, March 11th, 2014
Time: 9:30am – 10:30am
Venue: Hilton Austin Downtown – 500 East 4th Street, Salon D
#HootBus
Join us for the first mobile HootUp experience at SXSWi 2014. This is your chance to ride with us in style aboard our custom HootBus. Charge your phone, use our complimentary WiFi hotspot and cool off with our selection of refreshments.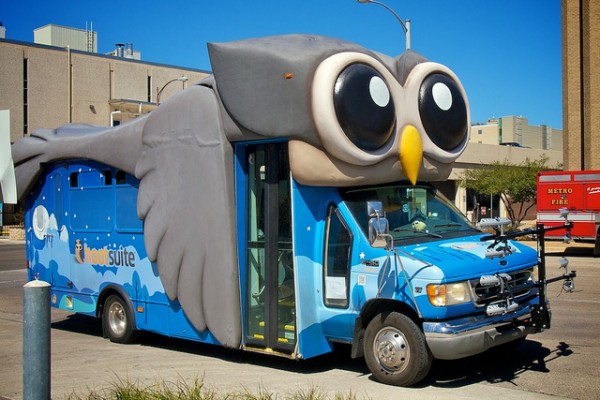 A HootUp is a casual, community based networking event – this is your opportunity to chat with our experts about social media. Whether you're a pro or using HootSuite for the first time, we're passionate about helping you build your social media knowledge.
Want to ride the HootBus?
Date: March 7th-8th
Time: 10am-6pm
Pick Up Location: 508 Tequila Bar, 508 E. 8th Street Austin, Texas 78701

Follow @HootClub and #HootBus throughout SXSW for location and pickup times.
Meet Owly & The Owls
Our beloved mascot, Owly, is hitting the streets of Austin during SXSWi. Owly will be accompanied by some of HootSuite's finest team members, so come find us to snap a few #selfies, give high fives and score some exclusive HootSuite swag.
Want the inside scoop on where Owly and the HootSuite Owls will be? Follow @HootClub and #HootBus during SXSW for all the details.
Tacos & Mint Slushies with HootSuite
You'd think HootSuite's Vancouverites don't know anything about tacos. But thanks to the woodsy surf culture of west coast B.C., and a few delicious taco food trucks, we have heard of tacos. And mint slushies.
Eat a couple of fish tacos, have a beer or mint slushy and chat with us about HootSuite, social media marketing, where it's going, and how you're going to move with it.
It's going to be fresh. We promise.
Please note: Seats are limited for this event. If you RSVP you get a +1.
Interested in attending this event? Click here to register.
Date: Friday, March 7th, 2014
Time: 12pm-2pm
Venue: 508 Tequila Bar, 508 E. 8th Street Austin, Texas 78701
Howdy Partneritas by HootSuite
Join HootSuite's Solution Partner team for premium tequila margaritas to kick off your Saturday night at SXSW. Let's toast to our achievements in revolutionizing communication for business. You'll be in the good company of our exclusive partners, leading agencies and various marketing professionals.
We look forward to hearing about the challenges and successes you've had trying to deliver value to clients, and we will share our top new features for agencies and marketing professionals. Come mingle with like-minded industry colleagues before hitting up the hip parties. Food and drinks are on us.
Who should attend?
Digital agency owners and managers
Marketing managers and consultants
Interested in attending this event? Apply now to request an invite.
Date: Saturday, March 8th, 2014
Time: 4pm-6pm
Venue: 508 Tequila Bar, 508 E. 8th Street Austin, Texas 78701
Security & Compliance Brunch With HootSuite and Nexgate
This is an invite only brunch for Enterprises interested in discussing how to better meet the requirements of your compliance team and regulatory bodies.
Join HootSuite and Nexgate to discuss strategies for maintaining compliance workflows, managing policies, automating content moderation, archiving social communications and monitoring in real time.
This informal panel and networking event includes delicious food and an informative opportunity to understand how a social relationship platform like HootSuite can help your business manage risk while engaging effectively.
Who should attend?
Marketing managers and leaders
IT professionals
Security analysts and compliance officers
Professionals from regulated industries such as finance and healthcare
Please register here with your name and company details to receive an invitation.
Date: Friday, March 7th, 2014
Time: 10am-12pm
Venue: 508 Tequila Bar, 508 E. 8th Street Austin, Texas 78701
Super Social Patio Party with HootSuite Labs
With the launch of HootSuite Labs we're putting on an invite-only, patio party at the 508 Tequila Bar. Join us for drinks and conversation and enjoy the sounds of some of SXSW's finest DJs. Learn about our plans for the future and get to know our people.  Find out how we're becoming the most innovative company in social media and how you can become part of the team.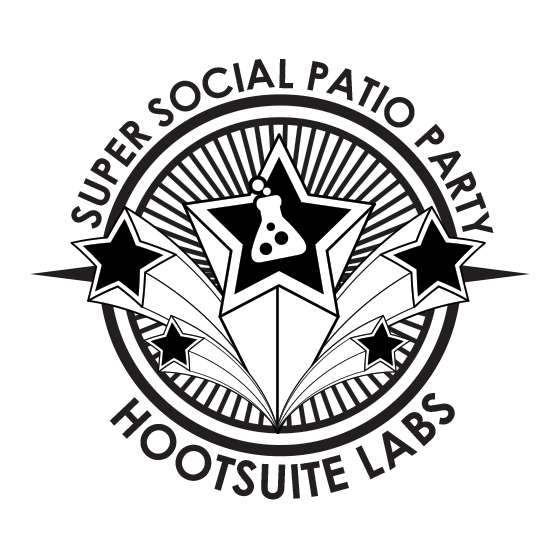 Who should attend:
Media & Analysts
Marketing Managers and Leaders
Anyone who is curious about career opportunities in a fast growing, well funded startup.
Patio & Innovation Enthusiasts
Please register here to request an invitation.
Date: Friday, March 7th, 2014
Time: 3-6pm
Venue: 508 Tequila Bar, 508 E. 8th Street Austin, Texas 78701
Data & Analytics Brunch With HootSuite and DataSift
An invite only brunch for Enterprises interested in exploring how to build the capacity for measurement into every social action. Join HootSuite and DataSift as we discuss how metrics and data analysis can help you identify your audiences, monitor customer behaviour and unveil key trends and insights. With a integrated social relationship platform like HootSuite, discover how to better analyze data and in turn, optimize future programs and messaging.
Who should attend:
Marketing Managers and Leaders
Analyst and Intelligence Professionals
Operation Specialists
IT Professionals
Please register here with your name and company details to receive an invitation.
Date: Saturday, March 8th, 2014
Time: 10am-12pm
Venue: 508 Tequila Bar, 508 E. 8th Street Austin, Texas 78701
Brian Solis Book Signing
HootSuite is offering you a chance to meet Brian Solis and pick up a complimentary, signed copy of his new book What's the Future of Business (WTF). In his latest work, Solis explores the landscape of connected consumerism and how business and customer relationships unfold and flourish in four distinct moments of truth.
Join HootSuite for a casual meet and greet in the HootSuite Hub at 508 Tequila Bar.
Date: Saturday, March 8th, 2014
Time: 12pm-1pm
Venue: 508 Tequila Bar, 508 E. 8th Street Austin, Texas 78701
#SXHockey
We're raising money and food for Austin City Food Banks with a game of street hockey. The coolest game at SXSW, #SXHockey is a grassroots fundraising movement lead by HootSuite, Five Hole For Food, more than 20 tech companies and the Texas Stars of the AHL (American Hockey League).
Interested in playing? Register your team and get ready to drop the puck.
Date: Sunday, March 9th, 2014
Time: 1pm-4pm
Location: Parking lot at the corner of Trinity and 9th, Austin, TX
Digital Creative Job Market
A convenient meeting spot for innovative thinkers and equally innovative companies, the Digital Creative Job Market enables talented professionals to match their skills with the 21st century, cutting-edge employers. We're always looking to expand our nest with great people, so come meet HootSuite and learn about some of the amazing employment opportunities we have available.
Interested in attending? Visit our careers page and tweet @HootHR to get in touch!
Date: Thursday, March 6th, 2014
Time: 10am-6pm
Location: Austin Convention Center, Ballrooms A,B,C