Help HootSuite Take the Stage With the SXSW 2014 Panel Picker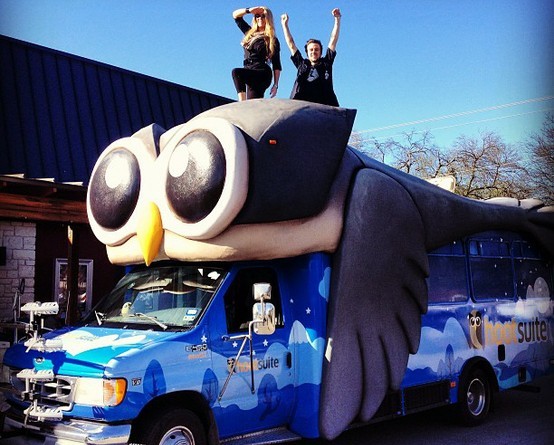 HootSuite has a very rich history with SXSW. Over the past four years, our owls have hosted backyard barbecues, shot scarves from t-shirt cannons on the best van in the business, and played street hockey for charity.
Perhaps the most important part of our time at the interactive festival is spent speaking with people. Sometimes that happens on the street or in a restaurant. But we also like to share our stories, knowledge and insight about social media and the industry we work in through panels. In the past we've participated in or led discussions on reaching out to Japan's unique market, social media education, and "Crowdsourcing like Tom Sawyer," to name a few.
This year, HootSuite has proposed five different panels for SXSW. These tackle everything from "Intrapreneurship" to crowdsourcing globalization. The panels at SXSWi (for interactive) are chosen by the public through their Panel Picker. So, before we can present at SXSW 2014, we need your help and support!
Read more about each of our five proposed panels below, and clicking on any of the titles will bring you to the SXSW 2014 Panel Picker where you can vote for your favourites. We appreciate your help in getting us up on stage in Austin, and we can't wait to see you there.
Ryan Holmes, CEO of HootSuite
[clear]

Startups are great, right? Passionate people, working around the clock to produce tech or software or a product that will change the world. And the lucky ones take off, with rapid growth scaling from a startup to an awkward mid-sized company in no time, and aiming for higher growth. But often what we see is the growth tapers quickly, the hockey-stick line graph stalls and that amazing momentum is lost. Ryan Holmes, CEO of HootSuite, knows this pattern well. An entrepreneur since the age of 16, he's got numerous startups under his belt, including HootSuite, which now has over 7 million users worldwide, in every country in the world. His biggest fear? Slowing growth. Every CEO feels the same, a fear of taking risks and failing to innovate as company that enters the later stage period of its development. Playing it safe instead. So how will he stave off the stagnant era of HootSuite's history? Deep dive into his best practices and theories on intrapreneurship at SXSW 2014. Vote for this panel here.
Cameron Uganec, Director of Marketing
[clear]

Most of us carry the technology to create and consume content with us in our pockets and purses every day. With the global explosion of social media the potential for any piece of content—a 140-character tweet, a Facebook post, a blog post, infographic or a video go viral, has skyrocketed. While this can be annoying when 'Gangnam Style' appears on your Facebook feed a dozen times in a single day, it also presents an opportunity for those of us with a story to tell. Whether you're working for a big brand, an agency, a small business, a not-for-profit or are just passionately plugging away on your own projects, there are certain messages and stories you want to share. But for these to have virality, it's important that you first understand why people share content. It's also key to understand the tools at your disposal to optimize sharability. e.g. Social video. Using the power of storytelling and social media, you can build powerful relationships and get your content shared. Vote for this panel here.
Destin Haynes, Director of Community
[clear]

For any company to truly succeed in the global arena they need to focus on the task of genuine localization for different markets and regions. From Starbucks to BestBuy and beyond, "hyperlocalization" is a trend that benefits both company and consumer, and is forming the foundations of many social business strategies. But for those businesses that don't have the budgets of these global giants, the scope (and the price tag) of being local everywhere is a seemingly overwhelming task.
Thankfully, there are innovative ways to be hyperlocal without breaking the bank. This is the story using the power of crowdsourcing and passionate communities of dedicated users to help localize.
Colored with examples from within HootSuite's own walls, as well as spotlights on communities around the world, learn how any organization can develop a successful and genuine global brand presence for a much lower price tag than anticipated and with a higher, measurable ROI. Vote for this panel here.
Ashley Brookes, Senior Brand and Content Manager
[clear]
For decades, the fear of Big Brother has made citizens wary of the ways authorities use technology, skeptical of prying eyes and the invasion of our privacy. Ironically, the proliferation of social media is turning that notion on its head. Now, we voluntarily expose ourselves online, using our smartphones to record and share every moment across social networks, using these same channels to watch and 'monitor' others. There's a little bit of Big Brother, it turns out, in all of us. Social media and real-time sharing culture is also changing the way citizens interact with authorities. Law enforcement officers are becoming increasingly aware of the power of online media, and actively using these channels to soften their image, give transparency to their actions, and enlist the help of citizens. From skateboarding mounties in Canada to reporters live-tweeting their own arrests, technology is changing the relationship we have with police in remarkable new ways. Vote for this panel here.
Kirsten Bailey, Director of HootSuite University
[clear]

With the tough economy and staggering higher education costs, more and more college students are opting out of postgraduate degrees and plunging headfirst into the job market. But are they really prepared for what's out there?
In today's hyper digital economy, there is a growing gap between what businesses need and what skills new job seekers can offer them. Copious amounts of eagerness and teacher referrals are some great assets for candidates to have, but are no longer enough to guarantee you the job. Graduates who want to have a real edge in launching their dream careers need to make sure they're equipping themselves with real-world experience and knowledge; including digital skills and savvy. Here are some of the ways that academia, higher ed institutions and members of the business world are tackling this issue and some of the innovative solutions that are emerging. Vote for this panel here.
Other Speakers
Dr. William Ward, S.I. Newhouse School of Public Communications, Syracuse University
Megan Cole-Karagory, Mozilla Foundation
Yair Riemer, Career Arc Group and Internships.com