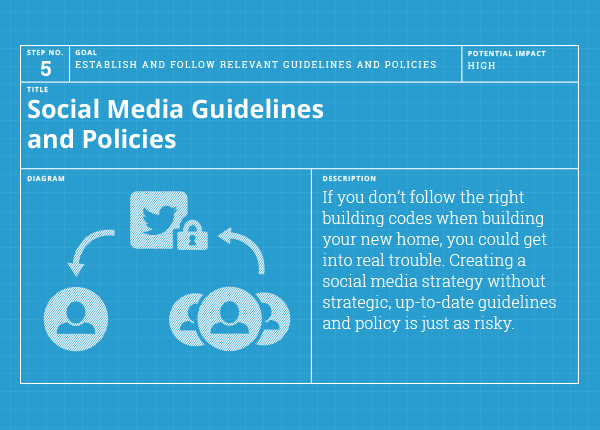 The Behind-the-Scenes Elements of a Social Media Strategy
A social media strategy is meant to guide your interactions on social networks, but there is so much more going on behind the scenes. Many people focus on the content they want to share or the audience they want to target and ignore the aspects of a social media that aren't public facing.
Every good social media strategy takes into account both administrative considerations and social media data and measurement. We look at both of those elements in more detail below.
This is the third post in a series highlighting Hootsuite University's new course Creating an Effective Social Media Strategy. For a limited time, get 30 days of Hootsuite University free and access this course today.
Administrative considerations for your social media strategy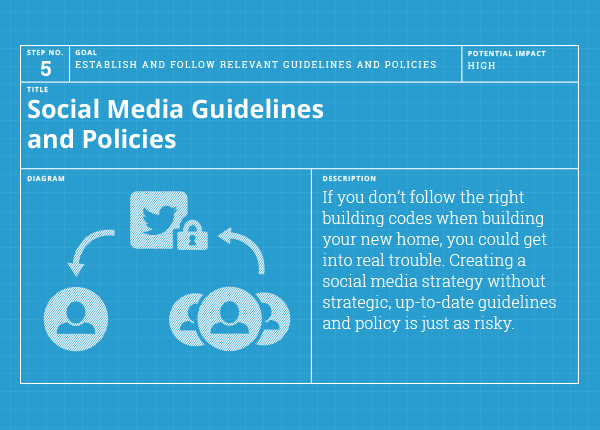 Your social media strategy can't only determine what content your create and share, but who does the creating and sharing. Every social strategy should outline roles and responsibilities of everyone on your team. The larger your team, the more extensive this outline should be.
Do an audit of everyone at your business with access to social accounts. Any person on that list should have clearly defined responsibilities, even the occasional contributors who are only involved in special campaigns. Everyone should be aware of who is responsible for each social network, and how the chain of command works. This helps you avoid errors which occur when someone doesn't meet their responsibilities, or goes beyond them altogether.
Everyone involved in your social efforts should be trained on the tools you use and your social media strategy. Training doesn't only help you avoid mistakes, it makes it easier to scale if these social media roles or responsibilities ever change.
Once you've determined roles and responsibilities, you can create comprehensive social media guidelines for your entire company. These guidelines will:
Create a better understanding of what your social media team is doing throughout your business
Help keep your social media presence cohesive
Help keep your social accounts secure
Keep staff aware of changes to your social strategy or the social media industry in general
Make sure that these documents are easily accessible and are constantly being updated as your strategy, and as the social media community changes.
We've all seen what happens when company guidelines aren't followed or someone makes a mistake. For that reason, the final administrative element of your social media strategy should be a critical response plan. This will come into play only in extraordinary circumstances, should anything go wrong with your social media efforts or business as a whole, internally or externally. Outline the protocols that your team will need to follow in case of emergency. Create realistic scenarios and walk your employees through their specific role in the critical response plan were these events to actually occur. This preparation will prove invaluable.
Evaluating your social media success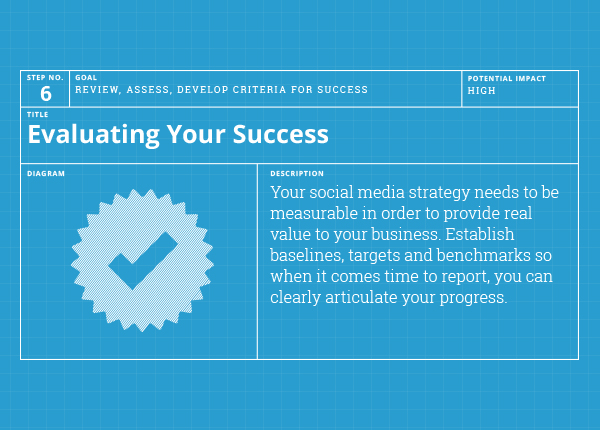 Social media measurement and analytics also takes place behind the scenes, but is an absolutely essential part of your social media strategy. You've set social media goals with specific KPIs and key metrics, now you need a rigorous measurement program that allows you to track your progress.
Your social media measurement should take into account both qualitative and quantitative measures.
Quantitative measures are more easily measured through analytics tools like Hootsuite, Google Analytics and Salesforce, and will be used to support your objectives. These may include everything from the reach and engagement of content to conversions and leads driven through your social accounts. These measurements should offer clear indications on the success or failure of your strategy.
Qualitative measures might be less directly tied to objectives but still offer valuable insight. These include the sentiment around your brand, and the relationships you've built with social media influencers.
This measurement system will help you make a clear case for ROI, and is crucial for making data driven decisions regarding strategies, tactics, and tools and course correction.
Once you determine the measures you are tracking, specify when you will be pulling each data point. This should be done at regular intervals, allowing you to adjust your course based on the data.
Learn more about applying quantitative and qualitative measurement to your social media strategies in this preview from the Creating an Effective Social Media Strategy course.
You're not pulling data just for the sake of it and you're not pulling data to reinforce your own preconceived ideas. You're doing so in order to track your progress and always be improving your social media presence. The point of measurement is growth. As such, your social media strategy should frequently be shifting and changing in response to the evidence. This might result in more realistic KPIs or timelines, a change of tools, different targeting and other influential factors. 
That said, give your strategies enough time to gain traction. Don't be too quick to cut your losses.
For a limited time, get 30 days of Hootsuite University free and access this course today.