The Social City Webinar ~ Featuring NYC's Chief Digital Officer, Rachel Haot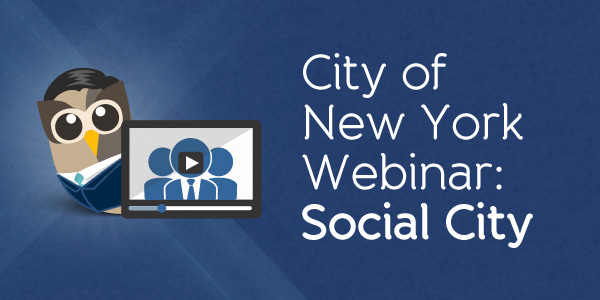 New York City has reinvented itself many times since it was founded in 1624. This week we heard how "the city that never sleeps" is transforming yet again, in our "Social City" webinar. Hosted by Rachel Haot, the first Chief Digital Officer of the City of New York and now available for on-demand viewing, this video will help you discover the City's keys to social success.

Read on for our Q&A discussion to discover how New York manages over 280 social profiles (that's 56 per borough, or about one for every fire station).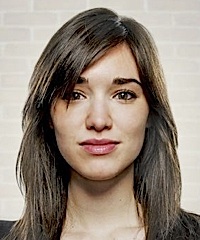 Creating a Social City
In this special presentation courtesy of HootSuite Enterprise, you will learn:
How the City of New York built and implemented their social media strategy
The philosophy that is the backbone of their social media guidelines
How the City of New York used social media during Hurricane Sandy to connect with its citizens and keep them updated
In 2010, Mayor Michael Bloomberg and Commissioner Katherine Oliver created NYC Digital, with the mission to make New York the world's premier digital city. This initiative is led by our webinar host Rachel Haot, the first Chief Digital Officer in government. NYC Digital's approach is defined by five pillars: Access to Technology, Education, Open Government, Engagement, and Industry. View their full strategy.
Since NYC Digital got up and running in January 2011, Rachel has helped modernize the way City government engages with the public online. She's deployed almost every digital channel imaginable to connect New Yorkers with the public servants who run their subways, fix their potholes and safeguard their health and property.
The City of New York is getting real-world results from its social media efforts, even when much of its traditional infrastructure breaks down. During Hurricane Sandy, the City not only kept its citizens notified of developments, but also helped them communicate with each other by amplifying crowd-powered emergency messaging.
Watch the webinar to find out just how the City of New York realized real-world benefits from digital engagement.
Q&A with Rachel Haot
HootSuite: How do you ensure that everyone is using the right tone on social media? Is there any training that your social publishers need to go through.
Rachel Haot: We have a few different approaches. It depends on the size of the city agency and their level of comfort on social media. Some are massive, with thousands of employees, and some entities are smaller, with two or three people.
When a group is about to start using social media for the first time, we have a face to face meeting with them and work through some questions:
What are your goals as an agency?
How do you define and measure success?
Where do your constituents "live" online?
What is your capacity and what resources do you have internally to dedicate to social?
We encourage them to develop a one-pager based on the discussion, which they share internally to make sure everybody is aware of the strategy. After that, we'll help the agency with their first social messages. Perhaps we'll help them as they draft their first 20 tweets. That training wheels period might last about one to two months, but people learn pretty quickly. It's about teaching people how to fish, as the metaphor goes.
HS: How long did it take to form the guidelines that you currently have?
RH: The first time that we held Engage NYC, that probably took us several months of planning. NYC Digital was established in January 2011 and we had our first Engage summit in September 2011. We had our second summit this year in October 2012.
The first year we had a set of checklists and how-to guides, but it's really been a year and a half for us to get to this point, because that's how long we've been around. I'll not that we have a Social Media Advisory and Research Task Force made up of our social media peers around the city. We meet with that Task Force once per month to approve new channels for engagement and to decide what the agenda will be at Engage NYC.
HS: What was the social media emergency protocol before Hurricane Sandy?
RH: We first put this protocol in place last year before Hurricane Irene. We were able to refine it this year and get it out even more quickly. The big innovation was having HootSuite as our centralized social media platform. Our team and social media managers use HootSuite day-to-day, but during Sandy it was a really quick way for us to give access to very high-level City Hall stakeholders who could see what was going on. We could set up alerts and monitoring so we could see what people were asking us and we could respond as quickly as possible. This year we were really able to do that response in a way we hadn't even envisioned before. It was a very powerful experience for us.
HS: You mention in the webinar about how New Yorkers "donated" their Twitter handles to City government during the crisis, providing an extra level of reach. Did the idea of donating Twitter handles come from within the government or was it promoted by citizens?
RH: That was such an exciting partnership. Credit goes to Andrew Nicklin, a great proponent in the Open Data and Open Government communities, and Evan Korth, a professor at NYU and one of the founders of HackNY. Evan has a class at NYU with computer science students and he said, "we've got these eager students who want to work with the city, what can they do?" I reached out to some of my colleagues, including Andrew. He floated a few ideas and when he mentioned the Amplifier idea I thought it was brilliant. There's all kinds of considerations we have to make which is why we haven't fully rolled it out yet. We want to make sure it's done in a controlled and strategic way.
This came from a seed of an idea from someone within government. There are so many innovators within New York City government and it's really about how we prioritize those ideas and how do we find the right partners to strategically launch them. This was clearly a great partnership because it was at no cost to the City of New York. Developers love having complex problems to work on that have a large reach, and this was a great opportunity for the students in Evan's class. They were able to launch this app and now we're looking at the next steps for where we can take it.
HootSuite Enterprise
The City of New York scaled up its social media reach with HootSuite Enterprise, the social media management solution trusted by 79 of the Fortune 100. To find out how your organization can activate its workforce to engage with millions of people, request a demo today.