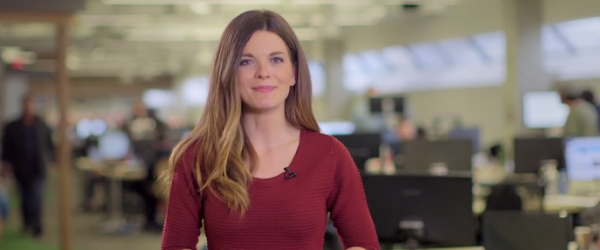 Social Update: Top Social Media News of 2014
Ah, the fast approach of the new year—time for resolutions, champagne, and numerous year-end lists. Since Social Update have resolved to bring you the roundup of the top social media news week after week in 2014, we figured it was time to make our own list—a list of stories with the biggest impact on the world of social. Plus, stay tuned as Social Update host Sunny Lenarduzzi dives into some social media trends expected to break new ground in 2015.
Here are the 10 top social media news stories of 2014
10. Instagram surpasses Twitter in monthly active users
Instagram's rapid growth has been making the news all year: it has been named the most popular network among teenagers, it has released a standalone timelapse app Hyperlapse, and has been rolling out Sponsored posts—just to name a few headlines. To top off the year, it has announced that its monthly active user base has grown to 300 million users—approximately 20 000 users more than Twitter's latest reported number.
9. Twitter unveils new profile designs
The microblogging network has rolled out new designs of both web and mobile profiles. The biggest changes are the introduction of a large, full-width header image, as well as the ability to "pin" select Tweets to show up at the top of your profile. The new mobile layout allows for easier access to the user's Photos and favorited Tweets.
8. LinkedIn launches its publishing tool
LinkedIn has expanded its functions to demonstrate expertise by opening up the publishing platform to all users. This has given influencers another avenue to share their thought leadership pieces, and incorporate LinkedIn into their content marketing strategy. Now, in addition to seeing the endorsed Skills the user included in their profile, you can also see their level of expertise on the subject from their published works.
7. Hello to Ello
Ello has stirred up a sign-up frenzy after its launch of a "simple, beautiful & ad-free" network, which prides itself on the anti-commodification aspect—not collecting user data. The beta version of Ello is invite-only; and although it did go through a sign-up spree where thousands of people joined the network in September, it's yet to break into the active user numbers of major networks such as Facebook, Twitter, or Google+.
6. The selfie craze
So yes, "selfie" did get legitimized by an entry in the Oxford English Dictionary in 2013; however, this year marked the first billion-dollar selfie—you know, the one where Ellen DeGeneres poses with a dozen actors that got the talk show host over 3 million retweets? The Ellen selfie was the first in a succession of celebrity selfies, including snapshots with the Pope, Obama, and Queen Bey.
5. Snapchat grows, launches Snapcash
Ephemeral video-messaging app is not far behind Instagram on teenagers' top mobile app picks for this year. The app also decided to venture into the social payments territory by partnering up with Square to launch a peer-to-peer instant payment service, Snapcash. And while we are fans of Snaps that only live for a few seconds, we hope Snapchat doesn't make our money disappear.
4. Facebook adjusts algorithms for better News Feeds
Algorithms introduced in 2014 crack down on click-bait headlines, reduce the amount of promotional content, and show more timely and trending posts in the users' News Feeds. All these changes aim to improve the overall user experience on the network, and encourage brands to think more about engagement and storytelling. Read about how you can adjust your Facebook strategy to accommodate the new algorithms:
3. Facebook acquires WhatsApp
Messaging apps such as LINE, WhatsApp and Snapchat have been on the rise throughout the year, growing their user base as much as 15% every quarter. Always on top of the latest social trends, Facebook has been negotiating the deal to buy WhatsApp, the long-standing leader in instant messaging apps. Interestingly enough, Facebook has also launched its own standalone Messenger app in the summer, which is now the second most-popular messenger.
2. #BlackLivesMatter
The hashtag #BlackLivesMatter started appearing on social media after the untimely death of Trayvon Martin, followed by similarly discussed trials related to the deaths of Michael Brown, in Ferguson, MI, and Eric Garner, in New York. Now symbolizing a civil rights movement around the world, the powerful hashtag can trace the discussions of issues of racial equality, justice, and police brutality.
1. #ALSIceBucketChallenge
CEOs did it, singers did it, actors did it, and you probably joined in, too—2014 was the year everyone dunked buckets of ice water on their heads in order to raise awareness and funds for research of ALS, amyotrophic lateral sclerosis, also known as Lou Gehrig's disease. The social media challenge spread by users posting videos and photos of themselves getting drenched, then nominating others to do the same, or donate money. While global numbers are still being calculated, the ice bucket challenge has raised over $100 million for the ALS Association—proving naysayers wrong, and showing that posting videos on social media really can make a tangible, real-life difference.
Did all the news stories you found noteworthy make our list? Share your thoughts on the top social media news story of 2014 in the comments below, or on YouTube!
Don't miss out on fresh Social Update episodes in the new year—subscribe to Hootsuite's official YouTube channel!