Weibo And Renren Updates ~ Chinese Apps Get More Features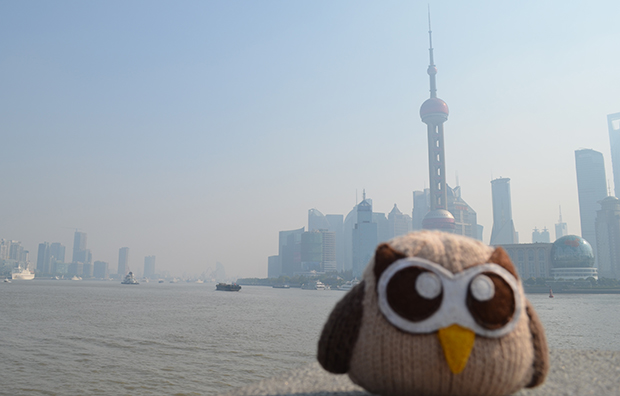 The following was written by HootSuite Community Contributor, Kim Hession.
Today HootSuite is pleased to announce updates and new features for Chinese apps Weibo and Renren! While HootSuite continues to learn about our Chinese owls through events like #HootUps and the Chinese localization symposium, and also by listening to what our users are looking for.
HootSuite is continually working hard to understand and learn about the Chinese market. We prefer a subtle approach as opposed to the 'guns blazing' mentality in which some have tried in this region.
After listening to feedback from HootSuite owls in both dashboard translations of Traditional and Simplified Chinese, we're very excited to announce some exciting new updates to the Sina Weibo and Renren apps.
Weibo updates with advanced scheduling and streams
With the updated features for Weibo, you are able to:

Schedule posts and access support for multiple accounts
Save searches to monitor keywords
Also, some fresh new streams available for your enjoyment, including:

Favorite posts
My Weibo's
Mentions
The initial features of Weibo for HootSuite meant that users could: Share and search for content on your social networks, post pictures to your Weibos, view comments and re-posts, and also view not only your Weibos, but also the ones which you follow.

Renren gets more features, joins the party as well
With the updated Renren app, you can also:

Schedule posts
Support multiple accounts
There are also new streams available:

Photo's
Share's
Blog's
Status Updates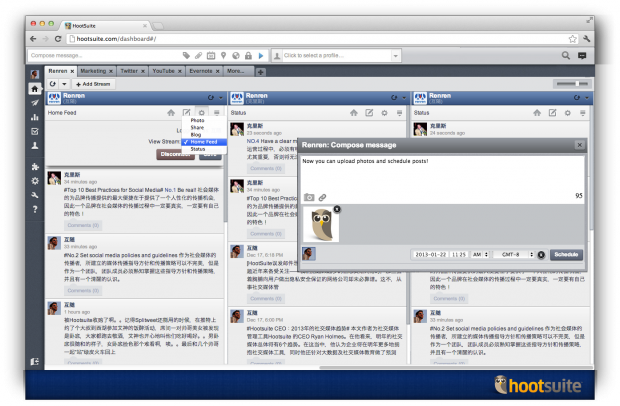 Initially, the Renren features allowed users to share Renren content to social networks, post and stream status updates including photo uploads, and the ability to like, comment and re-post.
A brief history of HootSuite's foray into Chinese
Starting in October 2012, HootSuite's worked hard on the Chinese-language release of HootSuite. One of the most exciting parts of the launch is that the dashboard was translated to offer you the choice of two languages, Traditional or Simplified Chinese.
HootSuite also opened a Chinese Twitter account, and after listening to what Chinese owls wanted, we were able to incorporate two of the most popular Chinese social media apps, Sina Weibo and Renren into the dashboard.
Thanks to all of you who are using these new features, the Chinese release has been such a huge success. Users from around the world are using the new apps, including the Mayor of Vancouver, who uses HootSuite to update his own Sina Weibo account.

Have you been using the updated features?
If so, let us know what you think. Is there a particular app or feature that you'd like to see added to the dashboard? We're a curious crop of Owls, and we want to hear from you!
Here's how you can weigh in:
Happy Hooting!