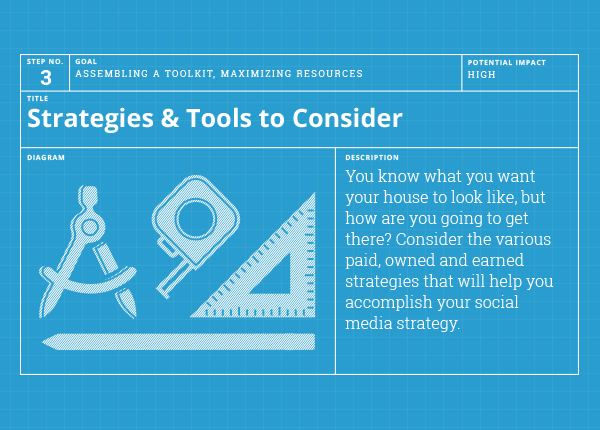 What Makes a Social Media Strategy Right for Your Business?
Not all social media strategies are created equal. Once you've set your strategic social media goals, you need to build up a strategy around your goals, one that has the greatest chance of helping you achieve them.
Despite what you've heard, you can't just do everything. If you invest your time and resources trying to maintain a dozen profiles across a dozen social networks while trying every new social media technique you've heard of, you're going to go nowhere fast. The right social media strategy for your business will allocate your resources; it will show you what channels and techniques to focus on in order to achieve those broader business goals. Here are some elements to consider.
This is the second post in a series highlighting Hootsuite University's new course Creating an Effective Social Media Strategy. For a limited time, get 30 days of Hootsuite University free and access this course today.
The right distribution of owned, earned and paid media
The first thing to consider is how you're going to use owned, earned and paid media to achieve your social media objectives.
Owned media: Content that your brand has complete control over. This includes all your social media profiles, your website and blog, and your email newsletter.
Earned Media: Content about your brand created by other sources, after being exposed to the social media content you share, your ads, your events or the efforts of your public relations team. A simple mention from a regular person on Facebook or Twitter counts as earned media.
Paid media: Content presented through online, traditional and—now more than ever—social media advertising.
Each of these three forms of media serve a specific purpose, which is why choosing the right social media strategy is dependant on your use of these channels. Different goals require a different approach.
If the goal of your social media strategy is to drive existing customers into a more advanced version of your product, like a pro version instead of a free version, you would emphasize owned media. Owned media allows you to connect with your existing community, using social media channels for example, to push your product. Your customers expect you to engage them on these channels. An effective social media practice is offering incentives to your users, like a discount if they upgrade in the next week. Since you're going after existing users, earned and paid media will play a lesser role in you achieving your objective.
If, on the other hand, you want to grow your client base by 10 percent this quarter. You would shift the focus of your social media strategy to earned and paid channels. Paid social media allows you to target a very specific audience outside of your client base with information about your business. Earned media, through PR efforts or social media mentions, will help you grow your network. You could, for example, connect with influencers on Twitter and have them share your content with their large following as a form of earned media.
Learn more about these elements of your social media strategy in this video, from the Creating an Effective Social Media Strategy course.
The right content game plan
Once you've established how you're going to use paid, owned and earned media, then you can begin to create a content game plan. Content marketing is core to social media marketing for obvious reasons. Social networks are not websites; people expect something in return for following you. It's the great content you provide that will allow you to achieve almost any social media goal you set.
There are a few key elements to every content strategy:
your target audience
your brand voice
your distribution channels
and your distribution tactics
Your target audience will depend on your goals. Like with your owned, earned and paid media strategy, certain types of content work better for certain audiences. Instagram posts may be better if your goals target a younger audience, while LinkedIn posts cater more to a business audience. In this way, your target audience will determine your content strategy.
Your brand voice requires the same concern. If you're a B2B business selling security software, your content should take on a more serious tone than if you're a clothing retailer for teens. This tone will affect the content types you choose (whitepaper vs. vine video) and the social media channels you allocate your resources to, which is the next key element of your content strategy. Depending on your tone and your target audience, you should get a clear picture of where your content will perform the best and where you should focus your time.
Finally, your distribution tactics might include gated content, contests, using user-generated content, infographics, blog posts, or using social media ads. Your tactics will depend on your audience, voice and channels. If it isn't yet clear, all of these elements are co-dependent. They affect one another and should be looked at and planned out in unison.
The right tools for your social media strategy
The right social media strategy for your business will also include tools that cater to the goals you've set and the challenges you face.
Consider your goals, the distribution of owned, paid and earned media you've decided on, and your content strategy, then begin researching the right tools for you. A social media management tool will allow you to create and schedule posts to one or across several social networks depending on your strategy. A tool like Hootsuite allows you to listen, engage and measure your social media performance; central actions to most social media strategies.
There are other tools which might meet your more specific needs. Kapost will help you curate content for your audience. A tool like Salesforce allows you to track the revenue you're driving through social media. You should always be choosing tools with your goals in mind. Even though a big brand might be using a particular product, it doesn't make it right for your business.
You should also take stock of the tools your company may have purchased already when planning your social media strategy. See what has worked and what hasn't. Even though it may add a bit of work, transition away from a tool that your team hates or one that isn't performing to your expectations will pay off in the long run.
After considering these three aspects, you should be able to build a social media strategy designed specifically for your business and your goals. The more specific your strategy is to you, the better it will perform.
For a limited time, get 30 days of Hootsuite University free and access this course today.