Do you dream about quitting your job and traveling the world? Have you ever thought 'Why do I need to live here in the city when I can work on a computer from anywhere in the world?' The internet has changed the meaning of work, bringing new opportunities and employment that didn't exist until recently. Today we can build a career from wherever we want, free from the constraints of a conventional nine-to-five office job.
For many, the internet has given us an opportunity to combine work and travel. Digital nomads are individuals that use technology to work remotely and live an independent and mobile lifestyle.
If you have dreams of unplugging from the nine-to-five, there is a lot you can learn from these digital pioneers. To help you plan your own exit strategy, here are four things you can learn from their stories.
Whether you're a digital nomad or a nine-to-fiver, post a photo of where you work on social media and you could win two roundtrip flights to anywhere in the world (up to a maximum value of $3,000 USD). Here's how to enter: download the Hootsuite mobile app and upload a photo of your workspace to Instagram and/or Twitter with the #IWorkFromHere hashtag and include an @hootsuite tag.
1. Share your knowledge
Travel blogger Matthew Kepnes proves that if you've done some traveling in the past and love sharing your best travel tips, you can give up that office job. In 2008, he started up a blog called Nomadic Matt that teaches people how to travel on a budget. On his site you can find tips on how to find cheap airfare, save money on the road, and get inspired.
If you have done some traveling in the past and have great tips that you can share with others around the world, this might be the type of work for you. Sharing your experiences and knowledge can give you a leg up to creating the type of life where you are no longer chained to a desk.
2. Use what you know
Author and world traveler Natalie Sisson proves that no matter your career, you can run your own business from a laptop and smartphone—living out of a suitcase. Sisson helps entrepreneurs create freedom in business (while also adventuring through life). She uses her blog, Suitcase Entrepreneur, as well as a number of other digital mediums like podcasts, videos, digital products, coaching, and workshops, to give lessons on building personal brands and using social media.
Sisson is a great example of someone who has put her skills and knowledge to work. She found a way to do what she would have normally done from a cubicle, and took it traveling around the world. Through different digital mediums, she's found that her business can run successfully without being tied down to an office or desk.
3. Learn what environment makes you productive
Last year I found a post on Medium from Jay Meistrich. In 2014, Meistrich was struggling to focus on building out a new startup in Silicon Valley. Slowly, he realized that while he was spending a huge amount of time sitting at a computer trying to work, he wasn't actually very productive. After taking a trip to visit friends, he realized that he was getting much, much more done on the road. He has found that not only is he more productive while traveling, but that he is saving more money, and that working hours outside of the usual nine-to-five is a healthier lifestyle for him.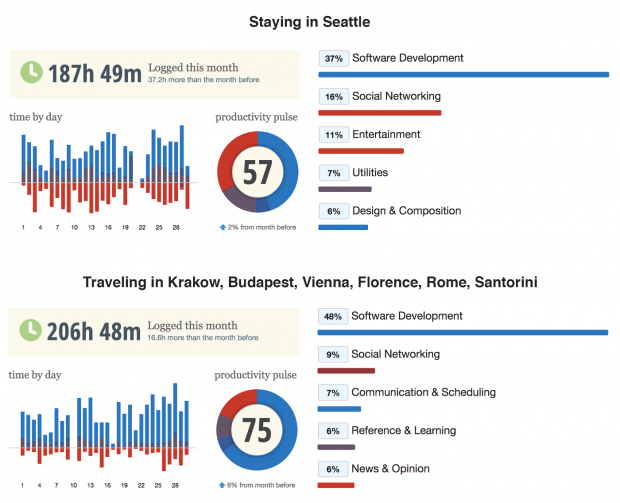 In his article he explains, "I'm working hard on bootstrapping an ambitious startup, Moo.do. I'm traveling because it's cheaper, more productive, and more inspiring than sitting in one place. Traveling is the most responsible choice for the sake of my company, my finances, and my personal growth."
4. Find a job that works for you
Forbes recently published an article explaining just how many big corporations allow workers to do their jobs remotely. The article dives into the fact that there has been a "36 percent increase in the number of remote listings, with computer and IT jobs topping the list of fields offering such opportunities, followed by medical and health, sales, administrative, customer service, education and training, and finally, marketing." So which companies made this list? Amazon, Dell, IBM, and UnitedHealth Group to name a few.
If you aren't as excited about starting your own business, this might be the way to go. Finding a business opportunity at an established company that allows you to work remotely is a win-win. Thanks to the internet, working off the WiFi at a coffee shop in a far away country can seem the same as working in an office building with your peers.
You may have always been inspired, but now you can see real life examples of people who make the digital nomad lifestyle work for them.
With Hootsuite, you can schedule and manage your social media presence from anywhere. Try it free today.