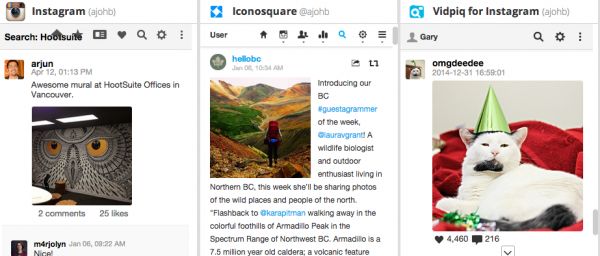 [Webinar] How to Use Instagram For Social Marketing
Everything you need to know about Instagram and Hootsuite
The recent milestone of 300 million active users confirmed Instagram's role as one of the most popular social networks currently available. Not only are users taking to it to showcase their lives, but businesses are leveraging Instagram to promote their products, develop their brand, and give fans an inside look into their company culture. With the ability to entice users with visually rich content, Instagram has become a powerful tool for social media managers and marketers alike. However, when it comes to the Hootsuite dashboard, how can users take advantage of Instagram to elevate their social media?
Join Hootsuite Social Media Coaches @HootGarrgo and @HootAJ for an exclusive webinar focusing on Instagram. The following webinar will cover:
An introduction to Instagram and best practices
Adding and using Instagram on the Hootsuite dashboard
Enhancing your experience with TrendSpottr and Vidpiq for Instagram
This webinar will only be hosted once, so don't miss out on an exclusive opportunity to learn how you can use Instagram to enhance your social media strategy.