For the conflict-averse, or those who just want a breather from a certain Instagram account, it's time to get acquainted with your new best friend: the Instagram mute feature.
Unfollowing someone on social media can be nerve-wracking. Sure, you're tired of the hourly posts by your junior high science fair partner, but you hesitate to unfollow her because it just feels so harsh. How many of us endure a feed full of posts we'd rather not see because we don't want to offend anybody?
Instagram has let users mute Stories for a while (though it's not an obvious feature), but in May 2018 they also added the option to mute a user's posts from appearing in your feed.
When you mute a user, you're still following them. You just won't see their posts or Stories in your feeds until you decide to unmute.
If you've ever had a friend who posted too many vacation photos while you were slogging away at work, or an aunt who never met a scone she didn't want to 'gram, this feature is for you. It's mental freedom. And now it can be yours.
Here's how to use this feature:
How to mute Instagram accounts without unfollowing:
Step 1: Go to the profile page of the profile you want to mute
Step 2: Click the three dots in the top-right corner of the app
Step 3: Click the Mute option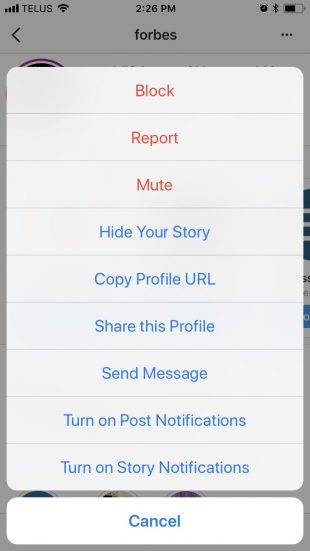 Step 4: You can choose to mute Posts, Stories, or Both.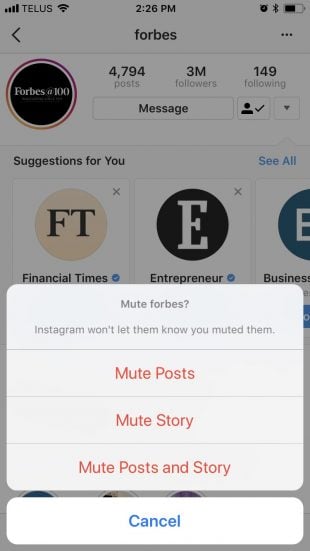 How to mute Instagram Stories:
You can also mute Instagram Stories from your Story feed.
Step 1: Tap and hold the profile picture of the account whose story you want to mute
Step 2: Select Mute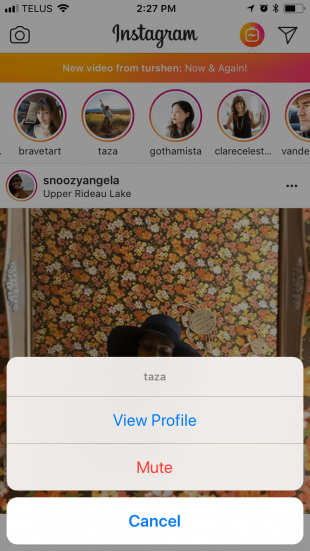 You can still watch Stories from muted users—you'll find them by scrolling to the very end of your Story feed, where you'll also see Stories you've already watched.
To unmute a user, follow the same process of holding the profile photo until the "Unmute" option appears.
How to not get muted on Instagram: 7 tips for brands
Muting seems like the best feature to hit Instagram since that flattering rainbow light filter, until you consider that someone might be muting your posts. Not so fun from this angle, is it?
If you're worried about your followers using this feature to tune you out, just make sure you're posting high-quality content that they won't want to miss. We've got some tips below.
1. Share quality content
Don't take your audience's affections for granted by sharing mediocre content. Each Story or post is a chance to impress, share important information, or build a stronger connection.
And it's equally true that each post might be the one that tips the scales on someone hitting that Instagram mute button.
Consider each post on its individual merits. Is it relevant and interesting? Does it fit with your brand voice? Is it something you would want to watch? Is it nice to look at?
There are many recipes for awesome content, but always make sure to include high-quality images or video and informative, engaging captions.
Don't neglect the details that bring it all together, like colors and fonts.
2. Know your audience
Your brand's posts and Stories aren't sent into a void. They're shared with real people: your current followers, and those who might discover you. When you share content on Instagram, think about the people you're sharing it with.
Posts and Stories that don't align with your audience's values and interests, or reinforce the reasons they follow you, risk alienating them and leading them to mute.
Audience personas can be a great way to get to know your followers, and understand their wants and desires. Once you understand who they are, and what they care about, you'll be able to create content that really connects with them.
Another bonus of really understanding your audience? It will help make your content more discoverable to people like them. Engaging content that aligns with the interests of your target customers is more likely to end up on the Explore tab.
3. Don't post too often (or too little)
It's easy to fall into the trap of thinking "more is better" when it comes to Instagram content. You might want to believe that by posting constantly, you'll always be on your followers' minds.
But the fact is, audiences prefer quality over quantity.
Like a prospective paramour who texts fifty times after a single date, it's possible to wear out a good impression.
What's more, if you're posting dozens of Stories every day, or churning out posts, it's almost certain that you're not sharing stellar content. Great content requires care and consideration. If you rush the process, your amazing idea will turn out like a Pinterest fail.
Instead, post regularly and at optimal times. This is better than flooding your audience's feeds.
But, don't go too far in the opposite direction and post rarely; you run the risk of being forgotten.
Creating a social media content calendar can help you plan your posts so that you have time to create and schedule awesome content consistently.
4. Use appropriate hashtags
Just because you can pile hashtags onto every post (up to 30, to be exact), that doesn't mean you should. Using lots of hashtags might seem like a foolproof way to score new followers and boost your visibility, but it's a hollow victory.
Instead of an engaged, interested audience, you're likely to pick up bots, spammers, or people who are disappointed once they realize you weren't truly committed to random hashtags like #TacosForPresident.
Rather than piling them on like toppings at a free sundae bar, use hashtags strategically. Create branded hashtags and include them consistently to build awareness, and complement those with trending hashtags that make sense for your brand. This will ensure you're reaching the right people with your hashtags and building authentic relationships with them.
Still confounded by hashtags? We've rounded up everything you need to know about them.
5. Don't forget about the caption
Flawless visuals may be the number-one priority on Instagram, but that doesn't mean you can neglect the caption. It's an essential supporting player, and you should be aiming for Best Supporting Actor every time.
The best Instagram captions are clear, concise, and action-oriented. While you can use up to 2,200 characters, high performing captions are much shorter than that: between 125 and 150.
Just like with your posting frequency, the rule of quality over quantity applies.
Before you post, make sure to proofread and spell-check. Like a splash of ketchup on a white t-shirt, a typo distracts from your caption's impact. Here are 10 editing tips to help you craft Oscar-worthy captions.
6. Add value
One way to keep your audience paying attention? Offer perks and rewards for fans who are paying attention.
For instance, you could share exclusive discounts or announce flash sales on your Instagram feed. Running a contest can be an effective method of engaging fans and growing your audience, especially if you encourage followers to tag their friends.
By creating value for your Instagram followers, you are responding to their attention with real rewards—and giving them plenty of reasons not to hit mute.
7. Interact with your audience
We all tune out conversations when we feel like the other person isn't really listening to us. The same thing happens online.
Audiences want to feel like you're talking with them, not at them. If you use Instagram the way you'd use a highway billboard, you're doing it wrong.
Instagram offers a ton of ways to engage with followers, so try them out and see what works for you. Ask questions in your captions—and reply to the responses.
Use interactive features like Story polls. Comment on posts that your brand is tagged in. Share a live video where you answer questions about your brand or products.
No matter how you do it, if you interact with your audience, you'll benefit from stronger relationships, greater loyalty, and higher engagement.
By following these best practices, and making sure you're posting the kind of killer content that you would want to see in your own feed, you can rest assured that your brand's posts will have followers hitting the Like button instead of the Mute button. And then you can go back to muting your mom's work friends' blurry gardening photos, worry-free.
Save time managing your Instagram presence using Hootsuite. From a single dashboard you can schedule and publish photos directly to Instagram, engage the audience, measure performance, and run all your other social media profiles. Try it free today.