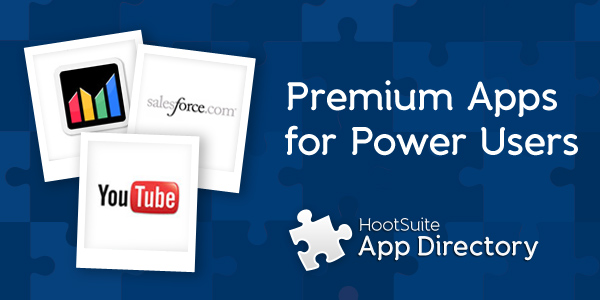 As part of our commitment to providing the finest social media management system, HootSuite announces the launch of three new Premium Apps, each loaded with high-value features and benefits. Salesforce, Statigram, and an enhanced version of YouTube have been designed for you and the likes of savvy marketers, sales teams, community managers, customer service teams and public relations practitioners, to help you do your job quicker and more efficiently from the HootSuite dashboard.

How Well Do Your Instagram Campaigns Perform? Ask the New Statigram App

Ready for an Enhanced YouTube Experience?

Tools for Social Power Users
Above all, these #SocialApps have opened up a new world of possibility for power user practitioners of social. Our ecosystem is designed to streamline workflow processes by integrating best-in-class business apps and networks for our loyal customers.
Is your social game ready for these tools? Try these apps out today and take advantage of the 48 hour free-trial period to see how these turbo-charged apps can make your social marketing experience simpler.
Try them today. Visit the App Directory to get started: