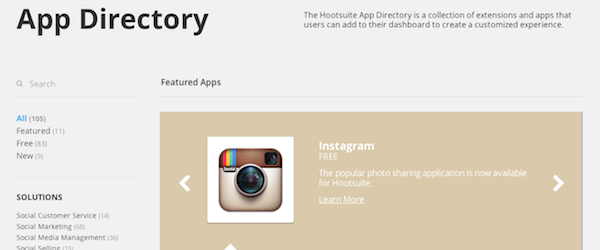 More Than 100 Apps Now Available in Our Newly Redesigned App Directory
The Hootsuite App Directory has been redesigned to help you easily find the right app for your business needs. We've improved discoverability, organizing the more than 100 apps currently available both by category and by solution.
Now you can browse Social Customer Service, for example, and find the Zendesk app, or if you're in sales, click Social Selling to find the LeadSift app. We've also added a new Featured Apps section where we highlight some of the most exciting and popular apps, like Instagram.
To get started, explore Hootsuite's growing ecosystem of integrations and technology partnerships in the Hootsuite App Directory site. Here are some of the latest additions:
Featured apps:
Podio



The Podio and Hootsuite app integration streamlines an organization's content marketing activities by allowing teams to create, share and track content in one place. The Podio app for Hootsuite helps social teams stay updated on their projects with less effort and allows them to communicate and collaborate in one workspace. Install now
Facebook Pages by CatchApp



Facebook Pages by CatchApp app shows you recent posts and comments on a selected Facebook page in Hootsuite. Keep up with the news of competition and partners. Comment or like directly from within Hootsuite in the name of your own page or your personal identity. Install now
Tradable Bits



The Tradable Bits app for Hootsuite helps you manage your most recent engagements on the Tradable Bits platform. Meet the latest participants of your app campaigns. Moderate and view your most recent Stream posts and Comments. Track the progress of all your social campaigns with streamlined analytics. Install now
Evernote by CatchApp



The Evernote by CatchApp integration lets you access recent notes in a selected notebook. View and edit your notes within Hootsuite. Easily compose new notes or create a note from tweets and Facebook posts. Supports all Evernote notebooks including Evernote Business. Install now

Onedrive by CatchApp
OneDrive by CatchApp displays all recent changes in your OneDrive account or a specific folder chosen by you. Monitor updates and new files created by your colleagues in real-time and easily share files out on your Hootsuite social networks! Install now
Dropbox by CatchApp

Access your Dropbox account or a specific folder via HootSuite using Dropbox by CatchApp. Share files across all your HootSuite networks while monitoring updates and new files created by your colleagues. Install now
Box by CatchApp

Easily monitor updates of files newly created in real-time, reply to comments and share files across your social networks. Box by CatchApp shows all your comments and changes from your Box account or specific folder. Install now
Resonance

Resonance for Hootsuite is a unique way to discover people relevant to your business for lead generation, audience analysis, and real-time marketing. Resonance uses machine learning to analyze content and the people sharing it.It's an essential tool for online marketers and social media teams, helping each group manage ongoing relationships and discover new leads.  Install now
Magento Social by Springbot
Springbot's eCommerce marketing platform

is now available for Hootsuite. The Magento Social by Springbot app for HootSuite allows you to get content suggestions based on your store data, send pre-curated posts, create trackable links, and much more for your Magento store. Install now
With over 100+ apps to choose from, start expanding and customizing your HootSuite dashboard to optimize your social media activities today!