Our 5 Most Popular Apps, as Chosen by You ~ #ThanksFor5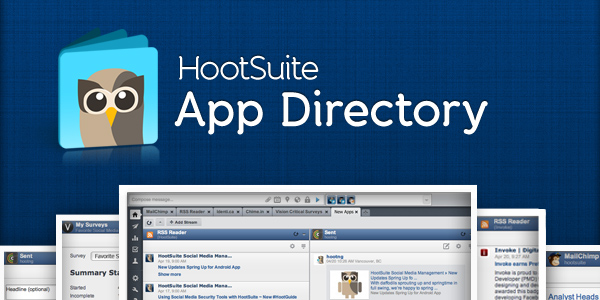 This blog post is the third in our #ThanksFor5 series leading up to HootSuite's 5th birthday on November 28th. View post 1 on global growth, post 2 on startup insight, and visit the blog over the next week to see what else we have in store. And thank you for supporting HootSuite these last five years!
The HootSuite App Directory recently hit a major milestone: 1 million app installs! In less than two years our users (that means you) have proven that they love the variety of apps and integrations we've made available in the dashboard. These apps help people stay on top of the always-expanding array of social media tools, without having to waste time signing in and out of accounts or opening and closing countless tabs.
Those 1 million app installs have also helped us identify what apps are most loved by our users. When it comes to social media nothing beats visuals, and 4 of our 5 most popular apps focus on photos and videos. Here's the full list:
Instagram
[clear]
It won't come as much of a surprise that the ever-popular photo-sharing service Instagram is far and away HootSuite's most installed app ever. Instagram now has over 150 million global users and climbing. With their new video functionality, people and businesses are finding more and more ways to make use of the innovative app.
HootSuite's Instagram app allows users to manage their photo streams, perform keyword searches, and easily share photos and videos to other social networks like Twitter and Facebook (In fact, photos receive 2x more likes than text posts on Facebook).
Have you ever wanted to share Instagram photos with all of your social networks? Install the Instagram app today.
YouTube
One of our original app integrations, HootSuite's YouTube app has always allowed users to view, upload, search for and share videos to social networks from within the HootSuite dashboard. But earlier this year the YouTube app underwent a major transformation. The enhanced YouTube integration is now a dream tool for video producers and content marketers. From multiple YouTube account support, to in-dash video editing, to personalized recommendations, this app seriously has it all. We've even introduced an accompanying YouTube Analytics app so you keep track of your video success.
Curious? Join the almost 200,000 people who have already installed the YouTube app for HootSuite. Get it now.
Tumblr

Another one of our original apps, Tumblr for HootSuite provides a slew of functionality to users who post to and browse the popular microblogging platform.
With the app you can create new posts from the ground up, adding text, audio, video and anything else that you might need, before posting to your blog. From there you can share your post across all social networks to increase traffic and show off your hard work. If you're more of a browser, our Tumblr app allows you to view the blogs you follow in-stream, and like or reblog the best of them.
Are you among the millions of Tumblr lovers? Install the app right now.
Flickr
Photos everywhere! Flickr is one of the internet's foremost depositories of photos. The tool provides an amazing database for those looking for photos and for those sharing them.
The Flickr app for HootSuite allows you to view, upload (including descriptions, privacy levels and tags), search for, and share images to your social networks. Your photos, comments and contacts can be viewed in-stream, and you can also search for image by keyword, user and location.
All the best Flickr functionality, right alongside your social media? It's yours to have, with the Flickr app.
HootSuite Syndicator / RSS Reader
The newshounds among you have really taken to HootSuite's two RSS tools: the RSS reader app and the new HootSuite Syndicator.
For over a year the RSS reader app helped our users view RSS feeds in the HootSuite dash and share this information to social networks. But this past summer, we created a brand new multi-faceted tool for RSS called HootSuite Syndicator. With Google Reader no longer in the picture, users took to Syndicator in droves. From organizing feeds into customized groups, marking items as favourites and selecting items to view later, HootSuite Syndicator provided RSS lovers with the broad functionality they needed. Combined with the social network publishing abilities of HootSuite, Syndicator also made RSS the content curation tool of choice for many of our users.
Do you use RSS? Set up Syndicator today.
Honourable Mentions
Since a lot of HootSuite users own and operate their own businesses, some of our most popular apps are solutions to the challenges they face on a day-to-day basis.
Our Evernote app helps users capture and archive notes, including everything from webpages to social media messages to images. These notebooks can then be managed and organized within streams, all from within the HootSuite dashboard, to save them time and keep them organized.
Our MailChimp app also helps unite two tasks commonly undertaken in business operations: social media marketing and email marketing. Users can now easily share and monitor their MailChimp email campaigns from within HootSuite. This allows them to track the social reach, impact and overall performance of an email campaign from the same dashboard they use for social engagement and analytics.
To see all of the apps available to HootSuite users, visit the HootSuite App Directory.