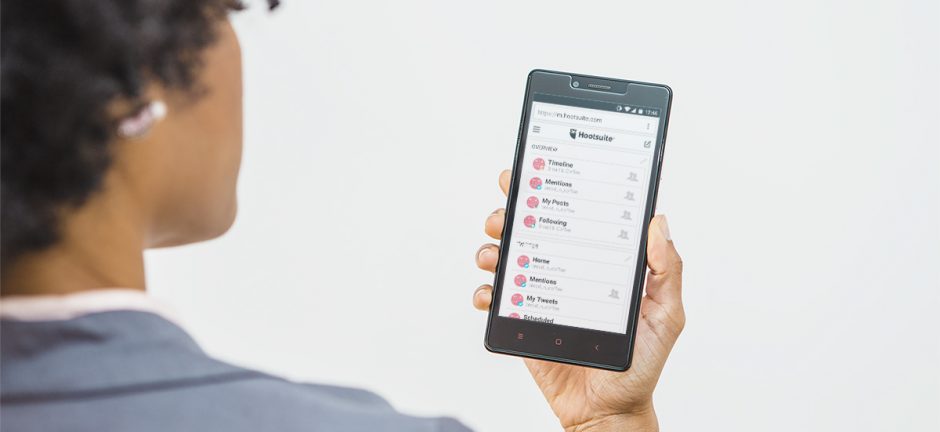 5 Ways to Manage Your Social Media Presence from Your Phone
There are two billion active social media users worldwide and 81 percent of them access social media via mobile. Mobile social media presents a huge opportunity for businesses to improve connections with customers. As global consumers increasingly rely on mobile for internet access, entertainment, news, information, and communication, businesses must adapt.
To help you reach your mobile and social savvy customers, read on for five great tips about managing social media on mobile and learn how our latest Mobile Web updates make it even easier to stay on top of your social presence from anywhere.
5 ways to manage social on mobile
1. Keep your social media presence with you at all times
As a busy business owner and entrepreneur, you don't always have time to stay put. With social media management right at your fingertips, you can stay connected to your audience wherever you are. You can use the Hootsuite Mobile App or Hootsuite for Mobile Web (m.hootsuite.com) to keep all of your social networks and supporting tools organized in one place. This makes it easy for you to share across any or all social networks at once and get a quick snapshot of your entire social presence.
"I've definitely found myself using the Hootsuite Mobile App while on a long train ride, waiting in a line, and basically anywhere that my computer isn't readily available. It lets me continue my work from anywhere!"

—Youri Hollier, Social Media Manager at DAVIDsTEA
2. Never miss a mention with mobile listening
Missing a conversation about your brand could mean the difference between a customer coming into your shop or your neighbour's.
Here's a few tips for staying in touch on-the-go:
A great way to understand and capture conversations taking place in real time around your business is with listening streams. Set up mobile listening streams to monitor for business mentions, direct @mentions, #hashtags, and related keywords, so that you can quickly jump into conversations as they happen.   
Activate push notifications
Instead of constantly checking your mobile dashboard to see if a customer has an inquiry or someone's mentioned your business, you can activate mobile push notifications on Hootsuite iPhone, iPad, and Android apps. If a customer has a question or concern, you'll know immediately.
Assign yourself or team members messages
See a message and don't have time to respond right away? If you're a Pro or Enterprise user, you can assign it to yourself or a team member for later. This creates a record showing that a message needs to be responded to. Once it's been completed and marked as such, the highlighted message will be a reminder that you've already connected and can move on.
3. Put your time and resources to good use
Sharing content and social messages is a great way to build your brand presence and attract new followers, but composing and publishing messages can be time consuming. Use Hootsuite for Mobile Web's quick compose button, then the Scheduler or AutoScheduler features, to easily plan your messages and make the best use of your time and resources.
Compose quick messages on-the-go
Post a message right away for real-time engagement on any or all of your social profiles using the Compose button on Hootsuite mobile apps. Easily add images, shortened links, and location, just as you would on your desktop.
Schedule messages for later
Schedule your messages into the future by either selecting a time that works best for you or letting us decide based on analytics with AutoScheduler. Scheduling your content marketing and social messages in advance saves you time and lets you be more flexible in connecting with customers in real time.
4. Easily create and edit beautiful social media images
Trying to remember the optimal image sizes for each social network is, quite frankly, a pain in the butt. Use Hootsuite Enhance, our new photo editing app, to ensure your images are cropped and sized perfectly for each social network. You can also use Enhance to make your images more exciting by adding filters, borders, stickers, text, or a watermark of your company's logo.
If you've run out of ideas or images to post, you can browse through a selection of stock photos in Enhance that are free for commercial use. And in true Hootsuite fashion, you can share images from Enhance straight to the social networks of your choice—including Facebook, Twitter, Instagram, and more—or schedule them for later using the Hootsuite mobile app.
5. Measure your performance easily
Share links via Hootsuite Mobile then see how many clicks they get across your social networks. You can measure the performance of your content on social media easily with mobile analytics in the Hootsuite iPhone, iPad, or Android app. Whether you're in the middle of a marketing campaign, off at an event, or organizing your daily social media engagement, results will help you understand what's working and what isn't, in real time. This means you can make last-minute adjustments to messaging to ensure that whatever you're sharing is successful.
Hootsuite for Mobile Web can help
Having an app to manage social media on the go will help you stay on top of important activity across your social networks.
Hootsuite has apps for iPhone, iPad, and Android as well as a Mobile Web app you can access from nearly any browser (including Windows and Blackberry devices). So if you don't have a computer or Hootsuite app handy, you can simply login to hootsuite.com on your mobile device to access the power of Hootsuite at your fingertips.
We've added some exciting improvements to Hootsuite for Mobile Web, making it easier to monitor, publish, and engage on social media from anywhere.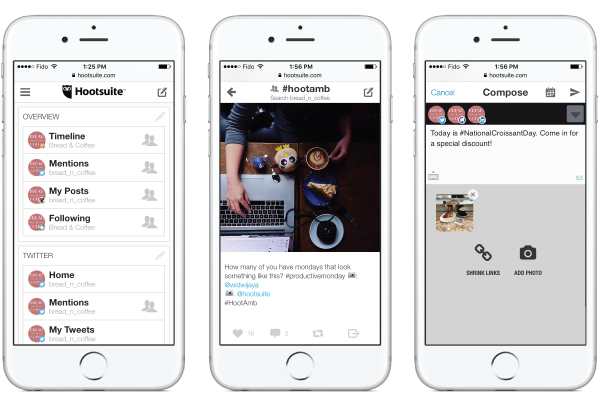 The updated Hootsuite for Mobile Web includes:
Design improvements that make it easier for you to use and navigate on any device

New in-stream actions so you can quickly and easily take action on a post as you browse—no need to tap the post to view more details, simply Retweet, like, reply, and comment right in your feed

Quoted Tweets which allow you to utilize all 140 characters to add your own message alongside the one you're sharing

Instagram support—the ability to manage multiple Instagram accounts, engage with your followers, and monitor competitors and industry terms in one place

An updated menu that now includes Settings and Hootsuite Profile editing so you can make updates to your Hootsuite profile whenever and wherever you like
On a mobile device? Now that you're equipped with best practices for engaging customers on mobile social media, check out our new mobile experience!